Today, 2 more panels were added to the ID10T Music Festival + Comic Conival. Animaniacs LIVE! and SYFY'S The Magicians will both be having their own panels. See press release below for more information.
ID10T Music Festival + Comic Conival
Announces SYFY's The Magicians Panel and Animaniacs LIVE!
Plus Portlandia, MST3K, Harmontown, & Stan Against Evil
& Toyota Fan Engagement Experiences
Created and Hosted by Comedian Chris Hardwick
2-Day Festival Will Feature Music Performances and Comedy Sets By Today's Top Artists
Including Weezer, Girl Talk, Madeon, Zeds Dead, Demetri Martin, Michael Che & Many More,
Plus Panels, Autograph Signings, Comic Book Artists Alley, and Exhibitor Village
Saturday, June 24th & Sunday, June 25th in Silicon Valley, CA at the Shoreline Amphitheatre and Surrounding Grounds
Los Angeles, CA (June 9, 2017) — ID10T Music Festival & Comic Conival, the groundbreaking first of its kind event that will combine chart-topping musicians, renowned comedians, makers, and some of the most influential people in the entertainment industry, together in one place for a once-in-a-lifetime weekend experience, has announced that SYFY's The Magicians and Animaniacs LIVE! will join the impressive lineup of confirmed panels alongside Portlandia, Mystery Science Theater 3000, Harmontown, and Stan Against Evil. The festival will also feature multiple experiences from Toyota including a Cinderella-themed infinity photo booth, a Gingerbread Man-inspired car chase, interactive beatboxing, a live caricature station, and more. Created and hosted by Chris Hardwick, ID10T (pronounced I-D-ten-T) will take over the Shoreline Amphitheatre and surrounding grounds in Mountain View, CA on Saturday, June 24th and Sunday, June 25th.
Guests and information on panels are as follows:
The Magicians, featuring guests John McNamara, Sera Gamble, Olivia Taylor Dudley, Hale Appleman, Arjun Gupta and Summer Bishil, moderated by Chris Hardwick.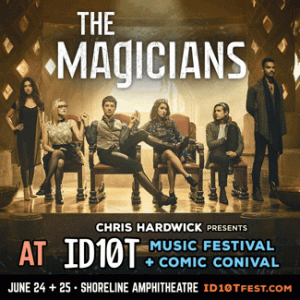 Based on Lev Grossman's bestselling novels, SYFY's The Magicians centers on Quentin Coldwater (Jason Ralph) and his 20-something friends as they are thrust into the unfamiliar world of the beautifully enchanting yet mysteriously dangerous Fillory – and places beyond – where they must draw upon their novice skills to save the existence of magic. The series, produced by Universal Cable Productions, stars Ralph, Stella Maeve, Olivia Taylor Dudley, Hale Appleman, Arjun Gupta, Summer Bishil, Rick Worthy and Jade Tailor. The Magicians is executive produced by John McNamara, Sera Gamble, Henry Alonso Myers, Chris Fisher and Groundswell Productions' Michael London and Janice Williams.
Animaniacs LIVE!, featuring guests Rob Paulsen, Maurice LaMarche and Randy Rogel, moderated by Chris Hardwick.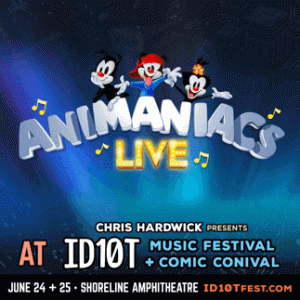 Animaniacs LIVE! is a musical revue starring original cast members Rob Paulsen (Yakko, and Pinky from Pinky and the Brain) and Maurice LaMarche (Brain from Pinky and The Brain), accompanied by Emmy winning composer Randy Rogel, who wrote and created many of those memorable songs you STILL can't remove from your brain pan.
Featuring songs from the run of the show, Animaniacs LIVE! is based on the beloved WB cartoon Animaniacs which delighted television audiences from 1992 to 1998. Cartoon clips will be shown alongside the talent. In addition to the concert, Rob, Maurice and Randy share behind the scenes secrets about the making of the series! Whether you're a lover of music, animation, or fun, experience Animaniacs like never before in Animaniacs LIVE!
Portlandia, featuring guests Fred Armisen and Carrie Brownstein, moderated by Chris Hardwick.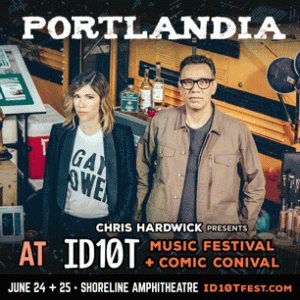 IFC's Emmy-nominated comedy Portlandia is currently in production for its eighth and final season. Created by Fred Armisen, Carrie Brownstein and Jonathan Krisel, Portlandia explores the eccentric misfits who embody the foibles of modern culture, starring Armisen and Brownstein. The series is executive produced by Lorne Michaels and produced by Broadway Video.
Mystery Science Theater 3000, featuring guests Jonah Ray, Hampton Yount, and Rebecca Hanson, moderated by Wil Wheaton.
For almost 30 years, the award-winning comedy television series Mystery Science Theater 3000, created by Joel Hodgson, has been known as one of the best cult TV shows of all time. Following its record-breaking #BringBackMST3K Kickstarter campaign, fourteen brand-new episodes of the cult television show Mystery Science Theater 3000 launched on April 14, 2017, exclusively on Netflix. In the new season of Mystery Science Theater 3000 (aka MST3K) Kinga Forrester (Felicia Day) and her loyal henchman, Max (Patton Oswalt), have revived the infamous experiment started by Kinga's father twenty-nine years earlier: How many cheesy movies does it take to drive a person mad? In this latest reiteration of the show, her test subject is Jonah Heston (Jonah Ray), a space pilot for Gizmonic Institute who gets trapped responding to a distress call from the dark side of the moon. Confined aboard the Satellite of Love, Jonah lives with his robot friends, Gypsy (voiced by Rebecca Hanson), Tom Servo (voiced by Baron Vaughn), and Crow T. Robot (voiced by Hampton Yount). Confronted with Kinga's choices in torturous films, Jonah and the bots band together to ward off lunacy by continuously riffing on the movies in rapid-fire succession.
Harmontown, featuring guests Dan Harmon, Jeff B. Davis, and Spencer Crittenden.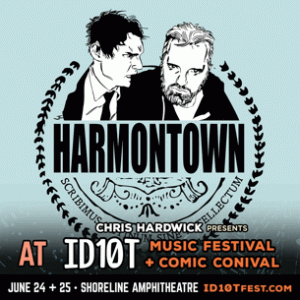 Dan Harmon (Community, Rick & Morty), alongside "comptroller" Jeff B. Davis (Whose Line Is It Anyway), and game master Spencer Crittenden (HarmonQuest), will bring his wildly popular podcast "Harmontown" to the festival — LIVE. Expect ineffectual rants, raps, shameful stories and special guests. Dan Harmon is the Emmy® winning creator/executive producer of the comedy series Community as well as the co-creator/executive producer of Adult Swim's Rick & Morty.
Stan Against Evil, featuring guests John C McGinley, Janet Varney, and Dana Gould, moderated by Jessica Chobot.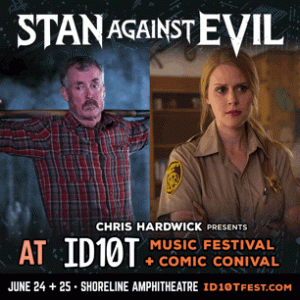 IFC's original horror comedy series Stan Against Evil is currently in production for its second season. Created, written and executive produced by Dana Gould (The Simpsons, Parks and Recreation), Stan Against Evil stars John C. McGinley (Scrubs) and Janet Varney (You're the Worst). Stan Against Evil follows Stan Miller (McGinley), a perpetually disgruntled former sheriff of a small New England town who was forced into retirement. Stan has trouble relinquishing his authority to Evie Barret (Varney), the tough and beautiful new sheriff in town, but they form an unlikely alliance when both begin to realize things are not quite right in their quaint New England town. Together, they valiantly fight a plague of unleashed demons that have been haunting the town, which just happens to be built on the site of a massive 17th century witch burning.
ID10T has also announced some exciting Toyota fan engagement experiences coming to the festival grounds, sure to appeal to the whole family. Kids 10 and under are free with accompanying paid adult admission. With panels from 12:30 p.m. to 5:00 p.m., comedy from 4:30 p.m to 8:00 p.m., and music from 4:00 p.m to 11:00 p.m., attendees can expect a full day packed with entertainment, all in an outdoor setting.
Toyota, ID10T's exclusive automotive partner, will create a unique experience that harnesses the fresh spirit of multicultural mischief makers, while immersing attendees in the key design elements of the Toyota C-HR. Inspired by the new C-HR campaign in which modern day fairytales are brought to life, the Toyota experience will feature a Cinderella-themed infinity photo booth and guests will view a Gingerbread Man-inspired car chase through a moving grid of urban skyscapes and infinite light beams. With the interactive beatbox, the C-HR interior will be converted into a larger than life beatbox where guests will get inside to create their own personalized instrument and show. At the live caricature station, a pop culture illustrator will transform guests into a comic book character, creating a commemorative poster complete with the festival logo. Lastly, guests' photos will be transformed into a comic book strip after choosing villain or superhero along with their special power, which will be merged with custom art for a keepsake. Stylish, athletic and filled with technology, the first-ever 2018 Toyota C-HR – or, Coupe High-Rider – serves as a springboard of excitement, mischief and wanderlust for its trendsetting drivers, getting them on to their next big thrill.
Information on tickets, pricing, VIP packages, and more is available at www.ID10TFest.com, along with a limited number of Fantastic Four-Packs with four tickets at only $55.00 each, plus fees. ID10T boasts a massive festival area directly adjacent to the amphitheatre's music stage. All tickets, including festival general admission, reserved seating and VIP, have free roaming access to the festival area, which includes the Mad Decent Stage in the Festival Tent, Monster Energy Comedy Tent, and full exhibitor village.
Each day, pop culture enthusiasts will have the opportunity to roam exhibitor booths, meet comic book artists, and catch their favorite TV and movie casts on back-to-back panels and podcasts, including a special live taping of Hardwick's own Nerdist Podcast. In the evening, the grounds will transition into a music and comedy hall for live performances from some of today's top artists and comedians.
Musical, comedy, and comic talent is as follows:
The Shoreline Amphitheatre Main Stage will feature a diverse musical lineup with performances by Weezer, Girl Talk, Lord Huron, Crystal Castles, TV On The Radio, OK Go, Animal Collective, Car Seat Headrest, The Mowgli's, Robert DeLong, Mothers, Ron Gallo, and Tank And The Bangas.
The Mad Decent Stage in the Festival Tent will feature some of today's premier DJs and electronic music acts with performances by Madeon, Zeds Dead, Jai Wolf, TroyBoi, Gryffin, Party Favor, Ape Drums, 4B, and Wax Motif.
The Monster Energy Comedy Tent will feature sets by some of today's most entertaining comedians in an intimate, club-like setting. Hosted by April Richardson, performers will include Demetri Martin, Michael Che, Nikki Glaser, Garfunkel and Oates, Michael Ian Black, Brian Posehn, Greg Proops, Brent Weinbach, Hampton Yount, Matt Braunger, Dan Mintz, Marcella Arguello, Jonah Ray, Mike Phirman, and Yassir Lester.
Participating comic companies include Skybound, Valiant, Oni, Boom! Studios, Top Shelf, AfterShock, Insight Editions, Aspen, and HowToons.
Comic artists include Ande Parks (Green Arrow, Ciudad), Andrew Robinson (The Fifth Beatle, Superman: Red Son), Andy Belanger (Southern Cross, SwampThing), Babs Tarr (Batgirl of Burnside, Motor Crush), Becky Cloonan (Southern Cross, Punisher), Brent Schoonover (Howling Commandos Of Shield, Antman), Cameron Stewart (Fight Club 2, Batgirl), Chris Burnham (Batman Incorporated, Officer Downe), Dennis Hopeless (Spider-Woman, WWE), Donny Cates (God Country, Redneck), Farel Dalrymple (Pop Gun War, The Wrenchies), Gary Brown (Black Road, Catwoman), Gerry Duggan (Deadpool, Guardians of the Galaxy), Ivan Brandon (Drifter, Black Cloud), Jai Nitz (Suicide Squad's El Diablo, Dream Thief), Jason Shawn Alexander (Empty Zone, Abe Sapien-The Drowning), Justin Greenwood (The Fuse, Stumptown), Matt Hawkins (Think Tank, Aphrodite IX), Matt Wilson (Batman & Robin, Joker), Mike Costa (Venom, Lucifer [FOX TV]), Morgan Breem (The Family Trade, Valor: East of the Sun & West of the Moon), Ngozi Ukaza (Check, Please!), Nick Dragotta (East of West, Howtoons), Phil Hester (Shipwreck, Green Arrow), Phil Noto (Black Widow, Star Wars), Ramon Villalbos (Nighthawk, E is for Extinction), Rick Remender (Deadly Class, Fear Agent), Robert Wilson IV (Heartthrob, Bitch Planet), Shawn Martinbrough (Thief of Thieves, Luke Cage Noir), Van Jensen (The Flash, Cryptocracy), and Wes Craig (Deadly Class, Guardians of the Galaxy).
ID10T is produced by Live Nation and Synergy Global Entertainment (SGE).
ID10T is proud to partner with the following sponsors in its inaugural year: SiriusXM, Monster Energy Drink, hosting the ID10T Comedy Stage, Toyota, the exclusive automotive partner, Snickers, Krave Jerky, Peet's Coffee and Tea, Musicians Institute, Lyft, and many more.
For more information on ID10T Music Festival & Comic Conival, please visit:
http://www.ID10TFest.com
http://www.facebook.com/id10tfest
Tweets by ID10Tfest
http://www.instagram.com/id10tfest
About Live Nation Entertainment:
Live Nation Entertainment (NYSE: LYV) is the world's leading live entertainment company comprised of global market leaders: Ticketmaster, Live Nation Concerts, Live Nation Advertising & Sponsorship and Artist Nation Management. For additional information, visit www.livenationentertainment.com.
About Synergy Global Entertainment, Inc.:
Synergy Global Entertainment, Inc. (SGE) is one of the world's premier music festival production companies. With hundreds of live events worldwide each year, SGE works with agencies, brands and musical talent to produce or co-produce concerts across various genres and interests. SGE produces and curates Funny Or Die's ODDBALL Comedy And Curiosity Festival, Ohana Dana Point, and co-produces a number of craft beer & music festivals including Driftwood – Orange County's biggest country festival on the sand. In addition, SGE co-produced the Rockstar Energy Drink Mayhem Festival and the worldwide Rockstar Taste of Chaos, produced the Rockstar Energy UPROAR Festival and conceived and developed KNOTFEST with Slipknot and 5B Artist Management. SGE has also produced many other national festivals and tours. SGE senior staff have a combined 60 years of experience in artist management, large scale festival production and brand integration, and have worked with artists as diverse as Guns N' Roses and The Cure. SGE excels at integrating brands' needs with large scale musical entertainment.
About Chris Hardwick:
Chris Hardwick is a comedian, actor, TV host, author, writer, producer, and podcaster whose quick wit and up-to-the-minute intellect have made him the voice for a generation of pop culture enthusiasts. Hardwick currently serves as founder, CEO, and creative head of Nerdist Industries, a media empire under the Legendary Digital Network that includes Hardwick's own incredibly successful Nerdist Podcast, which he continues to host weekly and garners over 5.5M downloads per month. Additionally, he serves as host and executive producer of Comedy Central's two-time Emmy Award-winning nightly comedy game show @midnight; host and executive producer of NBC's hit game show series The Wall; and host and executive producer of several AMC programs as part of his extensive multi-year deal, including the highly rated Talking Dead, Talking Dead: Fear Edition, Talking Saul, Talking Preacher, and the newly-announced extension series Talking with Chris Hardwick. Off-screen, he continues to tour the country as a standup comedian. His latest comedy special, Funcomfortable, premiered on Comedy Central in April 2016 and is currently available across digital platforms.