EW has released information on their Brave New Warrior's panel and Women Who Kick Ass Panel at SDCC. What do you think of the guests? Let us know in the comments!
Atomic Blonde Star and Producer Charlize Theron to Debut EW's First-Ever Icon Edition of
"Women Who Kick Ass" Panel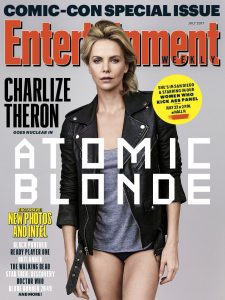 NEW YORK, NY (July 5, 2017) – Time Inc.'s (NYSE: TIME) ENTERTAINMENT WEEKLY plans to raise the bar even higher at Comic-Con 2017 by presenting its first-ever Icon Edition of fan-favorite panel, "Women Who Kick Ass," featuring Atomic Blonde star and producer Charlize Theron on Saturday, July 22. Theron, an Oscar-winning actress who consistently embodies strength, searing intelligence and steely determination on screen, is the perfect icon to inaugurate this annual panel which celebrates and recognizes the most powerful, empowering female stars in pop culture.

Theron will be featured on the cover of EW's "Inside Comic-Con," a bonus issue, which will be distributed by F.Y.E – For Your Entertainment – sponsored street teams on the ground in San Diego throughout the weekend, and can be purchased beginning Thursday, July 20, on all tablet devices. The cover story, written by EW senior writer Sara Vilkomerson, is a must-read for Comic-Con attendees. Vilkomerson will also interview Theron at the "Women Who Kick Ass" panel. Additionally, EW's always-popular Comic-Con preview double issue will hit newsstands nationwide July 14.

"Comic-Con has always been a celebration of and for the fans, and their favorite stars and franchises. This year, we're so excited to host our annual panel, 'Women Who Kick Ass,' with the ultimate kick-ass icon, Charlize Theron," said Henry Goldblatt, Editor in Chief of ENTERTAINMENT WEEKLY. "In 2017, EW's Comic-Con coverage will be bigger and better than ever, as we double-down on content across all our platforms, including EW Radio on SiriusXM and the new addition of 'EW: The Show,' from our streaming network, PEN, in the EW Studio and from the convention hall floor."

Once again, the EW Studio at the Hard Rock Hotel will be the ultimate talent destination. For the eleventh consecutive year, EW.com will deliver non-stop video content and commentary from the convention, offering fans immediate and intimate access to Comic-Con's biggest stars. Viewers can also get in on the festival action, while EW's award-winning writers and editors interview the TV and film industries' biggest names in the EW Studio. Guests will stay refreshed with Peet's Cold Brew in EW's Hospitality Suite, thanks to sponsor Peet's Coffee.

The EW Studio will be a one-stop shop for the leading TV and film stars to promote their upcoming projects. For the fifth year, SiriusXM's Entertainment Weekly Radio channel will air interviews and coverage with EW Morning Live hosts Dalton Ross and Jessica Shaw, and LA Daily hosts Julia Cunningham and Kyle Anderson. Entertainment Weekly Radio's Comic-Con broadcast will begin Thursday, July 20 at 3pm ET and will air through Monday, July 24 on SiriusXM channel 105.

For the first time ever, PEOPLE/ENTERTAINMENT WEEKLY Network (PEN)'s "EW: The Show" will make its Comic-Con debut and broadcast talent interviews from the EW Studio. Host Lola Ogunnaike will bring "EW: The Show" to the San Diego Convention Center floor to witness all the super-heroic action along with coverage from the streets for chats with stars and fans, giving viewers intimate access to the pulse of the city, a close-up look at the memorable costumes, and a window into the after-hours action that makes Comic-Con such a unique event.

ENTERTAINMENT WEEKLY will also host two "EW After Dark" evening events in the EW Studio; the FX Networks-sponsored "After Dark" will feature cast members from The Strain, Archer and Legion, while the Marvel "After Dark" will feature the casts of Marvel'sThe Defenders, Marvel's Inhumans and The Gifted.

No Comic-Con experience would be complete without EW's legendary closing night party on Saturday, July 22. The poolside fete will once again take place at FLOAT at the Hard Rock Hotel and will attract some of Hollywood's biggest film and television talent in a celebration of all things pop culture. This year's highly anticipated party will feature activations from presenting sponsor HBO and participating sponsor Peet's Coffee, along with tunes from DJ Michelle Pesce.
Along with reporting on all of the weekend's festivities, ENTERTAINMENT WEEKLY will host the following panels:
ENTERTAINMENT WEEKLY 2017 COMIC-CON PANELS
ENTERTAINMENT WEEKLY presents
BRAVE NEW WARRIORS
EW's laugh-filled conversation with TV's hottest male heroes: Rodrigo Santoro (Westworld), Ricky Whittle (American Gods), Richard Rankin (Outlander), David Harbour (Stranger Things), Christopher Meloni (Happy!), and Colin O' Donoghue (Once Upon A Time). They'll discuss the thrill of playing popular characters, their sometimes awkward encounters with fans, and the highs (and lows) of a career in Hollywood. Moderated by EW editor at large Lynette Rice.
Friday, July 21, 1:45pm – 2:30pm, Ballroom 20
ENTERTAINMENT WEEKLY presents
WOMEN WHO KICK ASS – ICON EDITION WITH CHARLIZE THERON
Furiosa in Mad Max: Fury Road. Cipher in The Fate of the Furious. Queen Ravenna in Snow White and the Huntsman. Meredith Vickers in Prometheus. Aeon Flux. For more than a decade, Oscar winner Charlize Theron has embodied strength, power, searing intelligence and steely determination on screen. Now, as she explodes into summer in her new movie, Atomic Blonde, EW senior writer Sara Vilkomerson sits down for a no-holds-barred conversation with a woman who defies the rules—and creates her own.
Saturday, July 22, 2pm – 2:45pm, Hall H