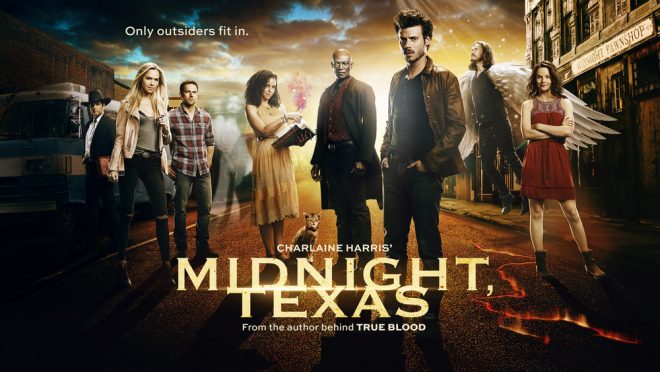 I have been waiting patiently for Midnight Texas to debut since hearing about the show last year.  Fingers crossed I can finally make this panel! It has eluded me twice already!  Third time is the charm right?  Check out the press release below on how NBC will be promoting the show and Timeless at San Diego Comic-Con, which starts Thursday July 20.
NBC AND UNIVERSAL TELEVISION DEBUT HIGHLY ANTICIPATED SUPERNATURAL THRILLER 'MIDNIGHT, TEXAS' AT SAN DIEGO COMIC-CON 2017
NBC Recreates Mystic Texas Town At San Diego's Popular Gaslamp Square With Captivating Interactive Fan Experiences Exclusive to Comic-Con
UNIVERSAL CITY, Calif. – July 8, 2017 – NBC and Universal Television head to San Diego Comic-Con with a star-studded panel for the anticipated new supernatural thriller "Midnight, Texas" and take-over the entire Gaslamp Square with one of the largest interactive fan experiences yet. "Midnight, Texas" premieres immediately following Comic-Con weekend on Monday, July 24 at 10 P.M. ET/PT on NBC.
NBC is also offering an exclusive fan opportunity to meet the cast of "Midnight, Texas" and best-selling author Charlaine Harris at a special book-signing of 'Midnight Crossroads,' the book that inspired the television series. The book signing will be held on Friday, July 21 from 5:45-7 p.m. at the Gas & Go pop-up station adjacent to the Tin Fish Gaslamp restaurant.
Comic-Con guests and fans will immerse themselves in the dark, thrilling world of "Midnight, Texas" via an unforgettable 4D experience, plus enjoy live tarot card readings, exclusive Snapcodes, a custom shareable photo opportunity, themed giveaways and more at Gaslamp Square (between the Convention Center and Hard Rock Hotel) starting Thursday July 20 through Sunday, July 23.
Travel through the town of "Midnight, Texas" where "only outsiders fit in," passing through some of the town's iconic locations including: the Pawn Shop, Fiji's house, Tattoo Parlor, Olivia's Armory, and a pet cemetery.
Tin Fish Gaslamp restaurant will become "Home Cooking," the restaurant featured in "Midnight, Texas." Fans will continue to be absorbed into the supernatural world with live tarot card readings set up inside the restaurant.
A full-sensory experience in each part of town will immerse fans deeper into the world of 'Midnight' as they continue their journey inside lead character Manfred's house. Once inside Manfred will expose guests to a thrilling 4D experience.
Fans won't leave town before capturing a shareable motion graphic photo that brands them as "outsiders," just like the memorable residents of "Midnight, Texas."
Attendees can interact with hidden Snapcodes that unlock exclusive custom videos, content pieces and games to enhance their "Midnight, Texas" experiences while visiting GaslampSquare during Comic-Con.
NBC will also have four Snapchat filters that are timed out throughout Saturday and Sunday as fans visit the outdoor activation.
In an exclusive sweepstakes partnership with Comic-Con, one lucky winner will receive the ultimate "Midnight, Texas" at Comic-Con experience that includes a trip to San Diego Comic-Con, tickets and panel passes and many other exciting VIP opportunities. For sweepstakes details visit http://bit.ly/MTCCSweeps.
In addition to "Midnight, Texas," a panel will be held on Thursday, July 20 for fan favorite and NBC returning series "Timeless," produced by Sony Pictures Television,. NBC will also host its annual invite-only party at a new location this year – Oxford Social Club at The Pendry Hotel – on Saturday, July 22.
NBC will once again sponsor the official Comic-Con App, offering attendees a comprehensive mobile companion to the conference, including a dynamic schedule with live updates, interactive exhibit hall map, panel details and popular events. Attendees can also collect their favorite moments and share with friends and sync their personal schedule on Comic-Con.org with the app. The app update will be available for download July 13 on the App Store or Google Play.
TIMELESS – (Thursday, July 20, 3:30-4:30 P.M., Room 6BCF: Sponsored by Sony Pictures Television)
NBC's "Timeless" traveled back in time to make the unbelievable happen – it became the first show ever to be cancelled and renewed after only 3 days – all thanks to tremendous fan support! Thank YOU, fans – YOU changed history. Join cast members Abigail Spencer ("Rectify," "Oz the Great and Powerful"), Matt Lanter ("Pitch Perfect 3," "Star Wars: The Clone Wars"), Malcolm Barrett ("Preacher," "Better Off Ted"), Goran Višnjić ("ER," "Extant") and executive producers Shawn Ryan ("The Shield," "S.W.A.T.") and Eric Kripke ("Supernatural," "Revolution") for a Q&A session & fan celebration moderated by USA Today's Brian Truitt. During the panel, the talent will take a look back at their favorite moments from Season 1, answer burning fan questions of unsolved mysteries and celebrate with fans the upcoming Season 2. "Timeless" is produced by Sony Pictures Television, Universal Television, MiddKid Productions, Kripke Enterprises, Davis Entertainment and will return to NBC in 2018.
MIDNIGHT, TEXAS – (Saturday, July 22, 4-5:15, Room 6BCF: Sponsored by Universal Television)
Universal Television presents NBC's new supernatural thriller "Midnight, Texas" at Comic-Con 2017! Welcome to a place where being normal is strange and only outsiders fit in. Based on the best-selling book series by Charlaine Harris (author of the novels that inspired "True Blood"), comes a journey into a remote Texas town where nothing is what it seems. Home to a vampire, witch, angel and hitwoman, Midnight is a mysterious safe haven for those who are different – a perfect place for anyone looking to hide from the outside world. That is, until the arrival of a powerful psychic and the murder of one of their own. As the town members fight off outside pressures from ever-suspicious cops, deadly biker gangs, and their own dangerous pasts, they band together and form an unlikely but strong family. Join your fellow "Midnighters" for a special screening of the premiere episode along with an exclusive sneak peek, and a Q&A session with the cast and producers: François Arnaud ("The Borgias"), Dylan Bruce ("Orphan Black"), Parisa Fitz-Henley ("Luke Cage"), Arielle Kebbel ("The Vampire Diaries"), Jason Lewis ("Sex and the City"), Peter Mensah ("True Blood"), Sarah Ramos ("Parenthood"), Yul Vázquez, ("Bloodline"), executive producers Monica Owusu-Breen ("Marvel's Agents of S.H.I.E.L.D."), David Janollari ("Six Feet Under"), and author Charlaine Harris.