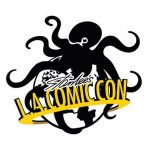 Stan Lee's Los Angeles Comic Con today announced (via an email) that The Black Eyed Peas will be appearing at this years convention to support their new graphic novel Masters of the Sun from Marvel Comics. In addition, they will be signing copies of the graphic novel during the convention (date/times were not announced in the email).
In the same email they also announced a VIP section for their Halloween Cosplay Ball which takes place on Saturday night of the show. To get into the VIP section, you can pre-order a copy of the Masters of the Sun (link below), which also gets you an autographed copy of the graphic novel.
More news and details below from the email sent out today.
The Black Eyed Peas and "Masters of the Sun" come to L.A. Comic Con!

Join us at Stan Lee's Los Angeles Comic Con as we celebrate Masters of the Sun, the innovative new Marvel graphic novel by the Black Eyed Peas! As part of the celebration, you'll get a chance to get your copy signed in person at L.A. Comic Con by the Black Eyed Peas themselves!
Want a more exclusive experience? You can also get into the VIP section of the Saturday night Halloween Cosplay Ball by pre-purchasing your copy of Masters of the Sun through our ticketing portal. This special package is limited in number, and will include an autographed copy of the graphic novel and an exclusive VIP Cosplay Ball badge. Get yours while they last!
L.A. Comic Con and Cosmunity Raise the Cosplay Stakes… to $20,000!!! 
L.A. Comic Con is teaming up with Cosmunity to make the Cosplay National Championship BIGGER AND BETTER THAN EVER!  We are doubling the cash prize pool to $20,000 – making it the biggest Cosplay Competition in the world!  Registration is NOW OPEN through the Cosmunity app; Download it now! We're also adding a Fan's Choice award to the competition…and all of the voting will take place in the app!
Cosmunity also serves as the official app of Los Angeles Comic Con. Download it now to begin planning your convention experience and to start connecting with fellow attendees!
VIP Passes return to L.A. Comic Con!
We're excited to announce VIP Passes will return in 2017! Join fellow geek and pop culture fanatics in a private lounge with themed cocktails and cosplayers, meet Stan Lee, view panels from a reserved section, and more! Explore available VIP Passes NOW!
Game the Weekend Away!
Do you like to game? Then join us in the Tabletop Gaming Hall, featuring MAGIC tournaments, miniature painting, open gaming, demos, and more, brought to you in partnership with Emerald Knights!
The Tabletop Gaming Hall is located in Concourse Hall. Reserve a spot in our tournaments NOW!