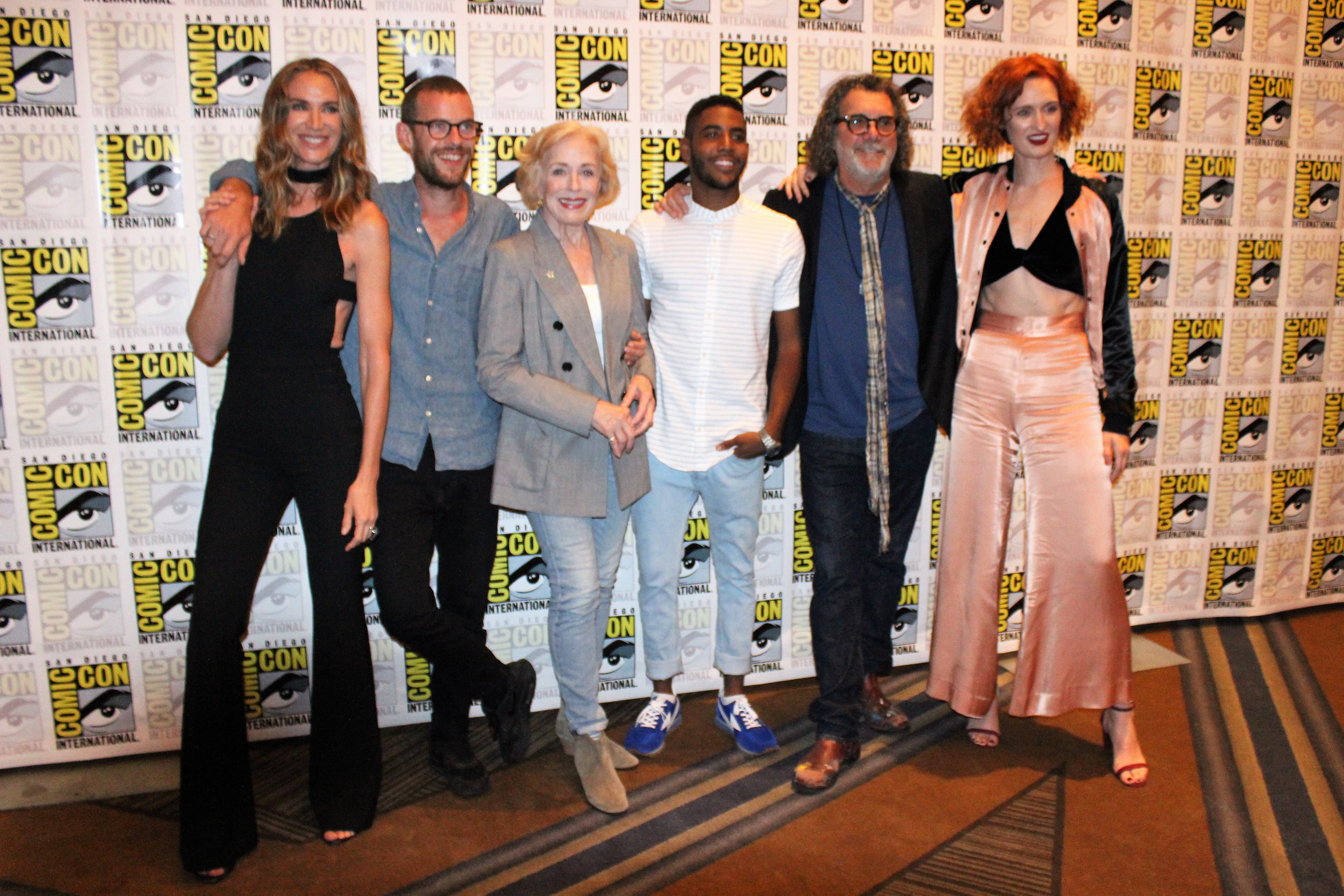 The latest adaptation of a Stephen King property, "Mr. Mercedes," begins August 9, 2017 at 8 p.m. on AT&T's Audience Network. AT&T brought "Mr. Mercedes" to San Diego Comic-Con 2017 to prepare audiences for a different type of King story, one not focused on exterior monsters, but the monsters inside us.
The first novel in the series of three (so far) features retired detective Bill Hodges (Brendan Gleeson), who is still nagged by his failure to catch the "Mercedes Killer," so dubbed because the unknown person plowed a stolen Mercedes into a crowd of job-seekers. It also gives us the sordid story of Brady Hartsfield (Harry Treadaway, last seen as Victor Frankenstein on "Penny Dreadful"), the man who now calls himself "Mr. Mercedes" and who has decided to come out of hiding to torment Hodges for his failure.
The new series is executive produced by Jack Bender and David E. Kelley, as well as King himself. Kelley has had a successful track record on TV (including "Ally McBeal,"  "The Practice," "Boston Legal," and the current cable hit, "Big Little Lies"). Bender's impressive hits include "Lost," "The Last Ship," and another King adaptation, "Under the Dome."
Today we're bringing you interviews from three series regulars: Holland Taylor, who plays Ida Silver, a friendly neighbor of Hodges'; Jharrel Jerome, who plays Jerome Robinson, Hodges' gardener who is also a Harvard-bound computer whiz; and Breeda Wool, who plays Lou Linklatter, a gender fluid, tattooed co-worker of the very disturbed Brady.
Taylor is probably the most well-known of the three, having spent the entirety of the long-running hit, "Two and a Half Men," as Evelyn Harper, the long-suffering (and fabulously wealthy and sexy) mother of Charlie (Charlie Sheen) and Alan (Jon Cryer). She also had a major role on Kelley's "The Practice" as an older judge who is pursued by a much younger law clerk for a romantic relationship, and was in the ground-breaking "The L Word" on cable, in addition to appearances in dozens of other shows and movies. Taylor's character, Ida, doesn't appear in the novels and was created specifically for the TV adaptation.
Jerome most recently shot to the public consciousness in the Academy Award-winning Moonlight, playing Kevin (age 16), the best friend of  lead character Chiron. Wool's had several roles on TV, with her most recent success as Faith Duluth on cable show "UnREAL," which resulted in an online spin-off show, "The Faith Diaries."
The Nerd Element participated in separate roundtable interviews with each cast member. Below is a sampling of their responses to several similar questions asked of each actor and actress.
On the characters each plays in the show:
Holland Taylor: She's kind of acerbic and she can be a little sarcastic. She's educated, she's smart, she's self-sufficient.
She is a very sympathetic character—she is very sympathetic to the hero. I know that David Kelley and Jack [Bender] thought when you transfer this novel from the page to the screen, suddenly the audience is not imagining [Hodges'] house or his life or his lonely drive in the car, they are seeing it, and they felt it would be too dark…, so they added this character for that sole reason. She's a neighbor, and she's in a sense a nosy neighbor in the best way. [He] might find that an intrusion, but in fact, that's the one bit of humanity he's facing from being a person who's fallen into dereliction in his life. It was a very smart creation on their part, and Stephen King was thrilled by it. He feels she definitely is needed for the video version of this story.
[Hodges] welcomes her grudgingly. They've been neighbors in happier times when his life was more real and he was married and he was a detective and he was working. […] But now he has nothing. His life has crashed into ruin. She's a woman who takes good care of herself and her home and is still living a very positive life, and he rejects somewhat her attentions, but not entirely. It's like he knows he needs her, so it's a very good element, and for me as an actress, I only work with Brendan. I have no complaints.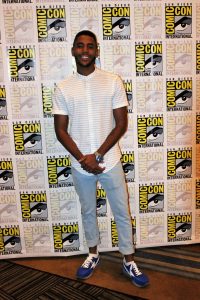 Jharrel Jerome: I play Jerome Robinson; he's sort of the naïve kid who doesn't know everything all the time, but he wants to know everything. He's very intelligent, very smart, he's going to Harvard. This is the summer before his first year at Harvard. He's wise beyond his age, but at the same time, he's always the kid around, he's the youngest—I'm the youngest of the cast and he's sort of the youngest kid you see in the story; you follow his path and you follow how he's maturing as he's helping Hodges with some of the craziest things he's ever done in his life. He's pretty much the one that Hodges puts at his side. He kind of scoops him up and—I like to view him as Hodges' sidekick. He does the IT work, so when Hodges doesn't know how he got an email from the killer, or how this works and that works, I come in and I sort of break it down for him.
Jerome is someone who always wants to help. He always goes the extra mile. I think that's what got him into Harvard, that's what got him where he's at. He's a young black kid in a society that is very different from him, yet he likes to make sure he fits in. […] When Hodges comes to him with this task, this simple task to check where the email comes from, that sparks a whole, "I'll help you with anything else; this isn't the only thing I can help you with. I think I have a pool of information for you, Old Man Who Doesn't Know Much About Technology."
It's funny because you can see the dynamics between someone who's much older and doesn't know about technology, and someone much younger who does, but yet they have this connection that's kind of impossible to break. They have this bond that they form together, and it kind of shows you how you can be from two different aspects of life but still communicate and connect and help each other out because at the same time, Hodges is a mentor for Jerome. Hodges is brilliant; he's smart, he's a cop who's successful and [Jerome] can see himself being there one day if he continues his work ethic.
Breeda Wool: My name is Lou Linklatter in the story and I work at Supreme Electronix with Brady Hartsfield. I'm guessing we work for $15 an hour and we should be getting paid a lot more than that. We have a boss that tells us we're nothing, that we're degenerates.
I think it's because the whole world looks at me in this story and makes judgments about me. […] In this story, Lou is a not a woman who is gonna fall in line with what other girls in [her] school might have done or maybe what [her] family members have done, and [she sees] someone [Brady] who's vulnerable and needs a friend and is hiding a lot. He seems like he's been abused, and he's gentle and kind and doesn't lash out, you know, all of these things that are very different than what he's actually doing.
I think anybody who has a lot of people telling them that they're shit all the time goes to the dark side. [Lou has] people coming in telling [her] they don't like the way [she] looks, they don't like [her] lifestyle choices. [Lou likes] women in this story, but Brady doesn't judge [her]. As much as he is a violent person, he lets a lot of people walk all over him, and [Lou] sort of picks up on that and tries to stand up for him.
On reading Stephen King's "Mr. Mercedes" in preparation for the show and meeting Mr. King:
HT: Not with me, but he did [meet] with Jack Bender and David Kelley. I think he has liked what he's seen. He's liked all the dailies, he's liked all the film that he's seen. David Kelley certainly does because he wrote me an email about it which is certainly a rarity to get a praising, happy email from your producer. It's turned out very well.
JJ: I read "Mr. Mercedes." I don't read often, which I want to fix […] but reading "Mr. Mercedes" took me about an entire month […] because I put it down and then I'd get excited to get back to it, but I never made the time. By the end of the month, I didn't forget a single thing from the beginning; from a month ago when I read that page, I knew every single detail he was putting out for me and for the rest of the cast because it's so in detail, it's almost hard to forget.
I didn't get to meet [King]. I worked with him when I read his book [laughs]; that was the only way I did. One day, he went to set and I went back home for that one day, so I missed him, but like I said, reading his book and reading the way he crafted his character, the way he crafted Jerome, it was almost as if I spoke to Stephen King myself and asked, "So what is Jerome like?" He was able to put it down in the pages for me.
BW: I actually started reading the first book for research, and then I got the first script, and they were so similar, and slightly different, that I began to get very confused, and I was like, "You know what? I'm making a movie, I'm not writing this book, so I better stick to the TV show scripts." I tried to mine the script for information because I wanted to bring what I have with the tools that I've been given.
I was waiting for Justine Lupe [Holly Gibney on the show] at a hotel lobby. I'm sitting there, drinking water, and this guy comes up and he's like, "Hey, Steve King here!" and I was like, "Oh. Oh. OH!" and he's like, "Yeah, I'm gonna come on set tomorrow!" [H]e's very cool and energetic. I wish I had got to spend more time with him. [H]e has such a tremendous, prolific body of work that it blows my mind.
On what they learned working on the show:
BW: I think I learned a lot about how people work in the United States in jobs where they're over-qualified, where they're better than that. [Y]ou need a job and you need a salary and you need to make money and so you compromise, [a]nd each day becomes more and more of a compromise of who you want to be and who you are yourself.  [T]here's a lot I learned in this story—a lot of my feelings are of being stuck, so I sort of, I don't know, might as well be somebody off a little bit on the way out.
JJ: I'm from New York, so we definitely have a certain attitude growing up; everything's a rush and everything is so busy, but Jerome loves living simple, he loves living with what comes to him rather than chasing things. He's a very patient person. He's also a very wise person, so I kind of took that whole laid-back feeling. It felt good to spend time—six months on a character who's so laid back. Very different from my character from Moonlight who had so many conflicting things going on within him and so much violence in him. Jerome is more so at ease—he's an open book. So that kind of mindset I think is pretty healthy, and I kind of took a lot of that while I did my research.
"Mr. Mercedes" premieres August 9, 2017 at 8 p.m. on the Audience Network