In the run-up to the release of "The Tick" on Amazon Prime on August 25, 2017, The Nerd Element will be bringing you several roundtable interviews with the cast and creators of the show.
Every series that "goes big" on heroes needs a "big bad" to provide the mayhem and confrontation. "The Tick" has several villains, with the biggest and baddest being The Terror and his protégé, Ms. Lint. As played by Jackie Earle Haley and Yara Martinez, respectively, each is both wildly terrifying and extremely funny.
Haley began his career as a child actor, with early success in films such as The Bad News Bears series and in Breaking Away, which spawned a television series wherein he continued his role as Moocher. He worked steadily until 1993, after which he had an extended break until his role as registered sex offender Ronnie J. McGorvey in 2006's Little Children. The film garnered Haley an Academy Award nomination and started a career renaissance. He's since appeared as Rorschach in Watchmen, was Odin Quincannon on the first season of "Preacher," and is currently in theatrical release The Dark Tower.
Martinez has also had a steady career. She can currently be seen as the damaged and vulnerable Luisa on TV's "Jane The Virgin," as well as Amazon Prime's "I Love Dick" as Mercedes. Other notable appearances include her roles as Felicia on "True Detective" and as Maricela on "Southland."
Haley and Martinez participated in a joint interview right after San Diego Comic-Con 2017. Continuing the theme of camaraderie between the actors on "The Tick," Haley and Martinez had a good connection as they discussed their new roles on the show. As befits a funny show like "The Tick," the conversation was often humorous. Keep reading for the highlights!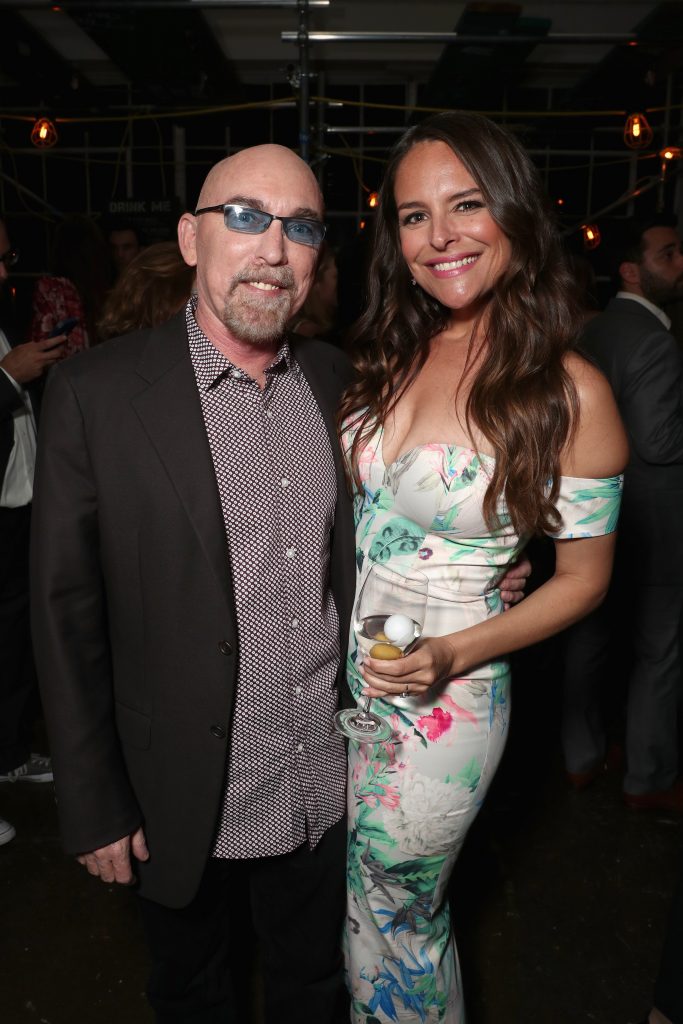 On what drew them to their roles:
Jackie Earle Haley:  I think that it started when Ben drew us both on paper. Drew us right in to it.
Yara Martinez: Literally.
JEH:  Yes, literally, and then we jumped off the page. By the way, she is very electric in this film.
YM: I am electric.
JEH:  As an actress. We had a real fun time doing the scenes together.
YM: It was super fun.  I mean, I didn't know that I was going to be in it to this extent until I ran into Ben [Edlund, the Tick's creator] at a party and he was just super excited; he [said], "Oh, my God, so I have Lint back, she is electric, she is like an electric eel and she shocks people and her eye pops out and things caught fire and lint gets back on her and that is why she is Ms. Lint!" and I [said] "Aawweesome!"
JEH:  What have you been smoking?
The Terror lives in the past, so there is kind of this parallel storytelling going on. Everything that has happened in the past is why the present is the way it is. [W]hat happened to Arthur is the thing that has given him this obsession and has taken over his life, right?  [W]hat is neat is that since Ben came up with Ms. Lint and wanted her to come and be a part of this.
There is a strong relationship between The Terror and Ms. Lint. The Terror used to mentor Ms. Lint, so their relationship really affects her whole back story and what makes her who she is in the present time.
YM: Your character affects everybody in the story, in a way.  I guess he is the reason that everyone is so messed up.
On how they got into character:
JEH: First off when I read it, the pilot was just like, "Wow, this is funny and it is good." I could tell [it] isn't just going to be silly—I mean it is—but you can tell that it is starting off with an Arthur origin story, so it really suggested to me that there was going to be some season arcs going on.
Ben talked me through the arc and we talked about the character, and I think the one thing that I did is I found him on the day, meaning the very first day of being on the set. I knew that I was going to do that voice, especially the quiet one; I was trying to do that real loud, all on the edge of my voice and I think it morphed a little bit from there. I remember doing one scene and the sound guy [said], "Wow, man. When you yell, there are two octaves coming out of your voice. We normally have to get a special effect to do that."
[The] first thing that I did for the first, I don't know, week or two, is before I would work I would relook at that scene from the pilot to refresh.  [S]ince it worked in the pilot, we continued down that road.
YM:  The 5th day is pretty much when I felt like I found her.  Since she wasn't in the comic, I had to figure her out. Ben was on set and he was helping me figure out the tone. [A]s an actress, I like to be big and I like to play around, plus I was playing a supervillain. [W]e discovered that when she was monotone and super dry is what worked best, especially opposite of The Tick.
I wanted to look at different villains and I ended up with Mommy Dearest, Joan Crawford. I mean, she has those eyebrows, right? And eyebrows were established in the pilot, so I gravitated more towards her, but then I [thought], "Man, even she is too much." I don't know if I want to be that evil. [Also] Glenn Close on "Damages," her scenes where she just gets vicious and incarcerates people. Ben help[ed] me not look ridiculous shooting electricity out of my hands.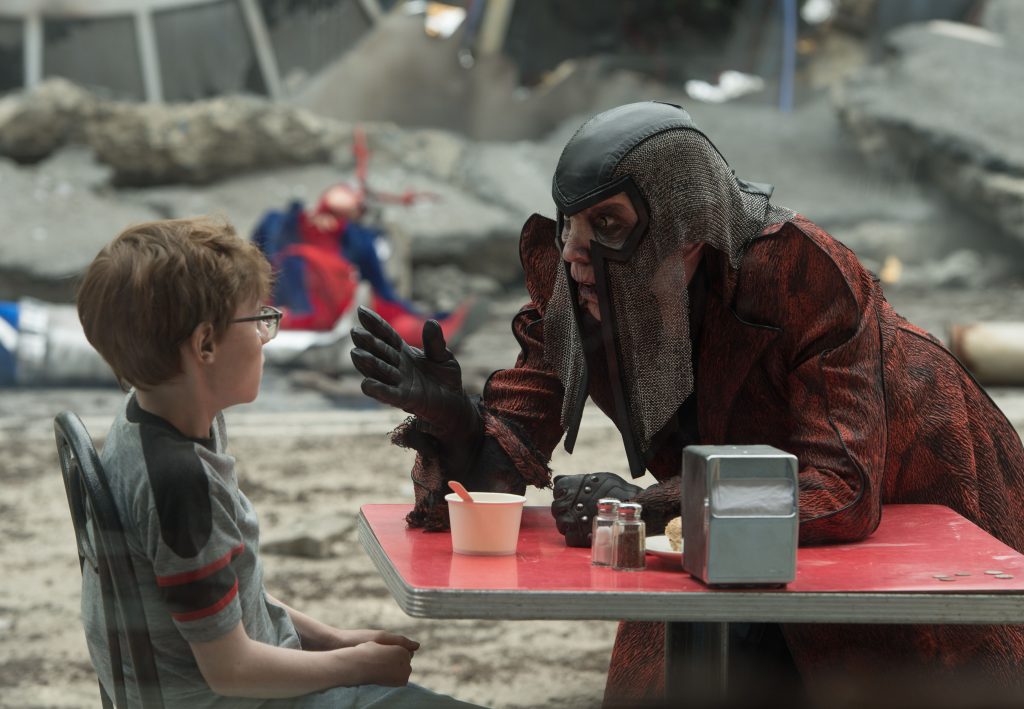 On what they think has kept "The Tick" alive for 30+ years:
YM: I think it is wonderful that Ben has been the essence and part of all of these different types of stories. [R]ight now, we are in such a saturated world of superhero stories and they are all so dark; I think people can connect to or get inspired by the optimism that The Tick brings. He is a real, classic superhero and he just wants to fight evil. [H]e is an old-school superhero. [T]he cast got together and we saw the first four [episodes], and I told Peter [Serafinowicz, who plays The Tick] that I just can't help but smile and feel almost like a little kid whenever [he's] on screen. Watching "The Tick," there is just something that is very inspiring and optimistic and joyous about it.
JEH: And Peter is so good. When I was reading the scripts, I was laughing out loud because Peter is so good that when I am reading it, I completely envision what he is doing and he is wonderfully hysterical.
Ben is the one to credit with helping to guide us all, for all of us to not go over the top.  […]  I think that this is his most sophisticated version. I mean that I think it is probably the one with the strongest arcs, the one with the biggest budget and I think that was important. Like [Yara] said, I think this now is the first version that is—it is not a comic book parody, it is not a cartoon, it can't be live-action hero fun. Now it is a comic book movie parody, and Amazon gave us this cool budget and creative freedom to make it look like a quality superhero movie and yet be just, you know, funny as shit.
YM:  And to have Ben's vision fully realized.
On the special effects used for their characters:
JEH:  [L]isten, I have spent a lot of time in acting school and they told me that I needed to grow.  [S]ee, a lot of people don't notice, I'm 6-foot-4, but it is a lot less intimidating if I shrink myself down to 5-foot-10, so, that is how I did it.
YM (regarding her "missing eye"):, It is actually a contact lens and they tailored these contact lenses—they designed it for my eye. There was someone on set [whose] purpose was to take off and put on our contact lenses, Jackie as well.
JEH:  His nickname was "Hot Poker Fingers."
YM (regarding visibility with the contacts on): No, I couldn't see anything. After long days, it was really exhausting to not be able to have full vision. I had to be really careful walking around set because of not being able to see anything out of my left eye, so if anyone were to come and whack me on the side of my face, I wouldn't even protect myself.
That was the funny thing, too…when I was acting across people, they didn't know which eye to look into.
On what superpowers they'd like to have:
JEH:  I would like to have a little red button that when I press it, it destructs the entire world except for one little rock, and I would be standing there going, "Got 'em!" Actually, I would sing "It makes the world go away" and THEN mash the button. Just be floating in space.
YM:  I guess that I would like to be able brainwash people, particularly people in government.
JEH:  That is a good idea.
"The Tick" will be available for streaming/binging on Amazon Prime beginning August 25, 2017.