In the 31+ years since a teen-aged Ben Edlund first created The Tick, the big blue character has appeared as: the mascot of New England Comic's newsletter; in his own comic book; in his own cartoon series; and in a live-action series starring Patrick Warburton.
Nearly seventeen years after Warburton took off the antenna, The Tick is back, this time in streaming form on Amazon Prime Video.
Creator/producer/writer Edlund, along with fellow producers David Fury and Barry Josephson, sat down in a post-San Diego Comic-Con 2017 roundtable interview to discuss the latest iteration of Edlund's enduring character.
All three have worked together before in some combination. Both Edlund and Fury worked on "Angel," and Josephson worked with Edlund on the original live-action "Tick" series. Edlund was also a producer and writer on "Firefly," "Supernatural," and "Gotham," while Fury's credits as a producer include "Fringe," "24," "Lost," "Buffy the Vampire Slayer," and "24: Live Another Day." In addition to his work in television, Josephson produces films. Past projects include The Ladykillers (2004) and Enchanted (2007).
The three were happy to discuss their new show and Edlund in particular was animated. "I am excited to have another incarnation of the creation, yes," he began. "The Tick has a very interesting existence; it has been a 30-year, kind of multi-dimensional presence," he said. "It is sort of beyond imaging that we are doing another live action show with as much backing as we are getting from Amazon and as much reception as we have received from the fans. I am very excited."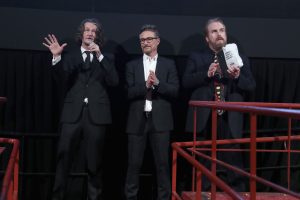 The trio is also happy with the Amazon streaming platform. Josephson noted that the show "is great for streaming."
"For Ben and David, who create the show," he said, "it doesn't have the constraints of 'must be exactly this time'. [Y]ou don't have to be wedded to exact times like you would if you had commercial breaks."
"This is a very different version of 'The Tick' in that it is serialized," he continued. "We are able to tell a much larger story, one that has a greater scope [and] sometimes goes very cinematic. More importantly, Amazon wants us to go big and to think big and to think out of the box.
"Networks generally go 'Keep inside this box, okay? Please, if you go too outside, people won't watch.' And Amazon says, 'Just do everything that comes out of Ben's head."
Josephson added that "with the other proliferation of all the other superhero shows, we get to play in that universe, we get to have some of the weightier issues skewed a little bit, but more importantly, we get to have a lot more fun."
Amazon's hands-off approach has led to the freedom for the creators to explore a different tone for the show. Edlund noted about the superhero genre that it "has always been about wish fulfillment and there is a joyous quality to it. We are definitely resonating; this new version resonates with the fabric of superheroes as it stands today: dark, gritty, realistic, taking things very seriously. That is where we come from, all of us, when we think of superheroes." However, he also said they "are trying to make something pop in terms of its joyousness and even its optimism."
That joyousness is mixed with a silliness that has always been part of The Tick's DNA, and which appears to be deeply embedded in all three producers. Having had the pilot available for so long gave the team ample time to get the tone right and get fan feedback on the choices they made as well. One thing the fans were vocal about? The Tick's new suit. The Nerd Element asked what brought on the change of suits in the second episode, prompting a very silly exchange.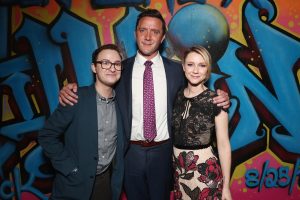 "We are going to be changing the costume every episode," Edlund joked. "You are going to love the Louis XIV collar."
Josephson interjected that the fans "loved the show and there were a lot of fans of The Tick [who] didn't love the costume. [W]e were not happy with the costume because we rushed at it; it came last minute," he continued, adding, "so we thought that we could do better. [T]hat is what you see changed in the second episode is that he is morphed, which he hs the ability to do to a better costume."
"And just to add to it, though, with bravado," Edlund said, "at this point it seems like, yes, there is definitely a production reason why we shifted from one costume to another costume, but I maintained that it transgresses or does nothing, like that can happen in this story for reasons that you won't understand for seasons."
"He may change slightly again," Josephson said.
"He is evolving," Edlund said.
"Every single episode," Fury added.
"At one point there is the monocle, remember that? Like Mr. Peanut," Edlund said.
Other parts of the fan response were more gratifying to the trio, especially when they appeared at the "Tick" panel at SDCC. "It was great," Edlund began. "We had a little bit of a foreshadowing of fan response by airing the pilot and that is something that a lot of people don't have, so we felt fairly confident that the second episode at least kept the ball basically moving across the field. I'm being sporty, but it was really amazing to see what Amazon had done in their marketing and in their support."
"It was very confusing to me," he continued, "because there was this giant corporate element, but also the marketing campaign was based on helpfulness and a real joyful kind of connection with The Tick."
That element was a group of "Team Tick" folks who walked around San Diego near the Convention Center and provided help to citizens who requested it. For example, if you walked up to a Team Tick member (easily spotted because of their branded shirts and antenna hats) and said, "Ouchy," they'd hand you a band-aid.
"That is a lot of very heroic service, like a band-aid on a blister," Edlund said. "At this particular place, each one of those things is a little life-saving event whose idea is being integrated in to something that ties itself to The Tick, and I am happy about that as almost anything, just even as it relates to Comic-Con, that gives us good graces there."
Regarding the look of the new series, Edlund and Fury discussed their visual approach to the material.
"We are all sort of technicians to a degree in that regard. David and I are both directors and Barry is a long-time producer, so we are the first tier of that," Edlund said.
"We try to push ourselves," Fury said. "One of the frustrating things, I know for Ben, [was that] the original live-action was not really a superhero show. It was more of a character comedy."
"It was funny and everyone was terrific in it," he continued, "but Ben's wanted to do the superhero version of The Tick and that is what this is. [T]here are going to be costumes that are really expensive; there are going to be effects that are really expensive. [W]e try to be very canny about when we use that."
"We want to deliver something that is great," Fury added, "but also something that, as Ben often says, we always try to skew it a little bit. [W]e don't want people to think that they are watching a Marvel show. We want to take what they would see in a Marvel show and do our own version of it."
Another important component of the show is the cast. When the show was first announced a few years ago, it was reported that Warburton wanted to reprise his role as The Tick. Amazon, however, wanted to start over from scratch. Warburton is a producer still, and according to The Tick panel as SDCC, he was instrumental in bringing the property to Amazon.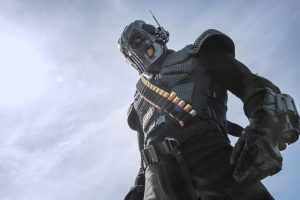 So who to get for the new Tick, Arthur, Dot, et al? Edlund said his new cast works very well. "It did feel sort of like a light coming on," he said, adding that the cast "bonded with their characters and they bonded with each other and they bonded with the idea of projects."
Of the leads, Peter Serafinowicz (The Tick) and Griffin Newman (Arthur), Edlund enthused that both "are such great improv actors that they just worked really well together. We know the characters and when we first saw Peter Serafinowicz's work on Funny or Die UK, we were like, 'Man, this guy could do anything, so I suppose that he could be The Tick.' And Jack [Earle Haley, who plays The Terror] was a no-brainer."
Seeing a legacy villain (in this case, The Terror) show up right away prompted The Nerd Element to ask if Amazon is working on securing the rights from Saban for the characters that were created specifically for the animated version. Edlund isn't worried about it, though.
"Each time we create a new show or a new iteration of The Tick, whatever medium and whatever time it steps in to, that is used to create a flush of new characters," Edlund said. The Terror, he noted "carries a heritage of 30 years, so we will look and try to cherry pick from the past. There are some issues with animated rights, but we have too many riches to choose, so it is not an issue for us right now."
Not having to be tied to the past freed the producers to try more new ideas. As noted in the interview with Valorie Curry and Brendan Hines, mental illness plays a big part in the shaping of the new Arthur. Edlund said that "the idea of playing around with the potential factor that The Tick was a figment of Arthur's imagination…came from the idea of wanting to find the psychological truth of Arthur, and then discovering in that finding a traumatized person whose grip on reality was sort of shaky. [T]hat is actually a kind of its own subgenre of superhero presentation now and there are some very high profile versions of that out there," he continued.
"It's a trope onto itself, the guy who can't tell reality from unreality, and that allowed The Tick to settle into [t]hat place," Edlund said. "If he is going to listen to The Tick and actually accept what that lunatic says even for a second, he has to be in a slippery area of reality himself…but it felt like it was an important element of the new telling of the story, especially from Arthur's point of view, oddly. "
As the interview wound down, Edlund was asked if his perspective, which some could see as a bit skewed from the norm, was always this way.
"People have always accused me of being a little 'out there'—not always but certainly since maybe high school," he said. "My perspective is a little left of center, I think. I think that is true of a lot of people and I am one of them. I mean, The Tick is far left of center, so from my vantage point, I can see things that he might do or say along those lines."
"I am a lot of Arthur," he also noted, finishing with, "Arthur intersects with things of fear and I have a lot of what Arthur has."
"The Tick" will be available for streaming/binging on Amazon Prime now
The Tick is out now! Check out the trailer and go stream it!