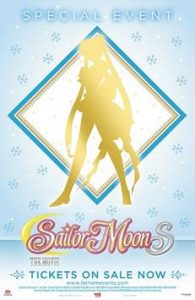 VIZ MEDIA TEAMS WITH FATHOM EVENTS TO PRESENT EXCLUSIVE SAILOR MOON PREMIERE EVENT NATIONWIDE
Beloved Guardian of Love and Justice Returns In Special
Two Weekend-Only Engagement in More Than 590 Movie Theaters Across The U.S.
San Francisco, CA, June 7, 2018 – VIZ Media, LLC (VIZ Media), a premier company in the fields of publishing, animation distribution, and global entertainment licensing, will partner with leading event cinema distributor,Fathom Events, to present a special series of SAILOR MOON limited engagements set for July and August at more than 590 movie theaters across the United States. A comprehensive list of all participating theatre locations and advance ticket sales are available now for all screening dates at https://www.fathomevents.com/collections/sailor-moon.
Sailor Moon, the beloved Guardian of Love and Justice, returns to the big screen for a special theatrical event! Following an encore presentation of the first movie SAILOR MOON R: THE MOVIE, the Sailor Guardians unite once more to battle their chilliest adversary yet in SAILOR MOON S: THE MOVIE. The second week of showings will feature the classic anime's third movie SAILOR MOON SUPERS: THE MOVIE along with never-before seen in theaters short, "Ami's First Love." A limited edition SAILOR MOON full-color poster will be given to ticket holders at the screenings while supplies last. All features are presented uncut and true to the original Japanese version, with English dubbed and subtitled showings available. Catch the trailer at https://youtu.be/DXWaZudCdtc.
SAILOR MOON R: THE MOVIE and SAILOR MOON S: THE MOVIE Double-Feature
Saturday, July 28th – Dubbed Versions
Monday, July 30th – Subtitled Versions
SAILOR MOON SUPER S: THE MOVIE and "Ami's First Love" Screening
Saturday, August 4th – Dubbed Versions
Monday, August 6th – Subtitled Versions
"We are very excited to partner with Fathom to bring the next set of SAILOR MOON movies to audiences nationwide," says Brian Ige, Vice President, Animation. "Catch the adventures of the Sailor Guardians the way they were meant to be seen – on the big screen – at this summer's exclusive SAILOR MOON theatrical events!"
The SAILOR MOON anime series and movies are inspired by the bestselling manga series created by Naoko Takeuchi. In the series, Usagi Tsukino is a clumsy but kindhearted teenage girl who transforms into the powerful guardian of love and justice, Sailor Moon. Meeting allies along the way who share similar fates, Usagi and her team of planetary Sailor Guardians fight to protect the universe from forces of evil and total annihilation!
Fans are also invited to enjoy the original, classic SAILOR MOON as well as the all-new SAILOR MOON CRYSTAL anime series, which are now available from VIZ Media as Limited Edition Blu-ray/DVD Combo Packs as well as multi-disc Standard Edition DVD Sets.
For more information on SAILOR MOON, SAILOR MOON CRYSTAL and other award-winning anime titles from VIZ Media, please visit viz.com.
About VIZ Media, LLC
Established in 1986, VIZ Media is the premier company in the fields of publishing, animation distribution, and global entertainment licensing. Along with its popular digital magazine WEEKLY SHONEN JUMP and blockbuster properties like NARUTO, DRAGON BALL, SAILOR MOON, and POKÉMON, VIZ Media offers an extensive library of titles and original content in a wide variety of book and video formats, as well as through official licensed merchandise. Owned by three of Japan's largest publishing and entertainment companies, Shogakukan Inc., Shueisha Inc and Shogakukan-Shueisha Productions, Co., Ltd., VIZ Media is dedicated to bringing the best titles for English-speaking audiences worldwide.
Learn more about VIZ Media and its properties at viz.com.