By Désirée I. Guzzetta
Giancarlo Esposito is having a moment in 2020, a very good one. Not only is he a key part of three very popular shows at one time, but he's been nominated for two of them for this year's Emmys, one for Outstanding Guest Actor In a Drama Series for his role as Moff Gideon on "The Mandalorian," and one for Outstanding Supporting Actor In A Drama Series for his role as Gus Fring on "Better Call Saul." He's also been nominated twice before for playing Gus Fring on both "Better Call Saul" and its predecessor, "Breaking Bad."
On top of that, he's emerged as a main character on Amazon Prime Video's "The Boys." Introduced late in the first season as Stan Edgar, the mostly unseen, even more powerful boss behind the powerhouse that was Madelyn Stillwell (Elizabeth Shue), Esposito is poised to take Stan from the man behind the curtain to the man openly in charge of The Seven, the show's group of superheroes against which The Boys of the title fight.
Maybe.
Speaking from his home with reporters via Zoom, Esposito was careful not to pull too much of the curtain back, preferring to leave some mystery to Stan and his motivations going into the new season, though he did indulge in a little fun speculation. He was also friendly, chatting with reporters prior to the official start of the roundtable, asking about people's Zoom backgrounds and what they've been doing during the pandemic. His charming, relaxed demeanor is about as far from the tightly controlled, possibly villainous Stan Edgar the audience has seen so far as one could get.
In fact, the first question he was asked had to do with his roles as villains—in addition to playing Moff Gideon and Gus Fring (the jury is still out on Stan's true character), Esposito also voices Lex Luthor on the current "Harley Quinn" animated TV series, and played bad guy Tom Neville on one of "The Boys" showrunner Eric Kripke's past series, "Revolution" (2012-14).
Esposito said that what drew him to Stan "was that he was completely flat-lined about business. He was a company man who could be polite, and he's running a very big organization."
"What I love is that he's the puppeteer behind the puppet," Esposito said of the first season reveal that Stan was Madelyn's boss. "He's the guy behind the curtain," he said, but at the same time, Stan is the "face of Vought." Esposito loves that he will be visible as Vought's leader, but that also audiences might expect more to come from him.
In terms of inspiration for playing villains, Esposito mentioned the famous "Top of the world!" scene in White Heat (1949) starring James Cagney, and how "that visceral excitement of triggering his tommy gun was the glory that he needed to end and get out of this life to the next."

"I think people like characters who have villainy because they have power," Esposito said philosophically. "They relate to the fact that there's this power that they feel that we don't have. So is that power courage? Is it? Is it a decision that that's who I am? Whatever that is, that moment I saw Jimmy Cagney, he was fearless."
Discussing the power dynamic in "The Boys," Esposito said that they "have very super, super characters who have really heightened physical and mental qualities because they're superheroes. Why don't we feel like we're superheroes in our lives? That's all you're feeling when you're looking at a villain—like Homelander [Antony Starr] says, they can do whatever the fuck they want."
Esposito believes people find that power dynamic interesting and relatable, though Stan is still an unknown quantity in "The Boys" because he's been talked about more than seen so far.
"Maybe what he's doing is to try to help and save everyone on the planet. Maybe he's got to wrangle this group of super heroes and bring them to a place where they understand part of their humanity and part of the science which, we're coming to find out, may be guiding their physical prowess," he theorized.
"So how do we feel that way without being villainous or nefarious?" Esposito asked. "What's the way to feel that way? I think many of us have missed that. That way is to be ultimately calm, and relaxed and chill, and to be in a more meditative yogic state."
Esposito said that as an actor, his life is about accessing his emotions. When a corporation controls everything the way Vought does in "The Boys," accessing one's humanity becomes more difficult. He noted that so many of the characters in the show don't just wear costumes on the outside, but mask their own humanity inside, too.
The Nerd Element then asked Esposito about his acting process and how he brings Stan to life in light of the very controlled characters he's played more recently. For example, Stan appears to have that calm, chill demeanor he spoke of earlier, as well as no issue standing up to the very dangerous Homelander, whom the audience has already seen murder several people without hesitation.
"For Stan," he began, "I felt an affinity to wanting to represent the corporate brain. And I hadn't had an opportunity to do that before playing a character, whether you judge him to be nefarious or a company man."
"I always want there to be a secret behind what I'm doing," Esposito continued, saying that he wanted to make Stan relatable the way the rest of the show is relatable to the real world.
In Esposito's mind, Stan cares about people, "but he doesn't suffer fools and has no time for babies, which was a real guiding tool for me in the scene with Homelander—understanding and realizing he's a man-child, which would immediately give me pause and a little compassion."
He notes that the scene with Homelander where he questions Homelander's knowledge of Vought was similar to what he asked his own children about supporting BLM (Black Lives Matter), including what they knew about the organization and if they knew who Edmund Pettus was, before they went out and marched in solidarity.
"Stan is the same way with Homelander," he said, adding that none of us yet knows what Vought is doing or up to in the world of the series—the answers to which he finds "exciting" for the audience to discover.
Esposito also loves Stan's directness: "He's direct, he's efficient with his words, and he's a very good reader of people." He said that Stan "understands when Homelander's feelings are hurt, and he probably meant to hurt them in the moment he does when he dismisses Homelander from his office. He understands people's emotional place about their struggle with who they really are."
Stan "has no fear and so you wonder about that, don't you? You wonder why he's not looking at Homelander and shaking in his boots," he said, adding that Stan is "so very confident that you want to know what else is going on. [But] he's also about the face of things, the way things look. And so I'm very excited to explore more."
Esposito was then asked if Stan is really that self-assured, or if he's possibly bluffing in front of Homelander (presumably to keep himself from being immolated as Madelyn was).
"No, it's not a bluff," he said. "He's completely self-assured, and he's not bluffing at all."
"One of the things I think about," Esposito continued, "is that he's full of Compound V. And he's invincible. Because he's so very clear, and so not afraid, and the company's already built."
Esposito said that's "what makes his attitude so different than any other character I've played." The fact that Stan is not afraid to lose Vought might mean something big is possibly in store for the character.
"What is that complete, self-assured intention? That's a man who knows what he wants," he said.
Esposito also knows what he wants, though he is a much kinder person than what we know of Stan Edgar. For example, during the course of the interview, when The Nerd Element congratulated him on his third Emmy nomination, he not only graciously corrected the error, but he sincerely thanked us. While he is grateful for the honors, he said, he was quick to praise everyone he works with. He was even happy to be talking to everyone on Zoom because he enjoys talking "about the work and its intricacies."
"I love what I do," he said, smiling.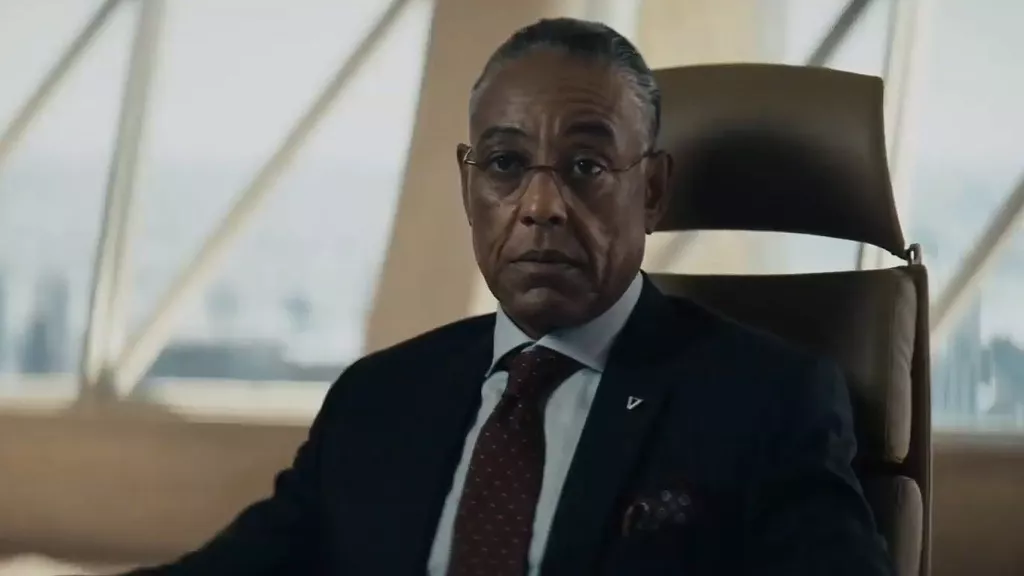 Amazon Prime Video's hit series, "The Boys," returns September 4, 2020, for a second season of mayhem, fun, and corporate shenanigans, with three episodes being available at once, followed by one-per-week for the rest of the season
Quotes lightly edited for flow and clarity