Storm King Comics have released details about a panel taking place at San Diego Comic-Con@Home as well as information on their July releases. Check it out below:
Virtual Convention appearances: SDCC 2021
San Diego Comic Con At Home Panel Friday the 23rd 3pm PST
Panel Title: Storm King Comics Breaks Open Sacred Hearts
John Carpenter Presents Storm Kids is the Storm King Comics imprint that focuses on all ages/YA releases and Sacred Hearts is the latest release in the series that explores the idea that you can't judge a monster by their appearance. The horror in the woods is never what it seems! Horror as allegory teaches kids how to deal with fear positively and these creators know all about that! Panelists include Steve Niles (October Faction, 30 Days of Night), Nat Jones (Death Dealer, Spawn), Sandy King (They Live, Vampires), and Janice Chiang (Ghost Rider, DC Superhero Girls). Panel Moderated by Lys Fulda of Sphinx PR. More information can be found at www.stormkingcomics.com
*John Carpenter Presents Storm Kids: Stanley's Ghost has been nominated for an Eisner award as well
In Person Convention Appearance: Torpedo Collectors Con
Friday 23rd-Sat 25th Booth 1000
July Releases: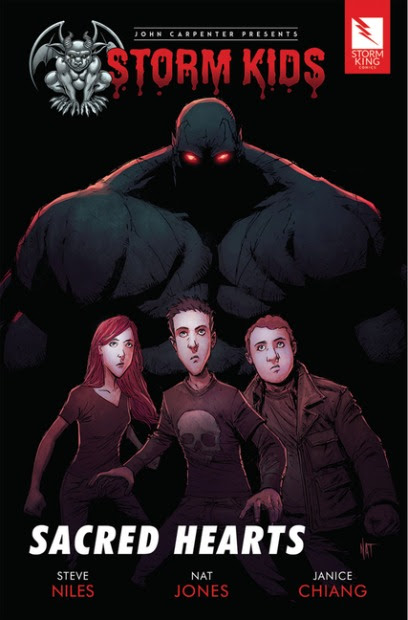 John Carpenter Presents Storm Kids: Sacred Hearts Graphic Novel
Trailer: https://www.youtube.com/watch?v=dQQf0rHnaFs&t=1s
Audience: Y/A
Writer: Steve Niles
Artist: Nat Jones
Release Date: In Stores Now
For Chris, Dirk and Shelley, life in their small town has always been quiet. But they have all heard about the Franklin Farm… a place they should never go near. When the three best friends decide to build a tree fort in the woods, they dare each other to go to there in search of wood, and find themselves in a strange world they never expected, setting off a terrible chain of events.
In this place, monsters are created, and an ancient evil from an old family curse is rising within their little town. But in all the chaos, they come to learn that not all monsters are bad. Some are special… some are born with a Sacred Heart…
From his horrific beginnings, this special Monster was born from a broken pact with evil, and somehow a door to a dark world had been opened.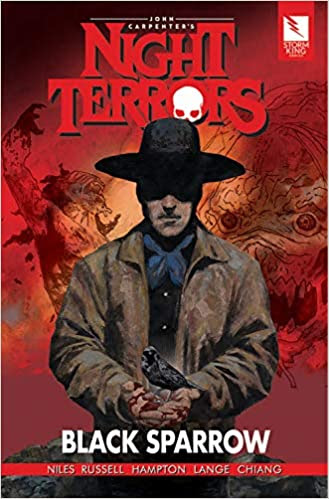 John Carpenter's Night Terrors Black Sparrow Graphic Novel
Trailer https://www.youtube.com/watch?v=1Is-jf2Svpg&t=14s
Audience: Mature
Writer: Steve Niles, Jay Russell
Artist: Scott Hampton
Release Date: In stores now
​Sweeping across the Old West like a sudden outbreak of a disease, a dark Evil settles upon the small town of Goshen, California. The Elias Family, humble farmers in the Central Valley, find themselves in the eye of the storm. Sam Elias, the wholesome, hard working son of Henry and Martha, and brother to his adoring young sister Marybelle, is the first to be affected by the demonic wave. To the shock of his family and community, Sam embarks on a murderous rampage, coldly slaughtering anyone unfortunate enough to cross his path. Henry knows in his heart that his boy could never commit such cruelty and begins a journey to find Sam with the hope of ridding him of this savage spirit.
What Henry discovers during his odyssey is a larger gathering of monsters and hellish creatures for what is seemingly a singular, conspiratorial purpose. Along the way, he meets and joins forces with Hania, a Native American Spirit Warrior who is also searching for the source of the onslaught of death and destruction among her people. As Sam remains one step ahead of his father, he is also being tracked by an unusual European man called Julian, who has direct knowledge of dark forces and has a mysterious past with Henry.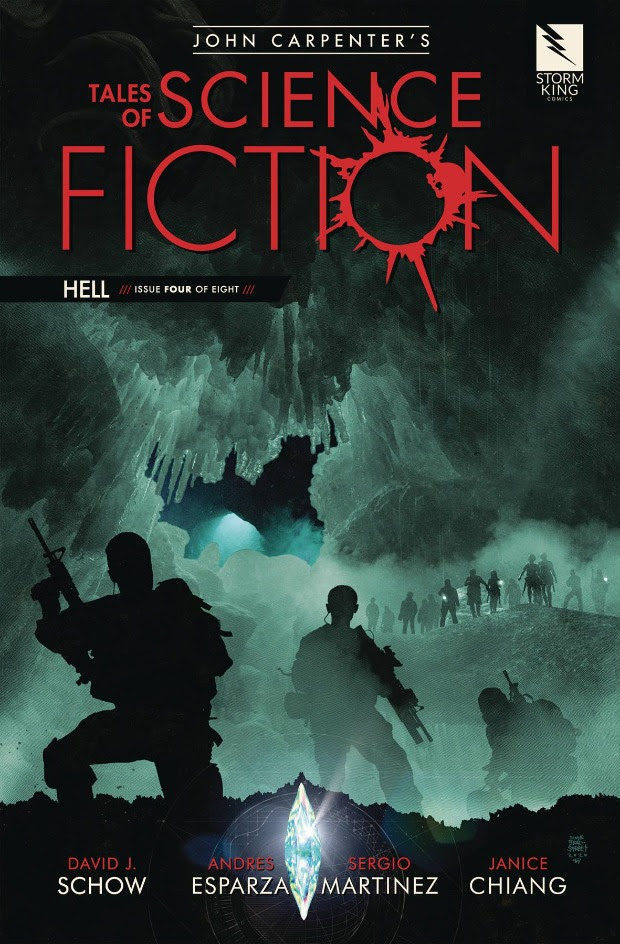 John Carpenter Tales of Science Fiction: Hell #4
Audience: Mature
Writer: David J Schow
Artist: Andres Esparza
Release Date: July 28th, 2021
Communications with the surface cut off, besieged by sand-crawling, piranha-like predators, the CalEx subsurface strike team finds itself in deep combat from the moment they step out of the hatch with no immediate prospect of return to the Upworld they left behind. Stef, Samples, Dix, and their half-breed Underworld guide, Kartkas, must find their way in this strange, hostile new environment while still trying to achieve their mission directive to recover the rare mineral discovered by Dr. Correll. If they can survive long enough to do it.