Sundance feature film 892 sees a Marine war veteran face mental and emotional challenges when he tries to reintegrate back into civilian life.
Living in a cheap motel in Atlanta and separated from his wife and child, former U.S. Marine veteran Brian Brown-Easley is desperate. Driven to the brink by forces beyond his control, the soft-spoken, kind man decides to rob a bank and hold hostages with a bomb. As police, media, and family members descend on the bank and Brian, it becomes clear he's not after money — he wants to tell his story and have what is rightfully his, even if it costs him his life.
Directed by Abi Damaris Corbin (Actors Anonymous, The Suitcase), written by Abi Damaris Corbin and Kwame Kwei-Armah (Walter's War, Soon Gone: A Windrush Chronicle).
The title 892 refers to the amount of money Brown-Easley wants the VA to pay him after they withheld his disability payment of $892. It may seem like a small amount of money but it is the difference between losing his home or not.
This is the first feature film for Corbin as a director; it is also the biggest project from a writing standpoint for Corbin and Kwei-Armah. They may not have a lot of credits but the film is both well-made and well written.
The first thing to note is that 892 is based on a true story, made with the family's permission. It shows Brown-Easley in a sympathetic light, trying to highlight what brought him to this point. It occasionally gets a little too heavy handed in trying to show the plights of a veteran and the inaction of the VA but for the most part, it handles a difficult subject matter well.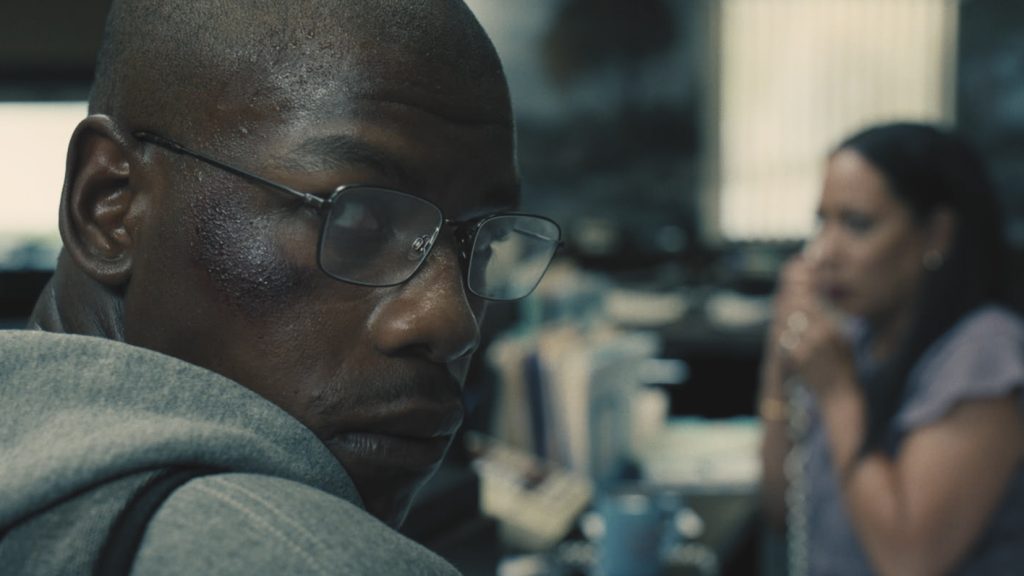 John Boyega (Star Wars, Attack the Block) is Brian Brown-Easley, the veteran at the heart of the film. Boyega puts in a very strong performance. Brown-Easley's behaviour is a little inconsistent as he is struggling with mental illness, Boyega switches between polite, paranoid, aggressive and everything in between without it seeming gimmicky. He pulls off the role well and really conveyed Brown-Easley's pain and struggle to just get what is his.
Nicole Beharie (Sleepy Hollow, 42) and Selenis Leyva (Orange is the New Black, Diary of a Future President) are the bank workers held hostage by Brian Brown-Easley, Estel Valerie and Rosa Diaz. They are both excellent and it is their dynamic with Boyega that really makes the film tick. A lot of the film relies on phone conversations so having these three in a room together really felt special.
892 is also the last film role of the late Michael Kenneth Williams (The Wire, Boardwalk Empire). Williams is the hostage negotiator who has a good rapport with Brown-Easley. As usual he puts in a great performance, making an impact despite a relatively small amount of screentime.
Doug Emmett's (I Care a Lot, Sorry to Bother You) cinematography increases the tension effectively. Emmett uses shallow depth of field and close ups to convey the heightened pressure the bank workers are feeling. There are also some nice transitions between present day and flashbacks. 892 has a really good look to it.
Overall, 892 is an emotional watch and definitely got its point across. I would have liked them to expand on the reason why Brown-Easley's money was withheld, that scene was maybe a minute long. It shouldn't be the focus but a little more on the VA and their reasoning would have been good. The cast is excellent and both Corbin and Kwei-Armah show they have great talent in directing and writing respectively. 892 is a really strong debut from Corbin.
892 can be viewed online via the Sundance Film Festival for the next few days. The film will likely be distributed through other means after its festival run.