Since I missed out on the premiere panel at SDCC this year, I wanted to go into the beginning of this series with an open mind on this take on the early origins of many DC villains and vigilantes, and how far it can go with its primary focus on a young Detective James Gordon and a corrupt Gotham City. Warning this review contains spoilers!
Gotham starts off with our first look at a young Selina Kyle (Carmen Bicondova) pickpocketing her way through the Gotham streets, even stealing a jug of milk to feed a stray cat in an alley. Down this particular alley, however, on this particular evening, Kyle witnesses the murder of Thomas and Martha Wayne, while a young Bruce Wayne (David Mazouz) watches in horror.
From the murder scene, we switch over to the GCPD where newcomer Detective James Gordon, played by Ben McKenzie (The O.C., Southland) takes down a crook making a scene while taking a policewoman hostage and firing off her gun. His partner, Detective Harvey Bullock (Donal Logue, Sons of Anarchy) on the other hand, suggests to Gordon that in a situation like that, it's just best to shoot the guy. Suddenly the two are assigned to a murder case.
Down at the scene, Bullock realizes the victims are the Waynes and tries to back out of the case, but it's too late once an officer informs Bullock that Gordon is already talking to the lone witness, little Bruce Wayne. Gordon tries to comfort young Bruce, promising him that he will find out who killed his parents. However, though these two do not know it let, they have unconsciously started the bond for their impending future partnership as The Dark Knight and Gotham's Police Commissioner. Afterwards Bullock and Gordon run into Montoya and her partner from the Major Crimes Unit. Montoya tries to take the case off of their hands, but instead insults Bullock and decides to stay on the case. Back at the department, Bullock and the police captain have a shouting match about Gordon being his partner, but in the end is ordered to suck it up and stick with his new rookie.
While checking ballistics report on the bullets that killed Thomas Wayne, I was surprised at the brief introduction of Edward Nygma (Cory Michael Smith) as working for the police compared to original occupation of working for Wayne Enterprises in the comics and in Batman Forever, before he becomes The Riddler. After his brief riddles with the officers, he concludes that the bullet that killed Mr. Wayne cannot be traced, making it seem like the Waynes weren't killed at random.
While trying to dig up leads on the Wayne murder case, Gordon and Bullock pay a visit Fish Mooney (Jada Pinkett Smith), who appears to be an original character for the show, and we see that one of her comrades, and personal lackey is Oswald Cobblepot (Robin Taylor), the future Penguin.
The detective duo find a lead on the case, arriving at the home of a Mr. Pepper, who is the father of a young Poison Ivy. She even waters the various plants in the apartment while the detectives question her father. As soon as they find a pearl necklace stashed in the apartment, Pepper bolts, and Gordon heads out on a wild goose chase, which eventually ends when Bullock kills Pepper as he attacks Gordon. The case is now closed…so they think.
Turns out Pepper was setup by just a fallguy. Cobblepot spills what he knows to MCU's Montoya about the setup. Gordon goes back to Mooney to ask more questions, and of course when dealing with the mob, things never end well. Gordon gets knocked out, and left hanging upside down. Bullock arrives to try and rescue his partner but is literally placed in the same position as his partner all while at the same time Mooney realizes Cobblepot is the one who ratted her out to the cops and is none too pleased with her little "penguin." At the last minute mob boss Falcone saved Bullock and Gordon, reminding them that they shouldn't dig too deep into Gotham.
To make sure the two understand, Falcone orders the detectives to kill off Cobblepot for betraying the mob. Bullock makes Gordon finish the job, however, knowing that Gordon would never stoop down to the level of a crooked cop like his partner, Gordon shoots off his gun just a bit away from Oswald's head and pushes him into the river, making it look like that Gordon really did finish the job to Bullock.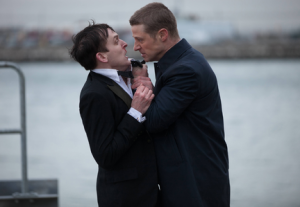 This was an excellent first episode. A lot of call backs to Batman: The Animated Series and Batman: Year Zero. Mooney is definitely a character I'm very intrigued with, considering she's original and I'm not sure what to expect out of her as the show goes on, besides a possible confrontation between her and former associate. Nonetheless, with Gordon and Gotham City as the main focus of the show, the biggest question about this freshman series is how far can this series really go? Feel free to voice your opinions down below!
*Photos courtesy of FOX/Jessica Miglio uploaded by Natasha Williams aka Natty Willy