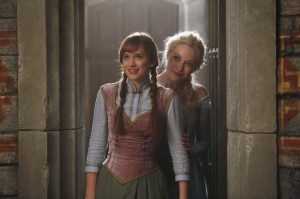 *Warning* This recap contains spoilers! Elsa (Georgina Haig) is on a mission in the season 4 premiere "A Tale of Two Sisters" of Once Upon a Time!  I enjoyed the visual effects!  Granted it was mostly related to Frozen characters and magic, but it was still nice to see!  What's going on with some of our favorite characters as well as some new?
Elsa and Anna
I recently watched the movie Frozen to get familiar with these characters, and I'm liking what I am seeing so far.  The casting is on point with Haig, Elizabeth Lail as Anna and Scott Michael Foster as Kristoff. I thought they brought the essence of the characters that we saw in the movie.  The cameos like the snow monster, the troll Grand Pabbie (voiced by John Rhys-Davies,) and reindeer Sven were a treat!  It was depressing to see in the beginning of the episode Elsa and Anna's parents killed on the ship in a flashback.  Apparently they were after an object that could help Elsa stop her powers.  In another flashback, Anna and Elsa were discussing Anna's wedding with Kristoff when they found their mom's journal hinting about their trip.  Elsa is still feeling insecure about controlling her abilities. Anna decides to continue their parents' mission against Elsa's wishes.  That scene with Kristoff, Elsa, and Sven was adorable!.  Sven is always the conscious!  It turns out that according to Grand Pabbie, Elsa and Anna's parents were headed to Mist Haven aka Enchanted Forest to find this object.
Back to the present. Elsa makes a chilling entrance into Storybrooke by freezing the city sign, freezing the car with Grumpy and Sleepy in it, and creating a snow monster.  Grumpy of course sounded the alarm in pure Grumpy fashion!  This is Elsa's first taste into modern technology and Grumpy's car driving towards her and not stopping was not a good one. She finds Anna's snowflake necklace in a newspaper with Rumple and Belle on the front and proceeds to head to Mr. Gold's shop. Hopefully we will find Anna and Kristoff in Storybrooke.  Usually if someone's item is in Mr. Gold's shop, chances are they made it to Storybrooke when the curse was enacted.  The timeline seems just right.   So far Elsa has not talked with anyone at Storybrooke, even though Emma tried to reach out to her while she was hidden in a storage house.  That's when she created the snow monster and chaos ensued.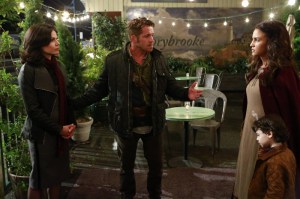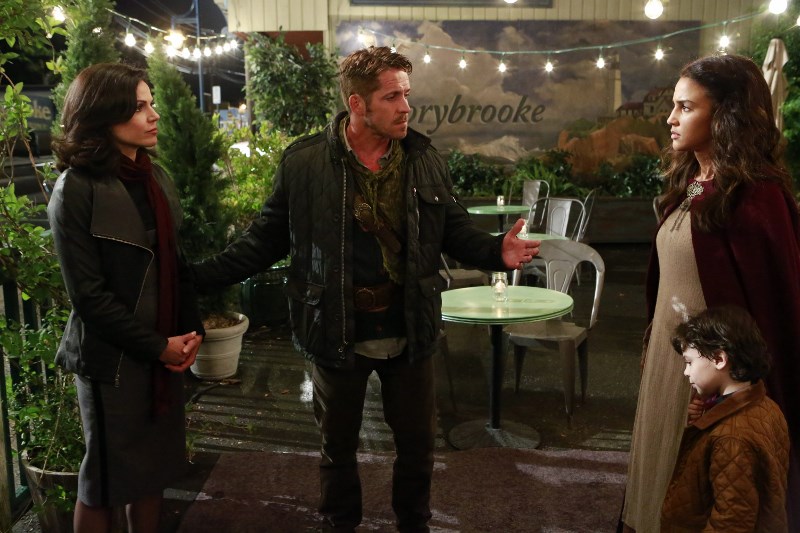 Regina, Robin, and Marian (Christie Laing)
This woman can't catch a break can she? The last time we saw Regina her world was shattered yet again by someone from the Charming family when Emma brought back her new man's dead wife from the past. Robin Hood (Sean Maguire) had to make a tough choice between a wife he had mourned and a new love in Regina.  He winds up choosing Marian.  Robin is still technically married after all.  I really can't blame Robin for deciding to honor his vows to his wife and Regina doesn't deserve an affair.   In a way it is Regina's fault in the first place because she didn't hook up with Hood when Tinkerbell told her about him a long time ago!  He was probably single then.
Regina has seen some serious growth in the last three seasons but is still a work in progress. When she approaches Sidney Glass aka Magic Mirror (Giancarlo Esposito) it appeared she was reverting back into old habits.
"Mirror on the wall,  Show me who I want to kill most of all."  – Regina
She wanted to go back into the past again and kill Marian before Emma arrived in the past to save her.  I feel bad for Sid because Regina put him back into the mirror. He's devoted to her and she just uses him whenever. I do hope she brings him out again by the next episode. Regina had an opportunity to just let the snow monster Elsa created kill Marian but she saves the day instead. See, progress! Now Regina is on a mission in finding the author of the book that's been around since Season 1.  She believes that the reason she doesn't have happiness is because the book is focused on creating happy endings for good guys. As she puts it, "Villians deserve happy endings too."  As @BrandonSalmon on Twitter so eloquently said, "Regina needs to let it go…". Margaret, David, and Henry are concerned about Regina with her situation but are not in this episode that much.
Emma and Hook
I loved when Emma and Hook finally kissed at the season finale! But I'm still mad at her for bringing back Marian when Hook warned her for messing with the past. At least she feels guilty about it and wants to make it right.  However, sometimes her helping just makes things worse.  Not only that but she is also dealing with Elsa being in town.  I don't blame Emma looking up at that snow monster like "Whaaat?" I'm glad that she's trying to use magic, even if she lost her battle and Regina had to come rescue everybody.  I'm miffed that she's avoiding Hook.  She even tried to pacify him with a kiss near the end of the episode. No telling where that's going to go.
Rumplestilksten and Belle
Newlywed bliss is in full effect with some sad undertones. Rumple visits Neal's grave and makes a speech about trying to be a better person.  I miss Neal! He mentions that the reason he didn't give the real dagger to Belle was because he needed to use it for revenge.  Now that he had his revenge, he needed strength to give Belle his dagger for real.  Fortunately he goes through with it. Belle finds a mansion to use for their honeymoon.  No one at Storybrooke has claimed it, and it seems to be fully furnished and everything.  There is an object that Rumple notices on a desk in the study.  Belle then shows him a ballroom with books in it and he mentions that they haven't had their first dance since they got married. With magic Rumple changes both his and Belle's clothes to the same ones in the Disney animated classic Beauty and the Beast! That was a good moment! Now I'm going to get that song stuck in my head! However, this new object that Rumple found, could this be the key to getting rid of the dagger's controlling powers? As soon as the object turned into a hat and swirled with stars it reminded me of Mickey Mouse's hat from the "Sorcerer's Apprentice" short in the movie Fantasia!
Overall I thought this was a good premiere and set up the story arcs nicely.  Looking forward to next week! What did you think of the premiere episode? Let's start a conversation in the comments below!
*Photos courtesy of ABC/Katie Yu/Eike Schrote