Congrats to the show for being picked up for a full season! In this week's episode, "Smile or Go to Jail," we find out why there seems to be tension, especially in the present, between Michaela and Connor.  Other things we find out: Wes can make fake IDs. Laurel and Frank almost hook up.  Sam is definitely hiding something.  Annalise is a beast in the courtroom even when the odds are against her.  I'm sorry that this is long guys, but this show is so intricate it has to be broken down as much as possible.
The Present
We are at Annalise's house right after the murder.  Laurel walks in.  Michaela is freaking out. Wes is trying to comfort Rebecca.  I knew she was there!  Connor comes in and rushes to Michaela to tell her they need to leave.  Michaela is still crying. Laurel tries to talk with Michaela but Connor is agitated that Michaela is having a meltdown.  The show decided to emphasize her wedding ring, which comes in to play later.
We go back to the coin toss and the decision to go back for the body. Michaela is against the plan to burn the body.  Connor and Laurel agree to burn the body, especially when it's mentioned that the bonfire would cover up the smoke.  Laurel suggests they use the bonfire as their alibi.  We later see them surrounded by the other students "having fun." Michaela is not getting with the program.  Connor forces her to take a selfie.
After they burn the body, the group heads toward the car when Michaela realizes her engagement ring is missing.  That's not good! It could be anywhere from the office or with the burnt body. Michaela may get them caught!
The Past
Michaela
This was an interesting way of introducing Michaela's fiancé.  Michaela spends quality time with her man Aiden Walker (Elliott Knight) who is visiting from New York.  He works for the Mayor's office there.  Michaela gets called into the office and Aiden offers to walk her there out of concern since there was a recent murder on campus.  How thoughtful of her fiancé!  Aiden meets Professor Keating and the others on their way out the office.  Michaela briefly introduces everyone and when Connor comes out Aiden appears to know him. Aiden explains that they went to boarding school together.  As everyone goes to leave, Connor mentions to Michaela "I guess we had more in common than we thought." Say what? It goes downhill from there.
Connor later reveals that he did a little something back in boarding school with Aiden.  Michaela of course is upset by this. Connor rubbing it in throughout the episode was so devious and mean.  Even though I wanted to smack him I also wanted to root for him. Aiden explains that he was young and reassures her that he's not gay.  She considers breaking up with him but wants to wear her Vera Wang dress so the engagement is on! At least it was discussed if he was sure about his sexuality but I have a feeling that she will still continue to question it.  Annalise warns Michaela about choosing carefully who she marries because she has no one to blame but herself if it tanks.
The Case of the Week
Annalise takes on what originally appeared to be a simple case of a misdemeanor (hand job) with Paula Murphy (Ana Ortiz) but becomes a case of felony murder by the FBI.  Asher gets schooled by Bonnie when he scoffs at the initial simple release.  Bonnie says that not every client is a serial killer and you have to build your clients from the ground up.  It comes out that Paula Murphy is really Elena Aguilar and is guilty of being involved with a 1994 bombing of a financial institution done by an anti-globalization group called the Red Letter Brigade.  Two of the members testified against her, and one of the members felt like she should serve time like they did.  The poor husband is shocked by all of this information and I don't blame him.  Annalise thinks they can still win the case if they don't take the plea deal from the prosecutor.
The trophy is back up for grabs when Connor doubts Annalise's ability to win the case.  Annalise discusses her strategy in class, which is a mind control defense.  She has her favorite students answer her questions.  I feel bad for the other members of the class. I want to hear their thoughts too sometimes.
The group's ring leader, Gabriel Shaw (Jason Gedrick), is still in jail.  Asher uses his connections to find out which prison he is in. Annalise along with Elena, Bonnie, and Michaela approach him to testify but he double-crosses them in court by taking an early release deal from the prosecutor. It also turns out Ms. Aguilar was doing some double-crossing too as she is now on the run with the just released Shaw! They practically flirted with each other when she asked for his help, something was bound to happen. When she mentioned in the car how much she missed him was another clue. Michaela found out that Elena had called Gabriel in jail since the visit but it was too late. It was nice seeing Jason Gedrick again being deviously charismatic as Shaw.  Annalise's cases even if they end badly are just as engaging as we see how everyone handles the different turns a case takes.
The Lila Stangard Murder case
Back at the college Annalise is approached by the Middleton University president to represent Griffin O'Reilly (Lenny Platt), star football quarterback who had been arrested last week. Since he doesn't know Rebecca, she's left out in the cold as she's not Dolan's concern.   Donations and the sports program is.  It's always about the money isn't it?  Annalise says she will think about it, then calls Nate to see if he found out anything.  He says he's in New Haven and will call her if he finds anything.  I don't blame Anna hesitating to take the case until she knew her hubby was in the clear.
From what we know from the first few episodes Sam went to Yale for a lecture.  There was a potential that he would be offered a position as head of the Psychology Department.  Nate talks with one of the other professors who tells him that Sam cancelled at the last minute complaining of food poisoning. Nate then checks with the car attendant at the hotel where Sam stayed. He left his hotel at 7:00 pm and came back the following morning at 6:00 am. So if Sam never went to the lecture, where was he? Sam mentions during a dinner with friends that someone else took the Yale position and he was happy about it.  Nate lies to Annalise about Sam's whereabouts the night of Lila's murder.  Annalise is relieved and mentions she misses him. Nate tells her to go home. The question is why? What does Nate get out of this other than Annalise maybe leaving him alone?
Wes tries to see Rebecca but the policeman tells him he either needs to be a lawyer or a reporter.  Wes casually looks at someone else come to sign in and notices the kind of ID he had on him.  He notices Lila's boyfriend Griffin coming out of the holding area.  Wes asks Connor if he could use his hacker friend to unlock the phone he found in his bathroom.  Connor's not buying that it's for a friend.  We learn that it's Lila's phone when it rings at Annalise's house with a guy asking for her.  He apparently was trying to get some drugs.  My guess is Rebecca knew that having Lila's phone in her possession would make her case look worse so she hid the phone.  Did she think that Wes would eventually find it? Something to ponder.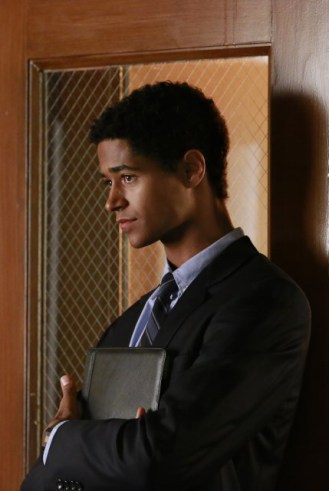 Griffin is later interviewed by Bonnie and Frank while the others listen in.  Annalise at the time was still on the fence about taking him as a client and wanted him interviewed first.  Griffin pretty much blames Rebecca.  He explains that Rebecca provides Lila and himself drugs and staged it so they could be caught having sex by Lila, who was understandably upset.  He says that Lila scratched at him which is the reason why his DNA would be in her fingernails.  He wanted to apologize to Lila but didn't see her again and found out she was dead.
Wes tries to warn Rebecca by creating a fake ID to talk to her.  She rats him out after he questions her about the phone and the fact that her case for the moment seems hopeless.  Wes gets arrested.  Talk about ungrateful.  She couldn't at least tell him more info about the phone? Annalise bails him out and initially rants at him for not telling her Rebecca was his neighbor. I wonder if he will get a hearing?
Wes gets the trophy after he makes an impassioned plea on Rebecca's behalf for Annalise to take her case.  Even poor girls need a fair shake right?   Just when Annalise is about to talk with Rebecca for the first time, they find out that she confessed to the murder.  Bad move Rebecca, Wes told you not to say anything without a lawyer! Sam's reaction to hearing about Annalise representing Rebecca was interesting too.  Yes we do know that Annalise likes a challenge.
Thoughts
There's some twistery going on in this show that's for sure! The next two episodes we will probably see both Laurel's and Connor's version of what happened right after the murder.  Seeing the students interact at the bar with not only each other but with other students was really nice to see since so far we only see them in competition mode.  I liked Michaela's development as a character this week.  I wanted more character development from her, and I got it.  I'm still waiting to care about Asher.
What did you think of the episode?  What would you do if you were in Michaela's shoes?  Is Frank really a lawyer?  What are the 9 words Annalise will say next week that will have us on the floor?  Sound off below in the comments!
*Photos courtesy of ABC/Mitch Haaseth