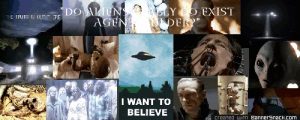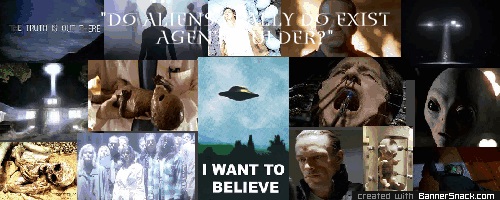 From the moment I saw the banter between skeptic Dana Scully (Gillian Anderson) and true believer Fox Mulder (David Duchovny) I was hooked! The X-Files took over my life like no other series had before, as the mythology of government conspiracy, alien abductions and other-worldly phenomena captured a loyal following. I'll never forget anxiously waiting in line for the first movie, The X-Files: Fight the Future and that moment fans had been debating about finally came….the kiss! Yes I am a Mully (smush name for Mulder and Scully) shipper, so when they were interrupted by a deadly bee carrying a virus that stung Scully, I was a bit upset! LOL  But the movie was everything X-Philers expected and more!
The X-Files has been one of televisions most enduring serials, with a cult following that in my estimation, rivals Star Trek. After nine seasons on FOX, the show pulled up shop but due to high demand another movie was made, The X-Files: I Want To Believe, as a stand alone.  Although it didn't garner the theatrical numbers executives hoped, fans clamored for another movie, especially upon the 20th Anniversary of the series' debut. I had the honor of chatting with the Cigarette Smoking Man himself, William B. Davis on a Special Edition of RHeart Radio for The X-Files 20th Anniversary on Blogtalk. It was surreal talking to the #1 Villain in Science Fiction history about his role, extra-terrestrials, UFO's and conspiracies!
X-Philers turned out in droves for The X-Files 20th Anniversary panel at the San Diego Comic-Con in 2013 and the question on everyone's mind? Will there be another movie? The explosive turn out for the event clued the network, as well as the show's showrunner Chris Carter and stars Duchovny and Gillian, that we still wanted more! We weren't giving up!
FOX heard our cries and announced on March 24, 2015 that there would indeed be another season of The X-Files! A six-episode event, that will begin airing in a two-part season premiere Sunday, January 24, 2016, 10:00 p.m.ET/8:00 p.m.PT, following the NFC Championship Game. It continues on Monday, January 25, 2016 at 8:00 p.m. ET/PT.  Duchovny has described the new season as a six-hour movie, so I'm definitely up for the next chapter of this alien-government conspiracy laden saga.
Next week, there will be an exclusive special two-part trailer of The X-Files airing Monday, September 28, 2015, part one during Gotham, at 8:00 p.m. ET/PT and part two during Minority Report, at 9:00 p.m. ET/PT.
Gotham: Rise of the Villains began its sophomore season last week, setting the tone as a new threat hit the city when the criminally insane conveniently stashed at Arkham Asylum were recruited to join a brutal take over! This week, on Gotham at 8/7c, "a deadly escape rocks the city and following his reinstatement, it's up to Gordon (Ben McKenzie) to track the Maniax. Meanwhile, Galavan (James Frain) plans his next move, while Bruce (David Mazouz) enlists the help of his father's old friend to unlock the secrets in his office, and Nygma (Cory Michael Smith) attempts to ask out Kristin Kringle (guest star Chelsea Spack)."
On Minority Report at 9/8c, "it's a match made in…the future. Dash (Stark Sands) and Vega (Meagan Good) team up again to find a killer who is currently down on love. Meanwhile, Dash continues to reach out to this siblings for help."
If you're a fan of The X-Files, you won't want to miss the exclusive special two-part trailer, Monday, September 28, 2015, beginning at 8/7c on FOX!
https://youtu.be/IyaMXTK6DUI
*Headed to the New York City Comic Con? Don't miss an exclusive screening of the very first new episode of The X-Files on Saturday, October 11, 2015 at 1:30 p.m., Main Stage. It will be followed by a Q&A with creator Chris Carter and star David Duchovny.  For more information, go to NYCC website.
Be sure to follow The XFiles on social media:
JOIN THE DISCUSSION: #TheXFiles
JOIN THE DISCUSSION: #Gotham
JOIN THE DISCUSSION: #MinorityReport