Shmaltz Brewing is going where no other brewery has gone before. Today they announced 2 collector's edition beer releases commemorating Star Trek's 50th Anniversary. More details and pictures below courtesy of their press releases.
SHMALTZ BREWING CELEBRATES THE 50TH ANNIVERSARY OF STAR TREK
WITH TWO COLLECTOR'S EDITION BEER RELEASES
DEBUTING AT SAN DIEGO'S COMIC-CON, "STAR TREK LAS VEGAS" & "MISSION NEW YORK"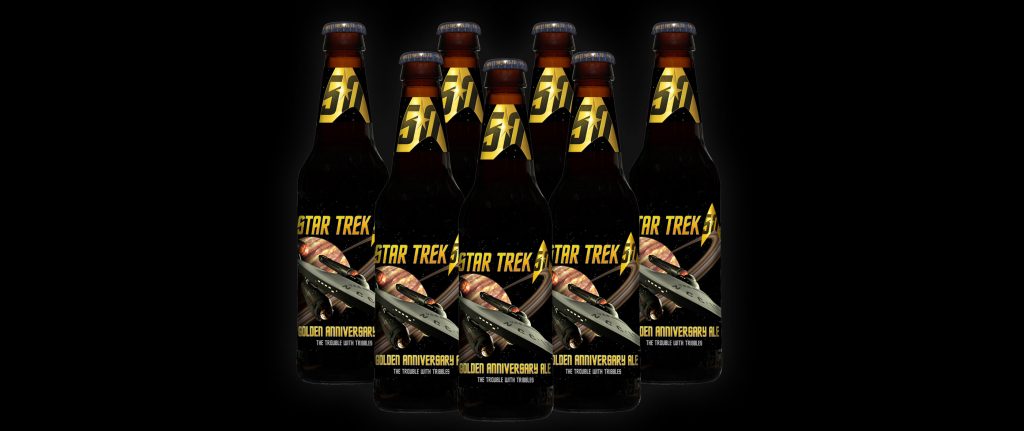 Two Recipes…Two Releases…Two Release Dates
Golden Anniversary Ale: The Trouble With Tribbles
Golden Anniversary Ale: Voyage To The Northeast Quadrant
Clifton Park, NY — Wednesday, July 13, 2016 — Shmaltz Brewing Company boldly goes to Comic-Con International with a unique Collector's Edition 50th Anniversary Release commemorating Star Trek 50: The Trouble With Tribbles. This summer and fall, Star Trek celebrates its 50th Anniversary and Shmaltz captures the TV show's indelible spirit that so many science fiction fans have come to love over the last half century. With The Original Series debuting on NBC in 1966, Star Trek has grown to become the #4 all-time movie franchise broadcasting in over 200 countries and grossing $2.4 billion all-time sales at the box office. CBS Studios has teamed up with Shmaltz Brewing for the only officially licensed Star Trek beers in the United States.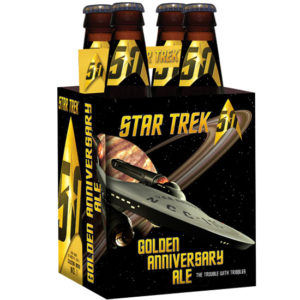 Trekkies attending San Diego's Comic-Con International! Get ready for the debut of Star Trek Golden Anniversary Ale: The Trouble With Tribbles at the premiere of Star Trek Beyond (IMAX, Embarcadero Marina Park, July 20) and Comic-Con at the San Diego Convention Center (July 21 – 24). The Trouble With Tribbles will also be available at the San Diego retail locations listed below. Additionally, The Trouble With Tribbles will be available at the "Star Trek Las Vegas" convention at the Rio Hotel & Casino from August 3 – 7, 2016. In fall 2016, Shmaltz brings their second Star Trek Golden Anniversary Ale: Voyage to the Northeast Quadrant to "Mission New York" at the Javits Center from September 2 – 4, 2016.
Star Trek Golden Anniversary Ale: The Trouble With Tribbles (5 Malts, 5 Hops, 5% ABV)
In the original Star Trek series episode "The Trouble with Tribbles," the U.S.S. Enterprise is called to protect a shipment of a genetically engineered four-lobe grain that is a hybrid of wheat and rye, called quadrotriticale. Since the year 2269 is still about 250 years in the future, Quadritriticale has yet to be conceived. Thus, Shmaltz brews with triticale for Golden Anniversary Ale: The Trouble With Tribbles.
The first commercial release by Drew Schmidt (Shmaltz Lead Brewer), the longtime Shmaltz brewer comments about the beer, "Light Carastan malt gives some residual sweetness in the form of very light toffee. A dose of Munich adds a slight bready quality, and wheat malt lends to a slight crisp character. Mashing at a moderate temperature gives this beer a medium body. In keeping with the intergalactic theme, hopping is comprised of Comet, Polaris, Aurora and Admiral (Kirk) hops. This beer is only loosely filtered to clarity, in order to preserve the ambiguity of good and evil."
Starting next week, Golden Anniversary Ale: The Trouble With Tribbles will be available throughout the San Diego metro area at Neighborhood (777 G St.), Burgers, Bate & Beer (200 Marina Park Way), Hopping Pig (748 Fifth Ave),Tipsy Crow (770 Fifth Ave), Gaslamp Tavern (868 Fifth Ave), The Safehouse – North Park (2930 University Ave), Newport Pizza & Alehouse – Ocean Beach (5050 Newport Ave), Balboa Tap House – Clairemont (4421 Genesee Ave),Goldfish Point Café – La Jolla (1255 Coast Blvd), Eureka! – La Jolla (4353 La Jolla Village Dr), Woodstock's Pizza – SDSU (6145 El Cajon Blvd), Ugly Dog Pub (6344 El Cajon Blvd), Craft Kitchen – La Mesa (4253 Palm Ave), and The Hills – La Mesa (8758 La Mesa Blvd). Please refer to this interactive map for additional locations selling The Trouble With Tribbles.
Star Trek Golden Anniversary Ale: Voyage To The Northeast Quadrant (5 Malts, 5 Hops, 5% ABV)
Recipe designed by 2nd Shift Supervising Brewer Ivan Dedek, Shmaltz's second offering for Star Trek 50 harnesses a crisp, clean malt character showcased by the use of light Munich malts and brewer's maze. The aroma is accented by fresh citrus fruits such as lemon and lime with subtle notes of white wine. The crisp malts and fruity aromas are elevated by maintaining a mild bitterness allowing each selected ingredient to offer its individual qualities without being overshadowed by any single ingredient. With 5 malts, 5 hops and 5% ABV, Voyage To The Northeast Quadrant is the perfect brew for any beer lover to toast the 50th Anniversary of such an iconic piece of popular culture.
About Shmaltz Brewing Company
Founder and owner Jeremy Cowan established Shmaltz Brewing in San Francisco in 1996. The first 100 cases of He'brew Beer® were hand-bottled and delivered throughout the Bay Area from the back of his Grandmother's Volvo. Shmaltz Brewing now sells He'brew Beer across 35 states, through 40 wholesalers and in nearly 5,000 retailers.
After 17 years of being an outspoken cheerleader for contract brewing, Cowan and staff opened their own New York State production brewery in 2013 in Clifton Park, 10 minutes north of Albany. Shmaltz's home boasts a 50-barrel brewhouse with 30,000 barrels of annual capacity and packages a diverse and tasty variety of core and seasonal favorites in 12 and 22-ounce bottles and kegs. The Shmaltz Tasting Room is open five days a week (Wed-Sun) and offers tours, barrel-aged previews, beer-to-go, and special releases.
RateBeer.com ranked Shmaltz as one of the "Top 100 Brewers in the World" in 2013, and the brewery brought home 10 gold and 6 silver medals from the World Beer Championships in the past several years.