For the 2nd straight year we attended DesignerCon in Pasadena, California…and for the 2nd straight year we were blown away by the artists we saw there.
In case you haven't heard of DesignerCon before here is a good description right from their website "DesignerCon is an annual art and design convention that smashes together collectible toys, customs, plush, designer apparel and so much more with urban, underground and pop art! We are a celebration of all aspects from the world of design." Basically, it's an artist alley on steroids, lots of great artists, and a convention that lets you talk to the artists one-on-one if you'd like.
This year they expanded into 3 halls at the Pasadena Convention Center (up from 1 in 2014 and 2 in 2015). They also added some panels and an after party which featured 3 sets of 2 artists each doing art on large mural right on the main stage. We thoroughly enjoyed this convention and can't wait to attend again in 2017 (11/11/17-11/12/17 in Pasadena at the Pasadena Convention Center once again).
One of our highlights was getting to talk to Jack from Jackorama (you can read the interview we did with him after last years show here). We also gave a live report from the show for An Englishman in San Diego's YouTube live show (which featured an interview with Jackorama) which you can watch here.
Our editor also picked up 2 pieces from the show, one of which was a diorama from Jackorama.
The other piece was the latest in the protest line from Special Ed Toys, this one being a collaboration with Janky Toys.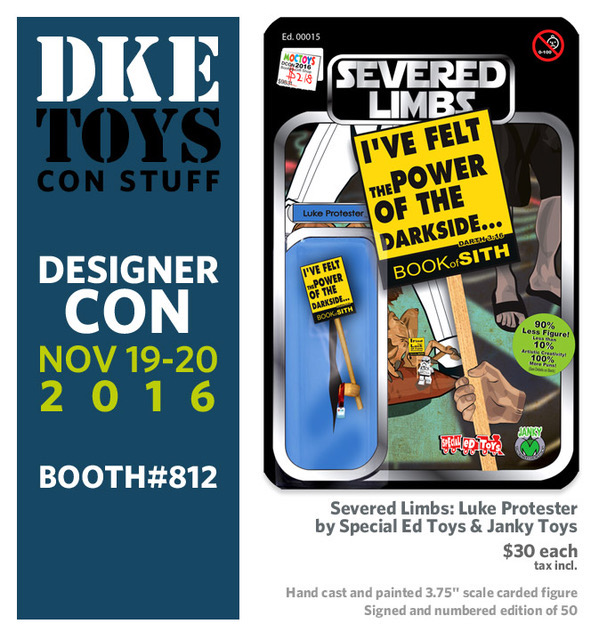 You can see all the pictures we took at the show here (and there was a lot, but considering the level of artistic ability at the show) was needed!