If you love Sailor Moon like I do you have been waiting to hear this. Just take my money Viz Media!!! Sailor Moon S part 2 coming to home release blu ray and DVD June 20th. See full press release below. Who is excited?

VIZ MEDIA ANNOUNCES HOME MEDIA RELEASE OF SAILOR MOON S PART 2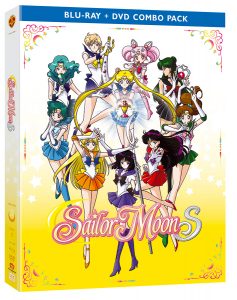 Season 3 Of The Popular Anime Adventure Series Continues This Summer With This All New Release!
San Francisco, CA, June 19, 2017 – VIZ Media, LLC (VIZ Media), a premier company in the fields of publishing and animation distribution, invites SAILOR MOON and anime fans to dive into the latest episodes available on home media with the release of SAILOR MOON S Part 2 on June 20th!

This set features the much anticipated second-half of Season 3, Episodes 109-127, of the beloved, classic anime series based on Naoko Takeuchi's original Sailor Moon manga series. SAILOR MOON S Part 2 will be available as a Blu-ray/DVD combo pack as well as a Standard Edition DVD only set.

Fans that order SAILOR MOON S Part 2 from RightStufAnime.com will receive a special set of ten art cards while supplies last.

In the latest episodes, Sailor Uranus and Neptune's search for the three talismans has led them to become targets of the Witches 5, the Death Busters' beautiful and deadly agents, who also seeks the talismans to summon the powerful Holy Grail! Now, Sailor Moon and the other Sailor Guardians are on a race against time to save their friends' lives, and to prevent the power of the Holy Grail from falling into the wrong hands. Meanwhile, Chibi-Usa befriends a young girl named Hotaru, whose mysterious power quickly attracts the attention from both friend and foe. Is there a connection between Hotaru and the enemy? And who is the Messiah of Silence that is said to bring destruction? Will Sailor Moon's new power be enough to protect the world from the coming Apocalypse?

The SAILOR MOON S Part 2 Blu-ray/DVD Combo Pack will carry an MSRP of $69.99 U.S. / $81.99 CAN; the Standard Edition DVD set will carry an MSRP of $39.99 U.S. / $52.99 CAN.

The Blu-ray/DVD Combo Pack features three Blu-ray discs, three DVDs and special features including clean opening and closing segments, a digital art gallery, English voice cast interviews and official series trailers.

The Standard Edition DVD Set features three discs, clean opening and closing segments and official series trailers.

Fans are also invited to enjoy the classic SAILOR MOON and the all-new SAILOR MOON CRYSTAL anime series, which are available from VIZ Media on Blu-ray/DVD Combo Packs as well as multi-disc Standard Edition DVD sets. VIZ Media also recently released the home media edition of SAILOR MOON R: THE MOVIE.

For more information on SAILOR MOON or other award-winning anime titles from VIZ Media, please visit VIZ.com.
---
About VIZ Media, LLC
Established in 1986, VIZ Media is the premier company in the fields of publishing, animation distribution, and global entertainment licensing. Along with its popular digital magazine WEEKLY SHONEN JUMP and blockbuster properties like NARUTO, DRAGON BALL, SAILOR MOON, and POKÉMON, VIZ Media offers an extensive library of titles and original content in a wide variety of book and video formats, as well as through official licensed merchandise. Owned by three of Japan's largest publishing and entertainment companies, Shueisha Inc., Shogakukan Inc., and Shogakukan-Shueisha Productions, Co., Ltd., VIZ Media is dedicated to bringing the best titles for English-speaking audiences worldwide.
Learn more about VIZ Media and its properties at VIZ.com.