Adapting Stephen King's work is basically its own genre now, with sometimes successful results (the film version of "The Mist") and not-so-great ones (the TV version of "The Mist"). I'm not necessarily talking about box office results, either, but translations of King's works—which frequently delve deep into the minds of his characters.  This has been proven to be a harder thing to depict—from the page to screen with the same sense of wonder and dread that King puts in his words.
Add "Mr. Mercedes," the new show on AT&T's Audience Network, to the list of successes—at least through the first four episodes that were available for review.
With a strong cast including Brendan Gleeson, Holland Taylor, Kelly Lynch, Mary-Louise Parker, and Harry Treadaway, "Mr. Mercedes" probes into the psychological games a killer named Brady Hartsfield (Treadaway) plays with detective Bill Hodges (Gleeson), who failed to capture him after he committed a horrific crime years earlier. As the cast said in several interviews conducted at San Diego Comic-Con, the show is more about the monsters inside us vs. the exterior monsters of King's supernatural stories.
King was inspired to write "Mr. Mercedes," King's version of a hard-boiled detective thriller, after a woman drove her car into a McDonald's hiring event in 2011, injuring four people. In King's novel, Brady Hartsfield steals a Mercedes and plows into a crowd of people at a job fair, killing 16 and injuring several others. Det. Hodges vows to catch the "Mercedes Killer," only to fail and be forced into retirement a couple of years later.
As depicted on-screen, Hartsfield's rampage is sickening—as it should be. The show takes time letting the audience get to know the people in the line before the menacing Mercedes pulls up, lights off.  It's as if the car itself is watching for its moment. The slow build-up enhances the audience's feeling for the victims as Hartsfield drives through the crowd, crushing some and sending others flying. "Mr. Mercedes" does not sanitize this act of violence.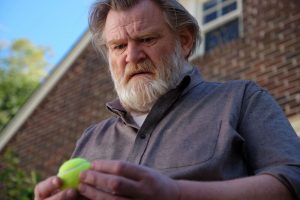 Hodges and his partner, Pete Dixon (Scott Lawrence), work the case to no avail. Cut to two years later when Hodges has been forced into retirement, drinking to excess and is basically "derelict." This is according to his friendly neighbor, Ida (Taylor), a character created specifically for the show. Ida keeps tabs on him, invites him to dinner, and even propositions him, though Hodges declines.
Meanwhile, Hartsfield is working at a local electronics store with a sympathetic co-worker, Lou (Breeda Wool) and a smothering jerk of a boss, Robi (Robert Stanton). At home, things are even worse as his mother Deb (Kelly Lynch), an alcoholic, continues to nose into his private life and abuse him (trigger warning: the show deals forthrightly with incest).
Eventually, Hartsfield decides to come out of hiding to taunt Hodges with Hodges' failure to catch him. A cat-and-mouse game ensues, with Hodges helped by his young gardener, Jerome (Jharrel Jerome of Moonlight), who is also a computer whiz. Hodges battles an indifferent police force to solve the case that got away, aided by Janey Patterson (Parker), the sister of the woman whose Mercedes was stolen and used in the Hartsfield's crime and who subsequently killed herself. Both Patterson and Hodges want vengeance, but will that base motivation help them catch a deranged man?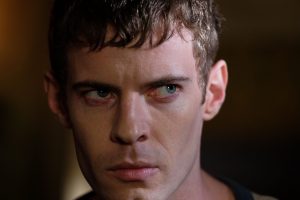 The show moves quickly at first, then slows down a bit for more character work in the fourth episode (written by crime fiction luminary and consulting producer Dennis Lehane). There's a lot of King hallmarks, too, especially the use of music (traditional tunes for Hodges versus Hartsfield's punk rock).  The Mercedes itself is evil-looking and the twisted antagonist has a thing for clowns. Hodges is the typical "everyman" protagonist (he drinks and falls asleep watching TV), though instead of a dog or cat, he has a pet tortoise named Fred.
The framing of shots is excellent at conveying information and feeling, particularly in the first episode when Hodges pulls into the parking lot of Supreme Electronix where Brady works. Another stand out scene happens in a later episode when Brady is driving at night across a suspension bridge. The use of dark and light, stuttering video, and sound design also amp up the suspense and discomfort of several scenes.
Gleeson brings a world-weary, yet manic energy to his role as Hodges becomes increasingly agitated by Hartsfield's disturbing taunts. Treadaway is also very good with Hartsfield's various "masks" (shifting his expression slightly whenever Hartsfield's inner torment becomes too much). In addition to the electronics store job, Hartsfield is a part-time ice cream truck driver who seems to love children. You never know for sure how he'll react to anything, increasing the dread every time he's on-screen.
The supporting cast is all quite good. Taylor does a wonderful job portraying Ida's upfront manner. Also of note is Wool's turn as the sarcastic Lou, who struggles to ignore customers who take issue with her gender fluidity. Jerome's young gardener shines with intelligence and curiosity, while Parker's Janey exudes desperation for closure and vengeance for her sister's suicide. Lynch brings a harrowing sadness and horror to her portrayal of Deb.
Mostly, though, it's good to see an adaptation of King's novel that works on all levels. The lack of the supernatural—apart from Hartsfield's magical computer skills—possibly means this was an easier novel to translate to digital. As a huge Stephen King fan, I couldn't be more pleased with how "Mr. Mercedes" is turning out. If you like your hard-boiled detectives grizzled and coarse but ultimately sympathetic, and your psychos truly psycho and scary, this is the show for you.
 "Mr. Mercedes" premieres on Aug. 9 at 8 p.m. on AT&T AUDIENCE Network, and will also be available to stream on DIRECTV Now