FreeForm brought Siren to New York Comic Con this weekend and announced its premiere date for Spring. The series will premiere on March 29th at 8 pm with a two-hour episode. See full press release below. Will you be watching Siren? Let us know in the comments.
FREEFORM DECLARES MARCH 29 INTERNATIONAL MERMAID DAY WITH THE
PREMIERE OF NEW ORIGINAL DRAMA, 'SIREN,' AT 8 P.M. EDT
In a packed room of nearly 1000 screaming fans during their New York Comic Con panel, Freeform,
Disney's young adult television and streaming network, announced that their new original drama
"Siren" will premiere on THURSDAY, MARCH 29, with a special two-hour episode (8:00–10:00
p.m. EDT).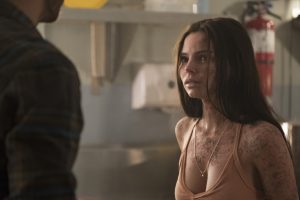 Also announced during today's panel was the casting of Aylya Marzoff ("Grandfathered") and
Sedale Threatt Jr. ("Hap and Leonard") who will both join the cast in recurring roles. Marzoff will
portray Katrina, an alpha leader of the mermaid colony, while Threatt Jr. will portray Levi, a warrior
merman with an imposing presence.
What if there was something sinister swimming beneath the sea's surface? In Freeform's next epic
tale, "Siren," the coastal town of Bristol Cove, known for its legend of once being home to
mermaids, is turned upside down when a mysterious girl (Eline Powell) appears and begins
wreaking havoc upon the small fishing town. Using their resources, marine biologists Ben (Alex
Roe) and Maddie (Fola Evans-Akingbola) must work together to find out who and what drove this
primal hunter of the deep sea to land, and are there more like her out there?
"Siren" is based on a story by Eric Wald and Dean White who both serve as executive producers.
Emily Whitesell ("Finding Carter") serves as showrunner and executive producer. Brad Luff, Nate
Hopper and RD Robb also serve as executive producers.
---
About Freeform
Part of the Disney|ABC Television Group, Freeform connects to audiences and goes beyond
entertainment with bold original programming and immersive social engagement. As Disney's
young adult television and streaming network, it delivers a unique mix of quality original and
acquired series, plus fan-favorite movies and the holiday events "13 Nights of Halloween" and "25
Days of Christmas." The Freeform app is a service that allows viewers with participating TV
subscription services access to 24/7 live viewing of the network, as well as continued on-demand
access via a wide array of devices.