Trinkets is returning for its second and final season, which is released globally August 25 on Netflix. This is a non-spoiler review for the second season, but it will feature plot points from the first season so beware if you are yet to check out the show. The synopsis for Trinkets is below:
When three teenage girls find themselves in the same mandated Shoplifters Anonymous meeting, an unlikely friendship forms between grieving misfit Elodie (Brianna Hildebrand), mysterious outsider Moe (Kiana Madeira), and Tabitha (Quintessa Swindell), an imperfect picture of perfection.  They will find strength in each other as they negotiate the complicated dilemma of trying to fit in while longing to break out.
Trinkets is based on the young adult novel by screenwriter Kirsten "Kiwi" Smith (Legally Blonde, 10 Things I Hate About You, She's the Man) who serves as creator and executive producer. Amy Andelson and Emily Meyer (Step Up 3D) are also co-creators. Sarah Goldfinger (Charmed, Almost Human) is the showrunner.
The first season of Trinkets left the three leads in some trouble. Elodie's dad found out about her shoplifting and ordered her to go to rehab, so she runs away from home. Moe has started to like the shoplifting life after initially lying about stealing. Tabitha is trying to move on from Brady after sinking his car in a lake.
There are some notable new additions to the cast for the second season. Nik Dodani (Atypical) plays Chase, a science geek who acts as a rival for Moe. Andrew Jacobs (Paranormal Activity: The Marked Ones) is Moe's brother Ben, who returns from military school. Chloë Levine (The OA) plays Jillian, a friend Elodie makes in band. All three play a large role in the season.
As with season one, it's the three lead actors that really make the show. Brianna Hildebrand (Deadpool), Kiana Madeira (Dark Matter) and Quintessa Swindell (Euphoria) are believable in their friendship and can also carry the show when scenes revolve solely on them as individuals. The characters all grow during the second season and come to terms with a lot of their issues. This gives the show more depth, as a viewer you feel like you've lived that journey with them.
Season one was mixed, having high points but also some average teen drama. Season two carries on much in the same vein. The format of Trinkets, ten thirty-minute episodes, limits the writers in how much they can explore the themes of the show. For example, there is a point in the second season when Tabitha owns her identity as a black woman. But it only takes up five minutes of screen time, which just isn't enough. Trinkets is ambitious in the number of storylines it tries to fit in, sometimes to its detriment but the fact they tried to do so much in a limited run deserves respect.
Longer episodes would have made the plot development a little smoother throughout the series. Some of the plot points are a little ridiculous but if you go with it, the show is pretty fun. It does try to deal with deep emotions and does better than a lot of the young adult movies and TV out there.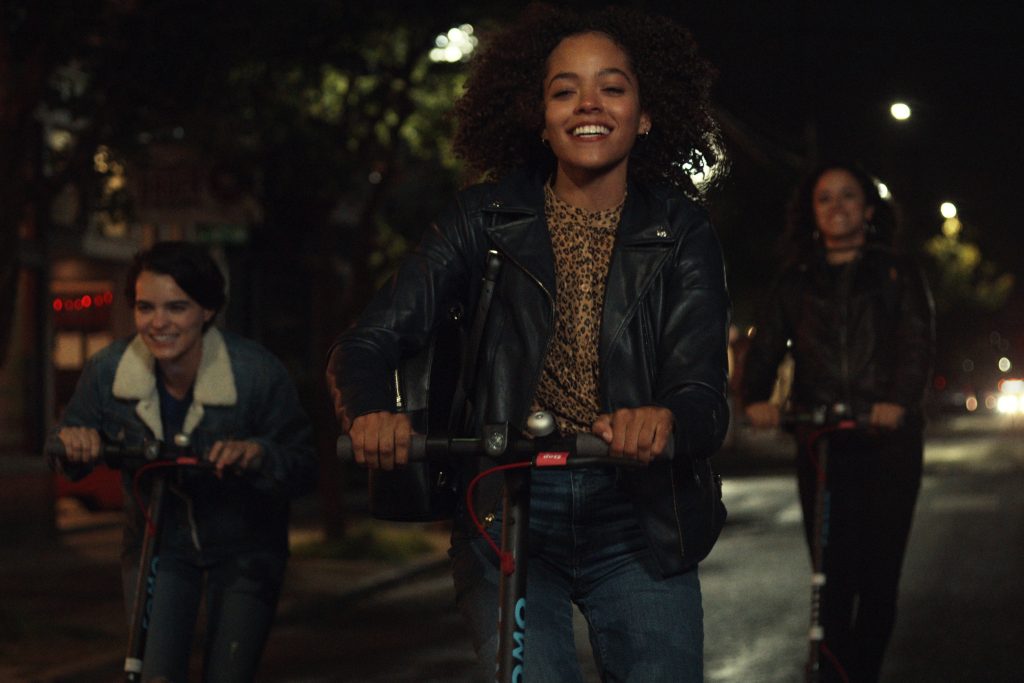 In trying to create a signature style for Trinkets, the creators have gone a little heavy with the needle drops and the slow-motion shots. It's not a bad look but it is overdone, especially in a show with a short runtime.
Trinkets is not unmissable television but deserves to have made more of an impact than the first season did. Netflix didn't push Trinkets hard despite it being the type of show that gets traction on social media. It's nice that they got a second season to wrap things up and complete the storylines of the main characters. I'd recommend the show, it's fast paced and entertaining. Trinkets isn't perfect by any stretch but it's an ambitious show with good characters. Worth checking out.