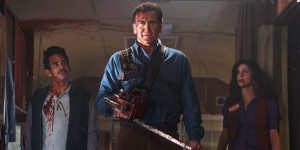 Hello! I'll be bringing you recaps of the new Starz show, Ash Vs. Evil Dead (AvsED) from now until the end of the first season. I plan to get them up shortly after the West Coast airing of the show (Saturdays at 9 p.m. on Starz for you primitive screwheads), but they may be delayed by a day or two, depending on my weekend schedule. Let's dive in to the pool of fun—and blood, and guts, and whatever else leaks out of a Deadite, shall we?
Previously, on "El Jefe," the premiere episode of Ash Vs. Evil Dead (currently showing for free on www.starzplay.com):
We meet up with Ashley J. Williams (Bruce Campbell) 30 years after the events in the first two Evil Dead films and Army of Darkness (though Sam Raimi & company don't have rights to AoD, so not only can it not be directly referenced in AvsED, but Ash now works at Value Stop instead of S-Mart—sigh!). Ash appears to be suiting up to fight more Deadites, but it's revealed he's really putting on Ash-style Spanx so he can go to the local dive bar and pick up women. He uses a false story about his missing hand—now carved out of rosewood instead of metal—to get a woman to agree to a bout of bathroom sex, but right in the middle of the proceedings, she's briefly possessed by a Kandarian demon who lets Ash know he's soon to be toast.
Turns out our hero, who now lives in a trailer park called Mossy Haven, released the spirits himself while getting high with another lovely lady. Because she can speak a foreign language, dumbass Ash thinks he can impress her by reading from the Necronomicon Ex Mortis. Drugs are bad, mm-kay?
Elsewhere, we meet Agent Amanda Fisher (Jill Marie Jones) and her partner, Agent Carson (Mike Edward), as they investigate a creepy house where it turns out Ash's poor female companion who read with him from the Book of the Dead is now a Deadite. She kills Carson and traumatizes Fisher, who not only kills her, but then has to kill a possessed Carson. No one believes Fisher, of course, except a mysterious woman played by Lucy Lawless (her character's name is Ruby, but we haven't learned that yet) she meets briefly at a diner.
Meanwhile, Ash is still working as a stockboy at the S—er, Value Stop—for a jerk boss, Mr. Roper (Damien Garvey), who will later get his Kandarian come-uppance. Ash's co-worker, Pablo (Ray Santiago) helps out when Ash is attacked by a possessed doll and believes Ash is the el jefe his brujo prophesied would come deliver us all from evil (Ash to Pablo about this news: "You've got the wrong jefe, chief!").
Pablo has a thing for fellow co-worker Kelly (Dana DeLorenzo), who Ash immediately hits on upon being introduced because he's Ash. The Kandarians begin making themselves known everywhere; Kelly receives a video call from her panicked father and sees her dead mother walking toward him. Kelly implores El Jefe to help, but he's more interested in blowing town than blowing out the brains of Deadites.
Back at Mossy Haven, the three are viciously attacked by one of Ash's trailer park friends, who is possessed by a particularly nasty demon. This involves not only having Ash pop up his boomstick (stop with your dirty minds!) from a secret compartment in his trailer's floor, but also a flying Ash hooking up mid-air with his trusty chainsaw to take out the Deadite menace. Groovy!
Between Sam Raimi's dynamic direction and Campbell's smooth performance, it's safe to say: Ash is back. Hail to the king, baby!
Raimi only directed the pilot, however; let's see how subsequent episodes turn out with different directorial visions. Oh, look, episode two is on! Let's see now!
Click here for Ep 2's Recap!