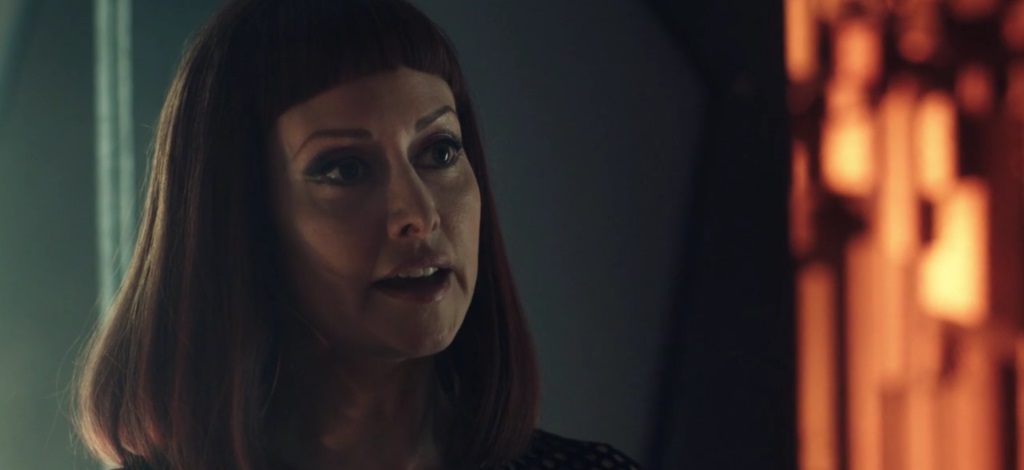 Since last season one of the many side characters that I've grown to love is the spaceship Lucy, voiced by Tamsen McDonough.  Showrunner Michelle Lovretta and the writers helped create a character that Aaron Ashmore affectionately calls the "fourth" member of the Killjoy team.  Her sassy wit and loyalty to Dutch and the Jaqobi brothers have made her an asset to everyone.  McDonough thinks Lucy is like a "loyal family golden retriever."
In episode six, "I Love Lucy" fans finally got to see Lucy in the flesh.  While every episode has been great so far this season, this one will always be special because we got to physically see "Lucy" as an android.  McDonough was gracious enough to give us some scoop about filming the episode and working on the show.
McDonough was excited to hear back from her agent after asking if Lucy was "getting a body."  "She sent me the script and my shoot dates…woohoo! I think I'm speaking for other actors as well when I say that we are always rooting for our characters. So, when I saw that Lucy gets to become 'almost human' and fully interact with Johnny and the rest of the humans, I was really happy for her."
While McDonough brings Lucy to life at a sound studio, how does McDonough work on creating chemistry with the cast by just voicing a character?  "While recording the scenes I watch the mostly finished episode up on a giant screen in front of me, to see where my lines fit in with their dialogue. I react to the actors from there. It's really cool to be almost surrounded by the scene and the Lucy set."  Fortunately, McDonough has met some of the cast at other events which probably helped create that natural chemistry. "I attended Toronto FanExpo with Aaron [Ashmore] last year and have met up with various cast members at events, etc. A bunch of us met up at Thom Allison's amazing one-man Christmas show last year (a major must-see, btw). However, when I went to set it was my first time meeting Luke [MacFarlane.] He was absolutely lovely (and hilarious), and excited for me to meet "Lucy".
McDonough appreciates getting the opportunity to act in an episode vs. just voicing Lucy. "It's so nice to be able to act and react to the other people in the scene. There's such an energy created so it was a wonderful experience to be able to feel that energy from the real people. There's also a great camaraderie between all the cast and crew and I really enjoyed being a part of that."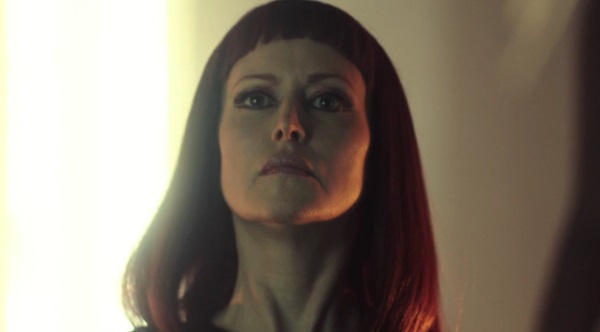 The action scenes probably doesn't hurt either.  "The talented (but intimidating) stunt team had us come in for a few sessions to choreograph the scenes. It was really cool learning how to not only be a badass, but to sell it as a robot badass." And what a badass she was!  I almost cried when Lucy was "torn apart" by the other bots.  The music really fit that scene too!
I had no compunction shipping Lucy and Johnny because of their flirtations over the course of the last few seasons.  Yeah he now has feelings for Pawter.  But I feel like if Lucy was human it wouldn't even be a contest.  What are McDonough's thoughts on the dynamic between Lucy and John in this episode?  "She loves her humans (and one especially) in the best way she can. She already has difficult to understand 'feelings' for John and wants to explore those. Feel things like the way she sees the humans feel. So when she gets the opportunity to experience her 'family' in a human form, I think she wants to learn all she can. Especially about chemistry and love… the hardest things for even an AI computer to understand."  Lucy said so herself during the episode, she's always wondered what it felt like to caress Johnny's cheek.
Lucy will hopefully never change because fans love her just the way she is. What does McDonough love about Lucy?  "Her unyielding loyalty. And she gives it willingly to those she likes. I also really enjoy that she sassy and plays favourites… and in such a blunt way. I think so many of us would love to be so honest with our 'emotions'.
I will be waiting patiently for Lucy to make some kind of appearance again.  In the meantime, I will look forward to whatever blunt observations and advice she gives to our Killjoys.