Five (Jodelle Ferland), Three (Anthony Lemke) and Four (Alex Mallari Jr.) go on a mission in this week's episode! On to the recap!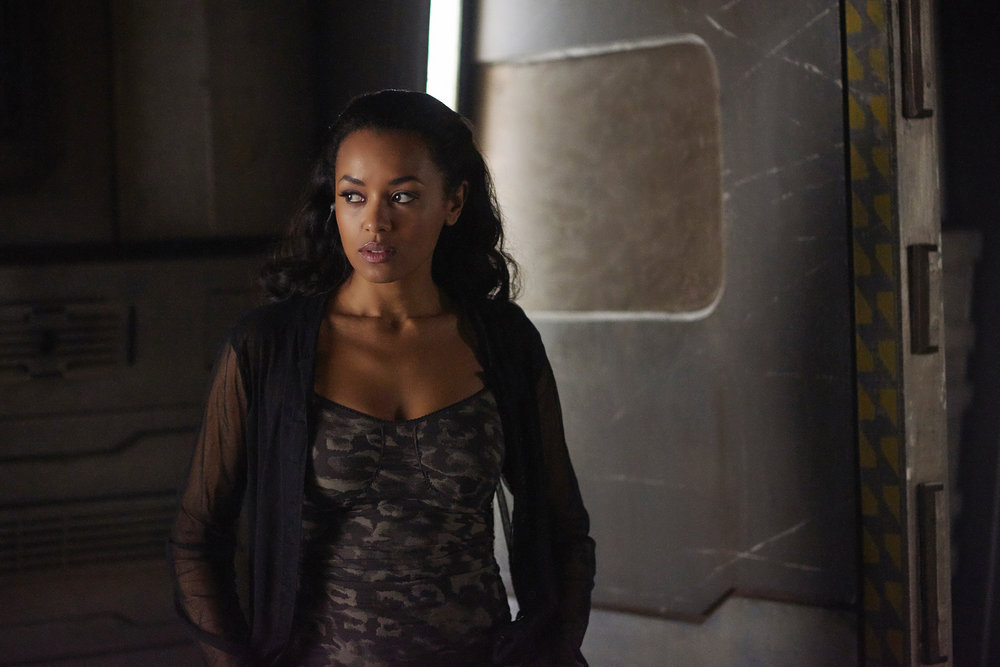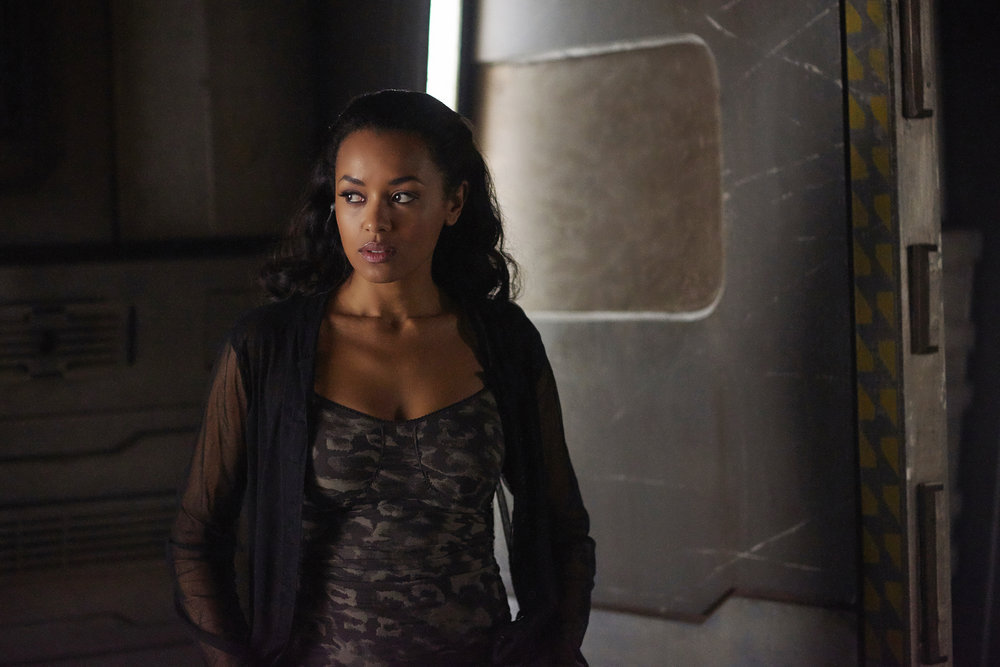 We start the episode with Two (Melissa O'Neil), Three, and Six (Roger Cross) indirectly helping their handler Talbor Calcheck (David Hewlitt) deal with a dissatisfied client.  Two then knocks him out.  On the Raza, Nyx (Melanie Liburd) goes to Devon (Shaun Sipos) for some meds to help her take the edge off because of her brother going back to Hansmeed (Daniel Fathers).  Devon advises against it citing a potential dependency for it and it's considered recreational use.  Nyx calls him out on his hypocrisy considering he's a user.  Devon gets defensive about it talking about she doesn't know what he's been through and all that jazz. Nyx demands the meds and Devon gives it to her.
Talbor wakes up seeing Two, Six, and Three standing over him.  He's surprised to see them.  They want to know how to find Alicia Reynaud (Inga Cadranel).  Talbor knows of her and is able to give the goods. She doesn't leave her headquarters but uses a clone. Transfer transit is how she travels.  They will get in the same way she gets out.  Talbot will help them go shopping.  They pick up some transit machines.  To prevent Talbot from snitching their plans he's coming with them.  He makes a pitiful attempt to escape but Nyx arm chops him.
Nyx is struggling with her emotions and whether or not to take the pills.  Android (Zoie Palmer) visits her.  Nyx isn't use to the team environment. Android sympathizes. She also understands that while One wasn't a family member, losing him was still difficult.  Android got a little choked up on that. The important thing is Nyx is not alone.  Android even touches her foot in sympathy.  On that note, Android leaves.
Talbor's date called Galactic Authority about the trashed apartment.  She seemed more concerned about getting a replacement date vs. Talbor's well-being.  One of them manages to get the security footage which shows Six, Three, and Two.  Inspector Kierken (Kris Holden-Reid) walks in and recognizes them.  He's still on the hunt huh?
Five finds Alicia's headquarters and also bypassed her security protocols to her transfer transit.  Five is on a role!  She boasts a little bit at their pow-wow.  Four (Alex Mallari Jr) is wondering who will go on the mission.  Two can't go because she's not fully human, her clone may not survive the trip.  Five needs to go for hacking purposes.  Since they can't take weapons with them, they need someone that's trained in unarmed combat.  That would be Four.  Three will go because Six is still on probation.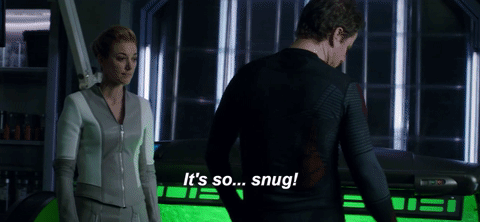 Four, Three, and Five are wearing snug expensive biosynthetic suits that can travel with them.  Three is uncomfortable in them, Android seems bent on the snugness, especially below the waist, by staring at Three.   Four will travel first.  Two tells them that this is a fact-finding mission only.  Come back as soon as they find out the scoop.  If there's trouble and none of the transfer pods are available try to reach the roof and send a signal, Six and Two will be on the Marauder lingering to pick them up if necessary.  If they die before getting back to the pods, they won't remember anything. No pressure. Five is last to go. Android wishes her luck.
When Five arrives, it's perfect because all she needs is the computer that's nearby to hack into the mainframe.  The boys can just stand guard in the transfer room and hand her some cookies to munch on.  Seems like a simple mission so far.  Talbot meanwhile manages to convince Android to let him out of his confined space.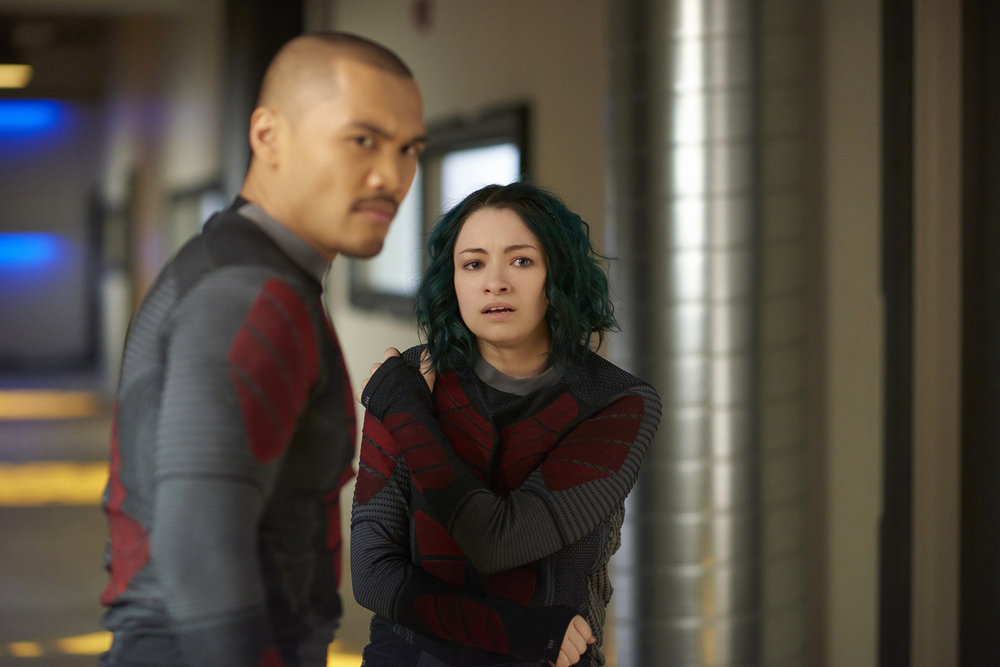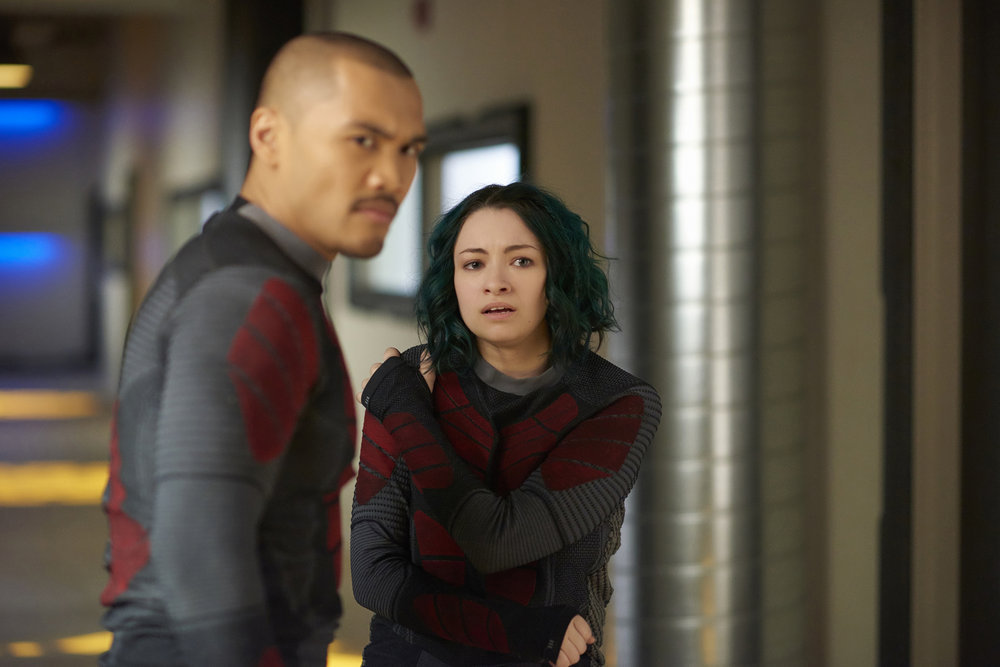 After what seems like only minutes, Five is able to find out what the card does.  It's part of a drive.  A blink drive to be precise.  Someone, let's say warships for example would be able to disappear and travel from point A to point B in a "blink of an eye" vs moving faster than a speed of light like with FTL. Yep, now they know why Alicia was willing to kill for it.  Five further explains that the card fits into an adaptor and the adaptor can be retro-fitted into any drive on a ship.  They can get the adaptor in a lab a few levels up.  Four makes quick work on some workers and a guard so they can be incognito on their way to the lab. Four of course is the security guard.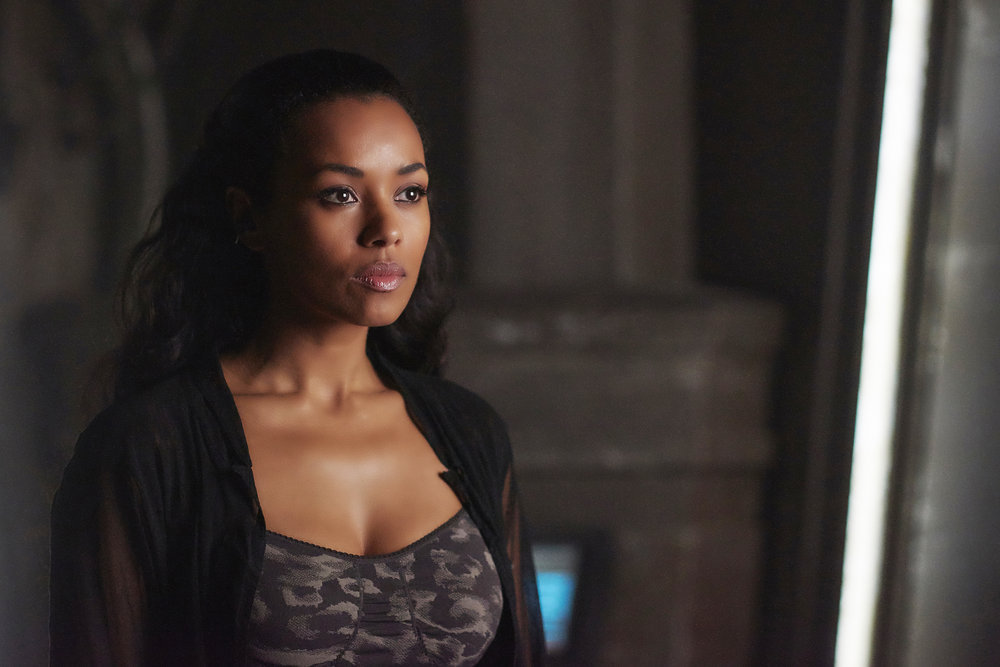 Devon catches Nyx just as she walks past him asking about the op.  Nyx updates him that it's in motion right now.  Devon seems a little high, drunk, or both. In looking at the pod nearby he feels like the crew got a blessing in disguise in getting their memory wiped.  Nyx disagrees because the past eventually catches up. Devon still wants a fresh start.  Nyx suggests starting today by making better decisions.  Devon opens up about killing a girl on the surgery table because he was high.  He felt he could've saved her if he wasn't.  He struggled to stay clean because he couldn't handle seeing the girl's face. Nyx gives him back the meds she got earlier.  They are all in their own way trying to deal with their past.  Food for thought.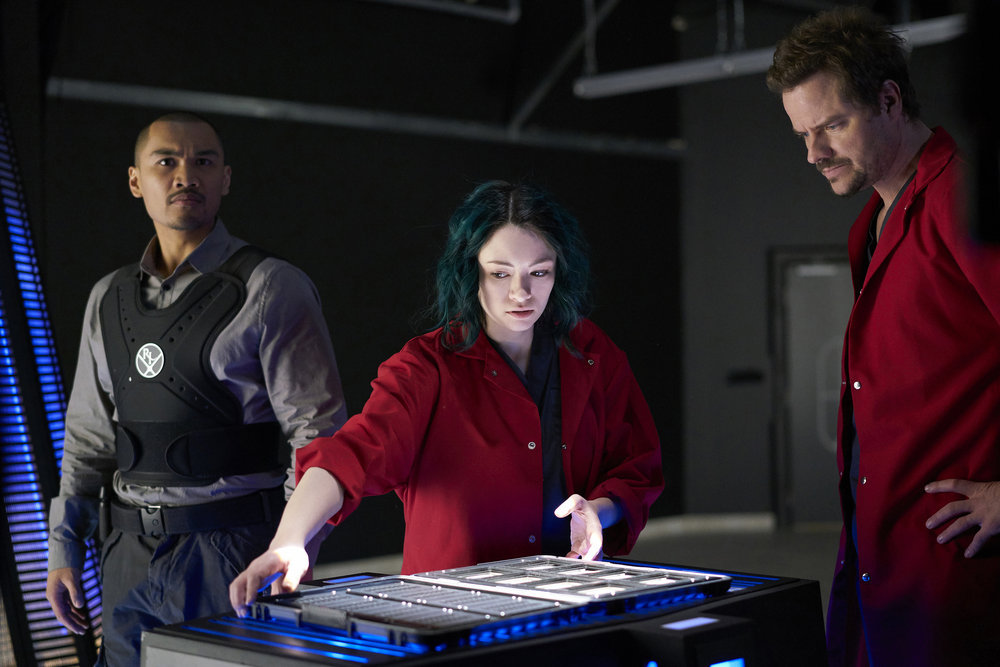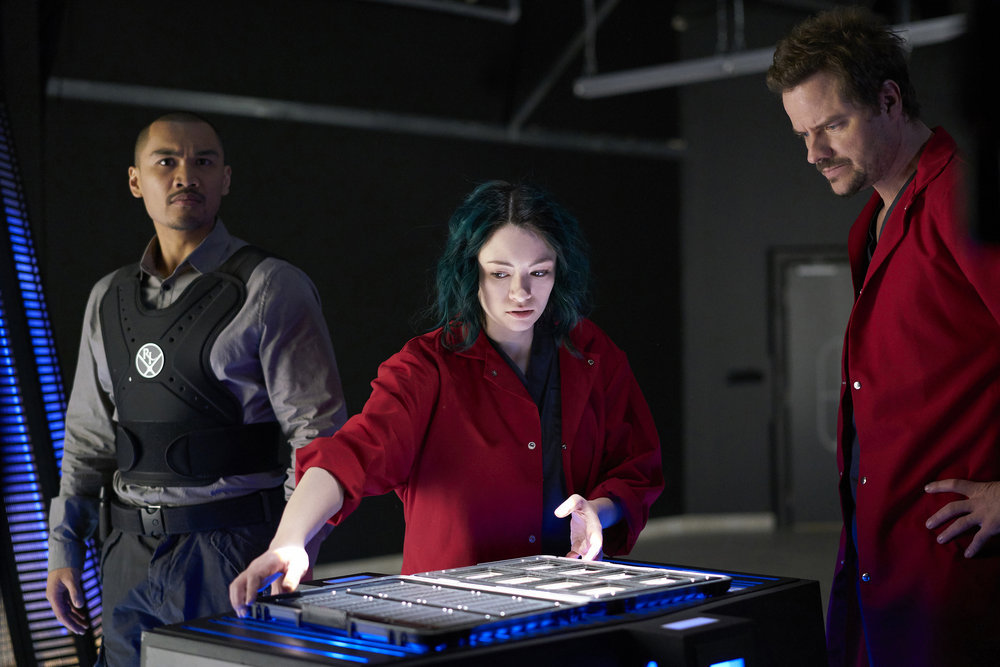 Four, Three, and Five make it to the lab.  They find the drive on a small table.  As soon as they remove it an announcer asks for a password.  Three questions it by saying "Password?" which was incorrect.  Alarms start going off. They run into some guards in the hall.  Three wants Five to make it to the roof top while he and Four create a distraction.  Three keeps talking not realizing Five already bounced.  Four points it out to him while exchanging stun gun fire.  The guards manage to blast them.  Five is in the vents, her go to place in any building or ship.
Three wakes up in a room with both his and Four's backs to each other in cuffs.  Four can get them out but it would require dislocating both of Three's shoulders.  Three's not too keen on that plan.  Alicia walks in introducing herself and thanks them.  Since the device can't work without the final card, she will have her guys find the Raza by tracing the transfer transit like Five did earlier with her. Three figures she stole the tech since the card is one of a kind.  Alicia doesn't deny it.  Four is confident that since they are clones Alicia can't really hurt them but she disproves that theory by telling him that she can send a really big electro charge to the transmission pod where their original bodies are which will fry their brains.  She will still hurt them though by bringing in Mr. Ostrander (Reed Clare) since clones can still feel pain.  Ouch.  Ms. Reynaud also added that she will torture them and kill them in their transmission pods to cover her bases.  Double ouch!  Alicia leaves on that positive note.  Mr. Ostrander starts putting his gloves on.
In the medical wing, Talbot recognizes that Android is different.  He's dabbled in black market tech for androids so he's seen a few droids with upgrades.  When Talbot asks why she was changed, she approaches him with different potential scenarios with the last one being someone having compassion to change her.  Awkward.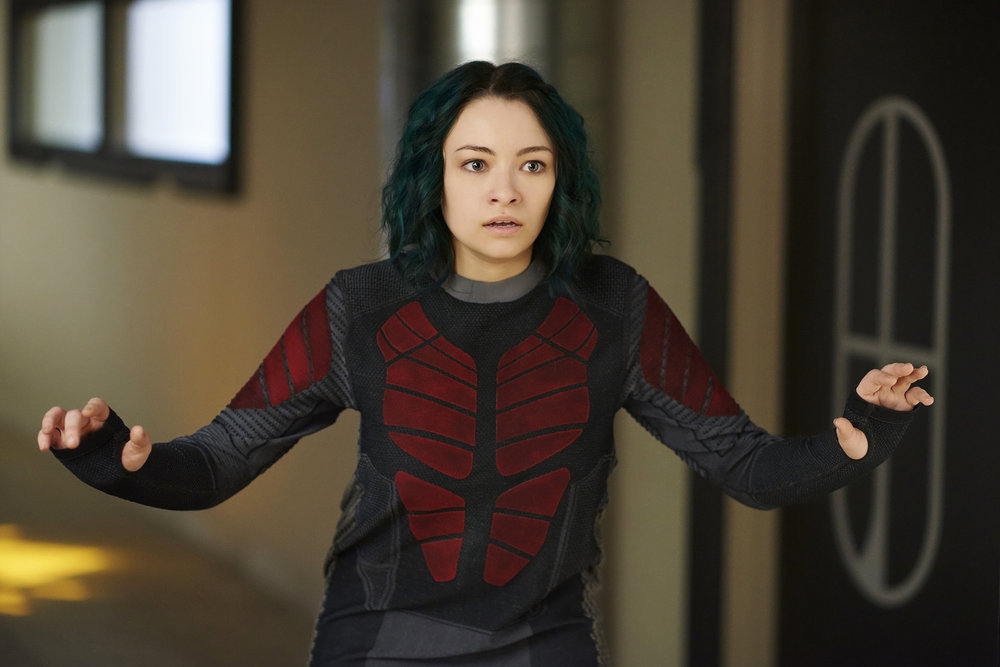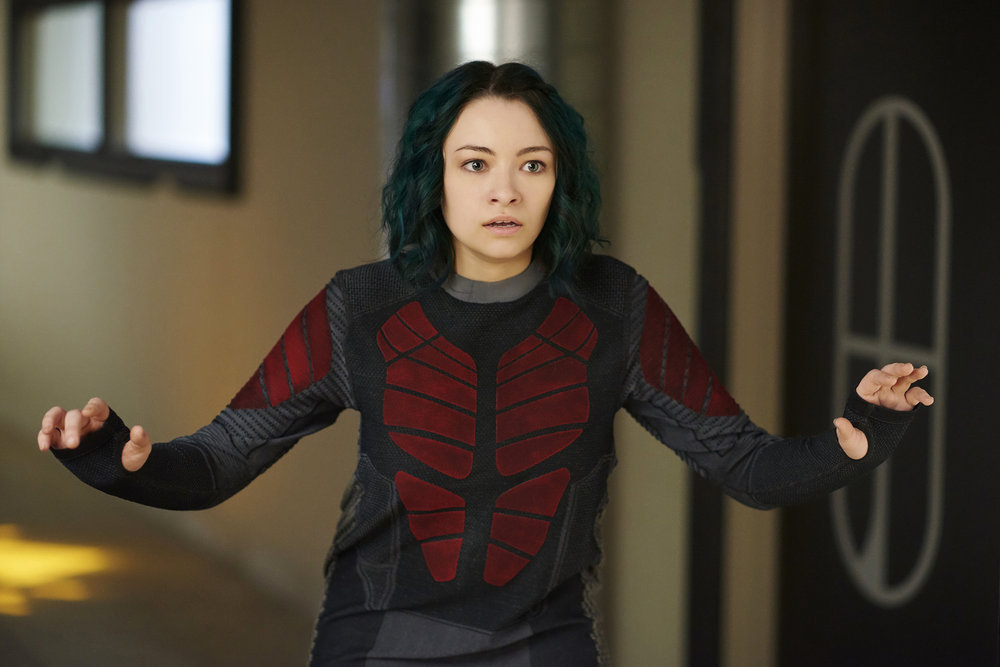 Alicia walks in to her transit room and asks the tech for an update. He has almost finished tracing the signal.   Incidentally Talbor explains that Three, Four, and Five don't have to stay in the pods the entire time.  Android disagrees as they don't know how long the mission will take and sees no harm in keeping them in the pods.  Sigh…
Meanwhile, Three and Four have gotten bloodied and bruised faces courtesy of Mr. Ostrander.  Five stuns him from behind.  Three is happy to see her.  Four tells her they need to get to the transit room fast. The tech has found the other pods.  Alicia tells him to pick one of the three pods and send the charge.  Uh oh!  Five can't find the keys to the cuffs. So instead she shoots them so they wake up in their pods.  They have no memory.  Android calls Two.  She relays what just happened and that Clone Five is still active.  Two orders to give Five more time before taking her out of the pod.  Alicia goes back into the torture room and finds Four and Three gone. Mr. Hughes, Alicia's assistant wants to send the charge to end it but she says no.  Five reminds her of a young her so she wants her alive. The facility would be hard to escape so she's confident Five will be caught.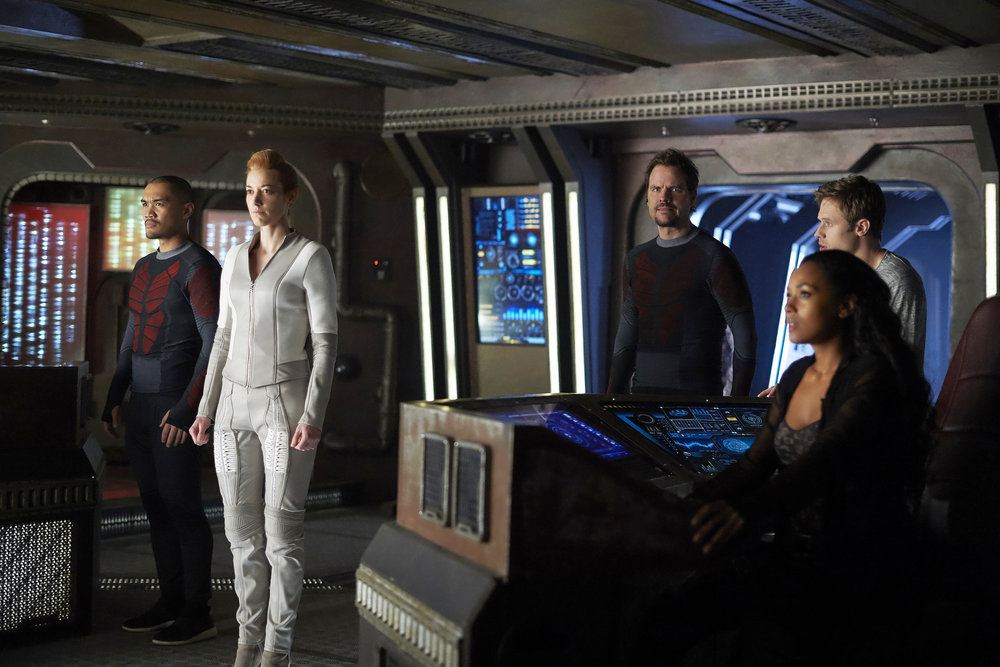 A ship starts attacking the Raza.  Everyone goes to the bridge to see what's going on. The ship attacking them orders them to stand down so they can board.  Just as Android tells Two that they need to get back to the ship, Six notices a heat signature on a nearby roof.  Two tells Android to hold off. Android then tells Four and Nyx to not wake Five yet.  The marauder is going to get her.   The Marauder is fired upon by the buildings defenses but they manage to pick up Five anyway and make it back onto the Raza.  Android shoots a good blast against the other ship which powered down their shooting guns for 30 seconds.  They FTL out of there.
Clone Five makes it back to her pod.  Regular Five wakes up with her memories.  Six, Two, and Android welcome her back.   Mission accomplished! The card is put into the adapter which lights it up red.  Six is excited because this will level the playing field.  They could even stick to the corporations because they wouldn't expect it.  Five wants to hold off because they don't know if it works.  Two agrees and wants to test it out.  Android is not familiar with the technology but confirms it should work with standard control systems.  Before testing the blink drive they drop off Talbor.
Devon asks Two for some time off the ship.  Nyx decides to join him.  Devon tries to deflect but Nyx just casually mentions that he can meet her at the bar when he's done to continue their conversation.  Devon leaves.  Two is wondering what's going on.  Nyx explains vaguely that he may not go back with them when they pick him up.  He's in a dark place and she really feels like she can help him.  Nyx hands Two her gun and leaves. Two orders Android to get ready to go.
The Raza FTL's not too far from the station but away from any potential visuals.  The target destination for the test is over 160 lightyears away.  Android activates the blink drive.  Some weird noises.  Android reports something's wrong.  Everyone starts hearing a high pitched sound.  We see the ship shake and…disappear. Where did they go?
Back on the space station Nyx waits for Devon to appear.  She gets a drink. The bartender notices that her date is late.  Devon is walking around in what looks to be a maintenance area when someone calls his name.  It's Hansmeed! What the hell is he doing there? He's looking for Nyx.  They predicted that Devon would be there selling shadow.  Umm not really.  Devon tells them that he's making a personal purchase.  Hansmeed is wondering where is the Raza?  Devon tells him the truth in that they left not too long ago.  Hansmeed is looking for Nyx.  Devon can't help him there either.  Nyx is a member of the Raza now.  Devon's story so far checks out in that the Raza left.  Hansmeed demands to know where the ship went. Devon doesn't know.  Again I think it's the truth. With that Hansmeed has one of his men stab Devon in the gut. Oh come on! Hansmeed leaves Devon bleeding to work on his next predictive model.  Nyx meanwhile is still waiting for Devon.  Gosh darn it!
That's the end of the episode! Yeah they leave us hanging!
More Thoughts!
Okay I kind of feel sorry for Devon.  I mean is anyone even going to find him at this point?  Nyx is going to think the worse, which sucks.  It looks like in the next episode that's not really addressed because the space station looks blown to bits! Even though he was down there going to get high, he still protected Nyx.  It probably didn't help that Hansmeed was not asking the right questions!  Now no one is going to know what Devon did, because he's in an area with no one around!  However, Devon should've listened to Nyx's advice from earlier.  Hansmeed would not have confronted him there if he didn't want to get high.
I did think it was nice to see Talbor again even though he annoyed me some.  It was a little tense with wondering if Five was going to make it.  Alicia definitely made some wrong moves there.
I also thought it was great to see Three, Five, and Four on a mission together.  They actually had a good working chemistry!  Three was even rooting for Five and thought she was great!  I hope we see more ops with just those three!  Considering how Two started to get the shakes, it was probably a good thing she kept out of this mission.
That's my two cents, there's more that can wait for my next recap! Sound off in the comments your thoughts on this episode!