It's been a bloody good run for Ray Santiago recently. The charismatic actor wrapped up playing Pablo Simon Bolivar, a sweet store clerk who gets sucked into Deadite shenanigans on Ash vs. Evil Dead. The show aired its series finale on April 29, 2018, after three seasons of hilarious, gory fun.
It wasn't all karo syrup and whatever else they use to simulate blood and guts for Santiago, though. He began his career on film as Tiny Guzman, the younger brother of Michelle Rodriguez's Diana in Girlfight (2000). "I was 'baby Ray' and I turned 13 on set!" he recalled.
From there, Santiago, 33, scored roles on several TV shows, appearing for multiple stints on My Name Is Earl (2006), Dexter (2008), Raising Hope (2010-11), and Touch (2014), among others. He also appeared in several films, including In Time (2011) and Meet The Fockers (2014).
But his biggest role to date has been as the Ghostbeater, Pablo, the sunnier sidekick to Bruce Campbell's sarcastic Ash and Dana DeLorenzo's kick-ass Kelly, on Ash vs. Evil Dead. With his tall hair (which Santiago noted had "started out as a statement for me as a person [and] became an iconic look for the character") and enthusiasm for becoming more than just a clerk, Pablo grew into a fierce Deadite killer over the course of the series. He even found romance with Kelly. Santiago's portrayal on Ash vs. Evil Dead garnered him a nomination for Best Supporting Actor at the 2017 Fangoria Chainsaw Awards, although he didn't win (the award went to Jeffrey Dean Morgan of The Walking Dead).
The Nerd Element recently spoke with Santiago via telephone, a conversation in which the actor was at turns sincere, funny, thoughtful, and kind, qualities he brought to his work as Pablo. The conversation ranged from his work on Ash vs. Evil Dead to his past and future, ending with a message to his fans:
The Nerd Element: When you got the part of Pablo Simon Bolivar, did you know you'd be covered in blood 24/7?
Ray Santiago: I guess I kind of assumed it, but I really didn't know how much blood I would be covered in.
TNE: I've read before that Bruce and Dana said it gets stuck everywhere.
RS: It does, yeah. It's a sticky situation.
TNE: What did you think of Pablo's arc from store clerk to El Brujo Especial to the new Jefe?
RS: What a journey, you know? I never thought that this naïve, idealistic guy would grow up to become the hero that he never thought he could be, and that's what we really got to see with Pablo. We got to see a beautiful portrayal of a young Latino man trying to survive in a crazy world and prove to the world that he can be a hero, and I think that in the world we live in today, it's important to see that.
I also felt with Pablo's story arc, we got to see so much heart. We got to see so much of my heart. The one thing that Sam Raimi [creator of the Evil Dead series] told me was, "Lead with that. You're the heart of the group. Never forget that." And we got to see that every single day.
I think that fans got to see that heroes come in all sorts of ways. You can be quiet, you can be naïve, you can really grow to conquer any situation if you trust yourself and have good intention, and I think that's what Pablo had. He's a fighter. We got to see him go through so much, and ultimately come out on top and own his place in the world and the power that he brings to the group. I know wherever he is, whether he's with Kelly or Ash or Brandy, he's a Ghostbeater for life, and probably out there opening up his next taco/fish and chips stand. He's got his own secret Ghostbeater cave, and he's out there trying to take out the next Deadite. I definitely feel like he's alive, and if it were to go further with him and Kelly, I was really excited about the fact that we would have got to see a little baby Pablo with Pablo hair and Kelly's voice. I thought that would be the funniest thing to ever see.
TNE: I was going to ask you that later, actually, what would they do as a couple without the Dark Ones? Would their kids also be Ghostbeaters?
RS: I mean, if you asked me "Do I want my kids to be actors?" I'd say absolutely not, but you get to experience so much as an actor that if my kids wanted to be a Ghostbeater, I wouldn't deny them that. I would teach them the ropes and they most likely would be inheriting some sort of powers from my Brujo background as well. It's a little bit of a bummer that we don't get to see Pablo be more of the Brujo and explore that world, but we got to at least wrap it up and introduce it in a beautiful way where he accepts his family and accepts where he comes from, and uses it for the better of the team.
TNE: I was actually going to ask you if there were other powers he had that we didn't get to see, or that the writers came up with and then just didn't use.
RS: We were toying with this idea of him—the evil world not being able to see that he was there because he's got one foot in both worlds—he could understand the language of Sumerian and the way that there were speaking, but we didn't discuss too much of what else it would be. For me, I felt like it was going to be the kind of thing where he would be able to speak these words from the Necronomicon and use them for good. Because the Necronomicon lives within him, he understands the verbiage and the language of Sumerian. I just imagine him running around, speaking in tongues and weird things happen—speaking in tongues and moving things and so much more. Being able to maybe touch someone and understand what has happened in their past or if there was a death in their past. I forget what you call this? A medium.
TNE: A medium, yeah.
RS: But we didn't really get to that point. We'll have to see; maybe one day a movie comes out or a TV show comes out and we'll get to explore it.
TNE: When did you get the news that the series would be ending with this season?
RS: We found out probably a week or two before they announced it. We were waiting just like the fans to find out if it was going to come back or not, and what was really comforting was that while we were waiting, the fans were also waiting and they were pushing for it as much as we wanted it to happen. So it was a comforting and beautiful thing to have such loyal fans by our side clamoring for more. It's a really nice way to go out. Better to go out with them wanting more than them saying, "Enough already, just end it."
TNE: How did you feel about the ending of Season 3 having to function as a series finale? Were you satisfied to end Pablo there for now (hopefully just for now)?
RS: I mean, it did feel like we did what we could do.
We had a hard job because we didn't know if we would be coming back, so we didn't want to leave things open-ended with a major cliffhanger, but we did feel when he [Ash] said goodbye, they [the Ghostbeaters] would be okay. Did I want for the Ghostbeaters to have more of a moment? Yes, it felt like we spent three seasons getting ourselves to this point to be this strong team, and then we left Ash to fight the fight by himself, which I don't think that Pablo or Kelly or Brandy would've done. I think we would've come back, but it makes sense that that final fight is fought by El Jefe, the Prophesied One.
Rick Jacobson did a really good job of trying to make sure that we all had our moments. The final moment, I wish that there was more coverage of it because we were all so emotional when he [Ash] put us in that vehicle and said goodbye. And we got to see an emotional and softer side of Ash at the end of it.
TNE: Yeah, he cried a lot in this one. I enjoyed seeing that progression in his personality from just sort of this brash, lecherous dude to someone who has a whole family he cares about and is sad that's he having to leave them behind to fulfill his destiny.
RS: I also felt like what a way to set things up if we did come back. We were ultimately going to be coming back to the future, and with time travel such a common thing on our show, were we going to see the Ghostbeaters trying to find him in the future, or was he going to start with a bunch of new sidekicks? We had no idea where it was going to go.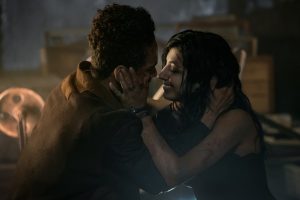 In my head, the Ghostbeaters were still fighting evil and trying to find Ash and keep the team together. I also think that the fans—it's crazy because this was our last season and viewership was sort of down and we just lost those numbers, but the truth is the fans were super-happy with the episodes this season. As I watched, I was like, wow, as we set things up for Season 1 and 2 so crazy, we needed to top that every episode and I think that we did. I think that also getting to see Pablo have that episode of him becoming a Brujo—it was such a great moment for me as an actor and as a character to finally get his own heroic moment in a way that didn't involve killing someone or a Deadite, but really accepting who he is and coming to terms with the power that he has within himself that he never truly understood. That's what I think is beautiful about Pablo's story arc: he was just a normal guy, like Ash, and once he embraced the situation that he was in, he was able to become the hero he never thought he could be.
That's one thing that both Pablo and I share, is that we want to leave our mark on the world. To me, Ray as the actor, who came from no acting parents or none of that, I always knew as a young kid that I wanted to make my mark on the world, and it's been through telling stories, and for Pablo, it was through trying to be a hero and save the world from evil. We both want to be remembered as heroes, and I think that Pablo will definitely go down as a hero and so will Kelly and so will Ash.
TNE: Speaking of fans, they have suggested that the story could be continued in either a comic book or an animated series, or even a spin-off of The Ghostbeaters (Pablo, Kelly, and Brandy) having their own adventures. Would you be interested in continuing to play Pablo in another venture?
RS: Absolutely. It's kind of like Ash has always said—Ash can't turn away from the fans and I can't turn away from the fans. This is my first huge series regular role where I got to do so much with the character, and if the opportunity ever came my way to continue—I got the blessing from El Jefe and all the powers that be that created the character— I would happily continue the fight.
TNE: What are you going to be doing next?
RS: I've just finished a movie called Speed of Life. It's a David Bowie song. [The film] is a love story about what happens the night David Bowie dies—a wormhole opens up and makes a rift in time and space. It stars Ann Dowd from The Handmaid's Tale and Allison Tolman [from Fargo]. Allison Tolman and Ann Dowd play the same character and I play their boyfriend. I travel through this crazy wormhole in time to be with both of my girlfriends. I got to do my first sex scene with Ann Dowd. What a person to do your scene with! I watched Handmaid's Tale and The Leftovers and I'm terrified of her! But she's the sweetest person in the world! She's so nice. We had a really fun time together. I just wrapped on that.
I worked in another movie called Tone Deaf which is directed by this guy named Ricky Bates [Richard Bates Jr. on IMDB.com]. He directed a movie called Excision [2012] that was a big horror movie. So I'm working with him again—he tends to put me in all of his movies.
I'm about to start this new Hulu series called Into the Dark that Blumhouse is producing. It's an anthology series and each one is 90 minutes, a feature-length movie. It's in the spirit of Black Mirror, and I'm doing the pilot episode. No one really travels on to the next episode, we each just do one, but it's a big feature and I'm really excited. It's horror, it's Blumhouse, it's Hulu, and I would say my character on this is very similar to that of Matthew Lillard in Scream [1996]. I play a guy who's a special effects artist and is into creating his own virtual reality experience. He's a trust fund kid who's throwing a Halloween party, and someone shows up with a costume that insinuates they've got a dead body as part of their costume. Things get a little funky when we realize that it may not be a proper costume—it may actually be a dead body.
It will be airing right around Halloween, so [fans] will get your fix of covered in blood. This came to me purely because they were fans of Ash. I'm super-excited.
TNE: Another fan question: What was it like working with the legend himself, Bruce Campbell?
RS: You know, I get such a warm feeling when I think about Bruce. I mean, Bruce is like my dad. [Bruce] was such a father figure for me and for Pablo, and he took such good care of us. He was such a great leader. He implemented the family unit for us on set and off set.
Part of the reason I was bummed when the show ended maybe wasn't so much because I didn't get to live as the character any more, but it was purely because I didn't get to work with Bruce anymore; I didn't get to go to New Zealand and be part of this family that we had created. The number one thing he taught me was how to hit my mark, and he really taught me—he made me understand that I belong here. It's been a long time for me to get from Tiny Guzman to here, and the horror world opened up a place for me to be this character and to be this hero, and Bruce was an amazing leader and role model. So was Lucy Lawless, every single person from our crew was great as well, but I'm just so thankful and I know that Bruce is my homie.
[There was a quick digression of TNE being bummed the show is not continuing, to which Santiago says the following:]
Listen, it's all so fresh, right? Give it 35 years and you'll have Dana and I fighting Deadites and I'll have a full head of grey hair as El Brujo Especial. I'll have my top curly bush grey hair and be ready to go. Don't you worry.
TNE: Thank you for taking the time to talk with us.
RS: You're totally welcome. Please thank the fans for all their love, support and loyalty, and to continue looking out for myself and Dana because you haven't seen the last of us.