Funny thing about word as bond agreements on this show, at least one person tries to find a way to renege on it, as seen on this week's episode of The Magicians.
Recap
Eliot's (Hale Appelman) spirit needs to move from his Golem to his real body.  It was shaky there for a bit but he wakes up thank goodness!  The Fillory magicians were useful for once yay!
Julia (Stella Maeve), Kady (Jade Tailor), Penny (Arjun Gupta), and Quentin (Jason Ralph) start searching for Dana's (Lee Garlington) son because he has enough magic juice to kill Reynard (Mackenzie Astin).  Speaking of Reynard, Julia runs into him minutes after leaving the protection of Brakebills.  He knows about his son so he is looking too and he notices that Julia's shade is gone.  Julia holds out on giving information, which isn't much.  Quentin gets called out by Reynard after failing to hide.  Quickly, Quentin touches Julia and the button to transport into Fillory. Quentin drops her off at the palace, thinking she will be safe there.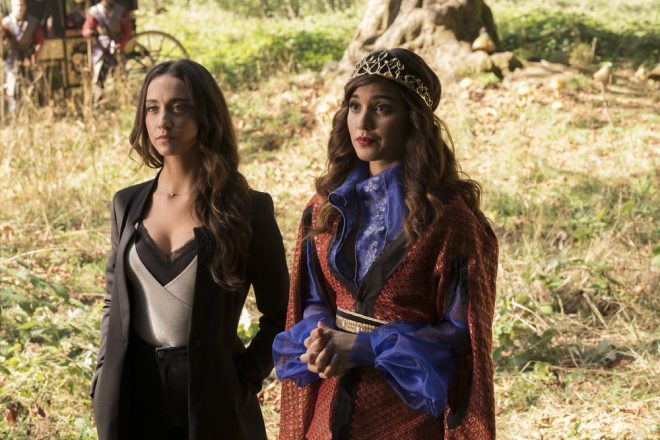 High Queen Margo (Summer Bishil) needs to convince the talking trees in the One-Way Forest to align with Fillory instead of Loria.  Julia "helps" on negotiations with the dryad (Grey Damon) rep and talking trees. By helping I mean bombing the cute dryad ambassador and the forest.  The rest of the forests in Fillory are understandably upset, especially since the trees in the One-Way Forest are the last of their kind.  Consequently, Margo puts Julia in jail.  Before Julia screwed up royally though she got a button that will help her hide from Reynard courtesy of Lorian's master magician Illario (Everett Shea).
Quentin's mind is in all kinds of directions with trying to help Julia and now having niffin Alice (Olivia Taylor Dudley) borrow his body for an hour a day due to his word bond agreement.  During that time, she kills an anglerbeast (Bracken Hanke), a tentacle-like monster that likes to prey on small kids, and she summons in Ireland a niffin monk, Friar Joseph (Jamie Harris), that figured out how to avoid getting boxed.  Alice has a decent reason for trying to remove herself from Quentin's tattoo.  His body is unable to hold her for long so she needs to be free sooner rather than later.  Penny, in a rare show of concern, suspects that Quentin is hiding something.  He finds out at the very end by going into his mind (thanks to Kady punching Q out) and seeing Alice.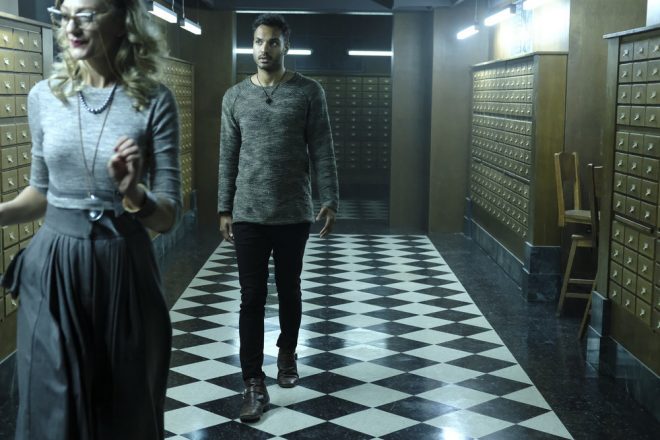 With Julia hiding in Fillory, Kady, Penny, and Quentin take up the project of finding Dana's son.  Niffin Alice does help Quentin in the search by suggesting phosphoromancy to him, which he relays to Penny and Kady.  In exchange, Q lets Alice use his body for 30 more minutes.  The device they use lets them see into the past at the clinic where Dana's baby was born.  The person that took her son home is scratched out, courtesy of Dana.  Kady wants to friend-zone Penny as they try to work out defeating Reynard.  However, Penny admits he loves Kady and sacrifices himself to a life of servitude to become a Netherland Librarian to get the son's name, which is John Spencer Gaines.  As a bonus the librarians will help Penny fix his hands.
Thoughts
There were a few Easter eggs in this episode for the novel readers.  Here is a list of a few that I caught:
The dryad,
Mention of talking trees
Penny becoming a Librarian,
The page of the book (based on Dana's life) that revealed the son's name,
Julia losing her shade
The blinking lights because of magic being on the fritz
Quentin indicating a way to reverse Alice being a niffin
The character development I enjoyed the most this week was Margo and Penny.  Margo showed a restraint and vulnerability in dealing with Eliot's predicament and the talking trees.  She realized that Quentin is distracted with wanting to help Julia so gave him her button.  She was even nice to Fen (Brittany Curran), who was by Eliot's side as he was sleeping.  The strength that she portrays to the public hides her vulnerable side.  Her friendship with Eliot is so special that Margo tearing up with worry about her bestie almost made me tear up. When Eliot woke up with his usual flair, I wanted to say, "Awww!"  I've been enjoying Summer Bishil's performance every episode.
Margo handled herself well with the dryad representative instead of flying off the handle.  Unfortunately, she did not allow the council to finish advising her on approaching the dryad representative considering both her and Julia forgot that chauvinism is alive and well in Fillory.  Margo is taking baby steps being a queen and I'm enjoying the progression that she is making. I also enjoyed the development of the character Janet (who Margo is based on) as queen in the books. I do think though that unless she has wards in the dungeon, I'm expecting Julia to escape easily.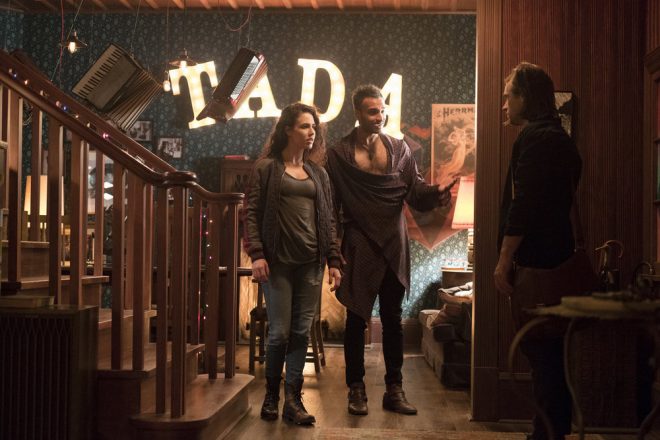 Penny and Kady discussing their relationship was long needed. We have seen glimpses of Penny show concern for others throughout the two seasons so for him to take the step of forfeiting his freedom to not only help himself but use his new resources to assist Kady, shows that he can grow as a person. I remember seeing the shock and hurt on Penny's face when Kady left so I figured that his feelings went waaay past like.  His story arc of becoming a librarian is better on the show than in the books so far.  Also, shoutout to the Librarian, played by Mageina Tovah, so nice to see her again!  I'm confused though because didn't she ban Penny and everyone else from her library after Eliot burned those books?  Oh well!  He could have ignored what was going on with Q but he instead wanted to find out why Q was stressed.  Penny is confused with seeing Alice, but hopefully he will show support for Quentin with that situation as well.
Speaking of Quentin, he in over his head!  I'm digging the progression of the "agreement" between himself and Alice with what happens in the books.  I had to chuckle though when that creepy niffin monk told Alice to figure out how to get out of her predicament and then he will teach her his niffin evasive ways, but not before.  She was feeling a little too triumphant when she first found the monk.  Quentin is suffering and he shouldn't have to.  The petty with Alice is starting to get old though. She's just as bad as Julia emotionally at this point.  Quentin being erratic is getting tiresome as well.  I get it, but the guilt and the burden he feels needs to end! Because I know of his capability as a magician, I'm praying that he believes in his own abilities in being able to help Alice out of her current predicament.  I thought that the anglerbeast was the dragon! Boy, was I wrong! I'm disappointed but still have hope that we will eventually see the dragon.  I don't recall the books mentioning the anglerbeast but maybe my fellow readers could help me out with that.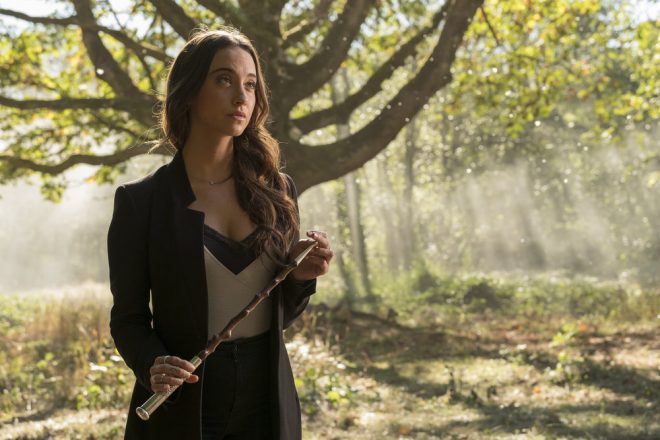 I am not feeling Julia's "help" in Fillory at all in this episode.  I thought we had a good Easter Egg but that got ruined with Julia's actions.  Julia's story arc in the books was one of my favorites and right now I'm wondering what direction the show is going to take considering she was well liked in Fillory after losing her shade. I still commend though for the writers for going this route despite my dislike because they are exploring the angle of her being aware that she lost her shade, which is making a difference in her personality.  I did not mind initially her confrontation with Reynard because I think now with her new emotional state she can use her instincts better in a magic battle and take more risks against the god.  Finding Reynard and Dana's son John may keep Julia's story on track but considering how John is unaware of who he is, I feel bad for him already.  Both Julia and Reynard will try to use him for their own agendas. He didn't volunteer to be a demigod geez! Is Joseph going to stay alive after Julia and Reynard are done with him? Why do I get the feeling that he won't survive? I'm hoping after she defeats Reynard Julia's personality gets better. While I hated what she did with the One-Way forest, it was sweet seeing her walk out of the forest like that.
Overall this was another solid episode despite the nitpicks with great character development between several characters. I'm looking forward to Eliot and Margo defeating the Lorians!  What did you think of the episode?
For my book readers, any Easter eggs I missed? Sound off below in the comments!