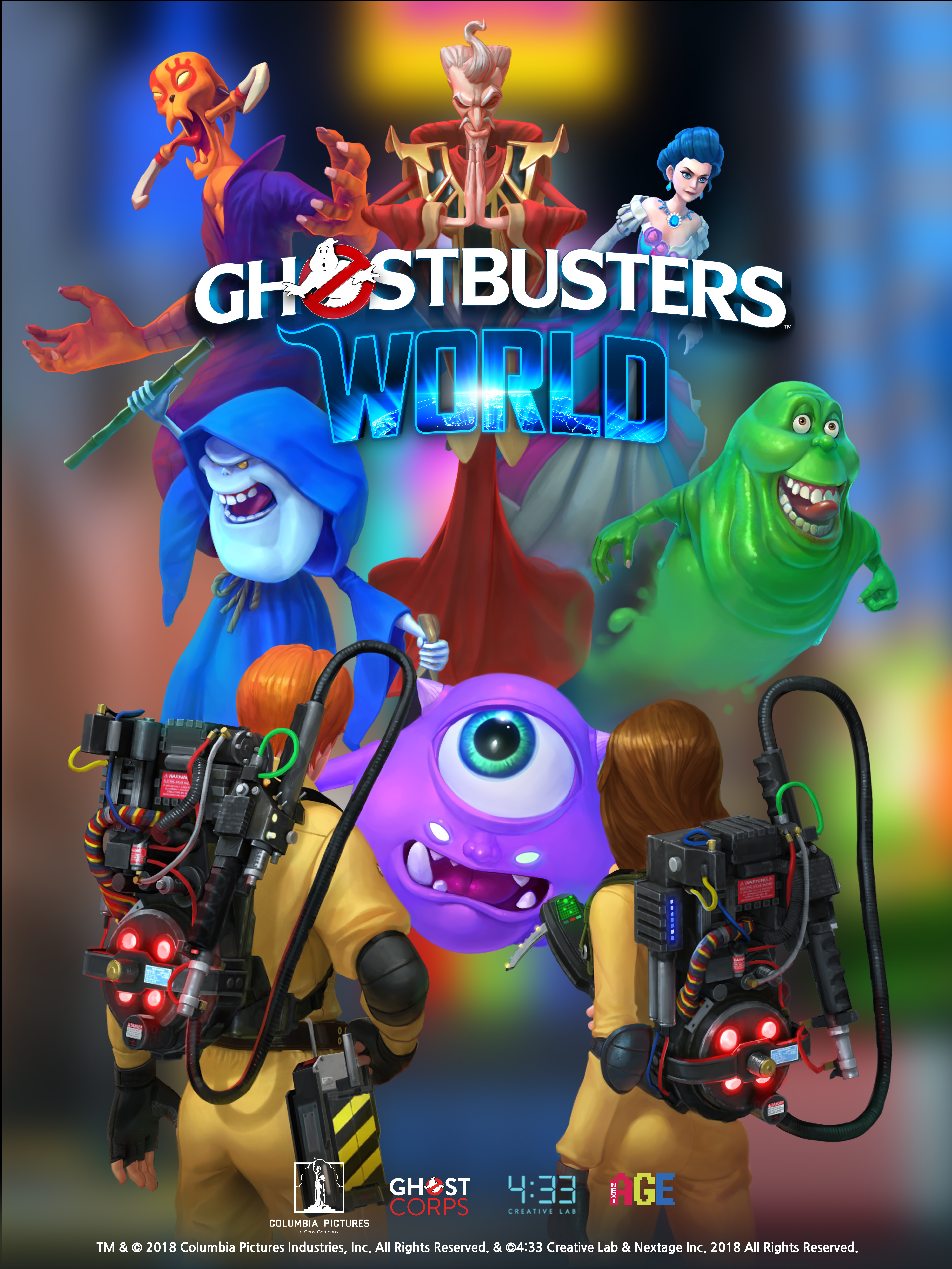 I may have found my new obsessions while visiting Petco Park at San Diego Comic-Con this year. This obsession comes in the form of an AR game. That is right all you 80s kids Ghostbusters is back in an all-new augmented reality mobile game. Due to release later this year, Ghostbusters World is a map-based AR game where players can battle and capture hundreds of Ghostbusters ghosts in the real world using your smartphone.
First some highlights:
Ghostbusters World allows players to battle and capture hundreds of ghosts from all dimensions of the franchise, including the films, TV shows, comic books, theme parks, and video games. The game will also feature new and unique ghosts to the franchise.

Ghostbusters World will be free to download the game and will not require purchases to enjoy the full extent of the game. However, players can choose to buy optional perks that to enhance their own experience.

AR Battle

– Capture ghosts you encounter in AR battle as you blast them with your proton pack, counter their attacks, and pull them into the ghost trap.

Multi Raid Boss

– Team up with up to four friends in your area to take on a big boss together! Use your proton packs to fight the boss and any minions together.

Dimension doors

– Check in at inter-dimensional doors around your neighborhood to collect items and resources to help you bust ghosts.

PVP

– Details coming soon!

Story Mode

– Enhance your adventure with the story mode which features new exclusive writing and art from members of the Ghostbusters Comics team at IDW!

Customization

– Personalize your avatar's appearance, costume and proton pack with fun items and gear.
Some Technical aspects:
A collaboration between Sony Pictures Consumer Products, Ghost Corps, the game's publisher FourThirtyThree Inc.(4:33), and developer Next Age, Ghostbusters World uses Google's ARCore and Apple's ARKit to bring the latest AR technology to Ghostbusters all over the world.

Location-based gameplay

– Using the Google Maps API, Ghostbusters World features ghosts roaming around your own world. Explore your community to find more!
My Experience
Both I and our blogger Desiree had the chance to test drive this game at SDCC and we were not disappointed. Having never played Pokemon Go, I had a completely different experience than Desiree though just as enjoyable. After being given simple directions I scanned the surrounding area for ghosts. It didn't take long for one to pop up and start attacking. Using several different weapons available to me I conquered the ghost (eventually) and closed it in a ghost trap. I was then able to test run the Multi Raid Boss feature with the owner of the booth. Together we took down the Stay Puff Marshmellow Man, though I suspect she did most of the work.
This game is utilizing Google Maps API so it will be interesting to see how recognizable the area around you will be. This may push it ahead of other AR mobile games. I had a really great time playing and I plan on downloading and playing the game when it is released.
Desiree's Experience
Our blogger Desiree had a favorable experience as well and did some comparisons to Pokemon Go.  She found it similar to Pokemon Go this way: the portals are like Pokestops (places where you receive supplies). For Pokestops, you have to spin it to get potions, extra pokeballs, etc.  In Ghostbusters it's a similar concept. Another similarity is that just because you "capture" the ghost/Pokemon, you don't necessarily keep it because it can still break out of the container and then you have to fight again.
Some noticeable differences she found included: In Pokemon Go, when you are a near a Pokemon, it just appears and then you have to choose to capture it or run away (your phone will buzz, too).  In the Ghostbuster's World game, you have to actively move the phone around to "detect" the ghosts, which she appreciates.  Having to aim and hold down the ectoblaster is a different skill that you don't have in Pokemon Go. In Pokemon Go, you swipe to throw balls and hope they land on the Pokemon.
Desiree's conclusion is that people who enjoy Pokemon Go will more than likely enjoy the Ghostbusters app.  It's different enough to stand on its own while having a familiarity for Pokemon Go players to make it easy to learn and master.  She too can see herself becoming addicted to this game.
Screen Captures
Check out some screen captures below to get a feel for what the game will look like. Will you be on board day one? Let us know in the comments!