Grieving over Alice's (Oliva Taylor Dudley) death, Quentin (Jason Ralph) may have found a way to bring her back.  Does he succeed though?
Recap
Eliot (Hale Appleman) struggles with how to rule Fillory effectively and being married to Fen (Brittany Curran).  The biggest frustration so far is having to squash small rebellions breaking out and figuring out how to replenish the Wellspring since Ember (Dominic Burgess) contaminated the water with his crap.  Margo (Summer Bishil) gets concerned when Eliot suggested using resources they don't have to create a statue in Alice's honor. Eliot not being able to leave whenever he wants (and let's face it, not having sex with men) is not helping.
Margo finds a workaround at Brakebills.  By creating a Golem, Eliot can duplicate himself.  One can be on Earth while the other is in Fillory.  Margo and Eliot's field trip works.  Eliot is briefly able to relive being at the top of the popular food train despite minion Todd's rise in the ranks.  He even has a fling with a visitor at the same time banging Fen when she comes calling.  He later goes to Dean Fogg (Rick Worthy) who is having problems of his own, for advice.  Fogg tells him to grow up and accept his responsibilities.  However, Fogg does throw a bone by having Eliot's thesis be how to save a world, using the best minds on Earth as resources.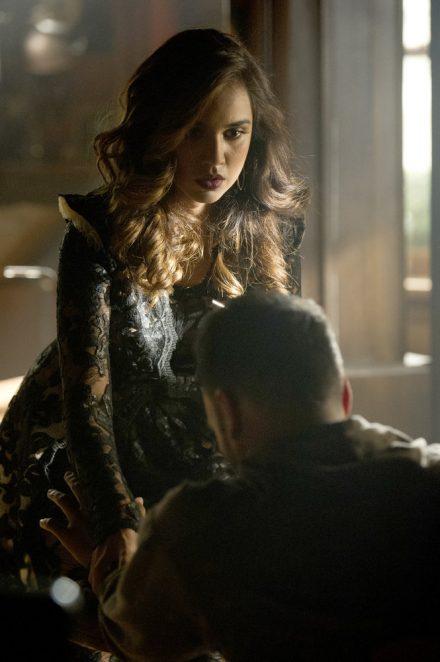 Julia (Stella Maeve) finds Kady (Jade Tailor) drugged out in a house full of other addicts.  Kady felt ashamed that she ran instead of trying to get help for Julia.  Forgiven, Kady agrees to help.  Julia noticed a message marked on Marina's (Kacy Rohl) skin.  The message is a locator for a book at Brakebills.  Julia sneaks in with Kady guiding her to the library for the correct book.  Unable to leave the school with the book, Julia goes to the Physical Kids house to copy the information.  Margo notices Julia there and they trade barbs.  At a stalemate, Margo decides to help by suggesting a faster way to get a copy of the book.  The book turns out to contain a necromancy spell able to bring Marina back for a few minutes.  Kady initially doesn't want to do it but Julia makes a good case.  The spell works and Marina is alive very briefly.  She tells them that Reynard was banished 40 years ago from Earth until Julia summoned him.  There is a way to banish him again.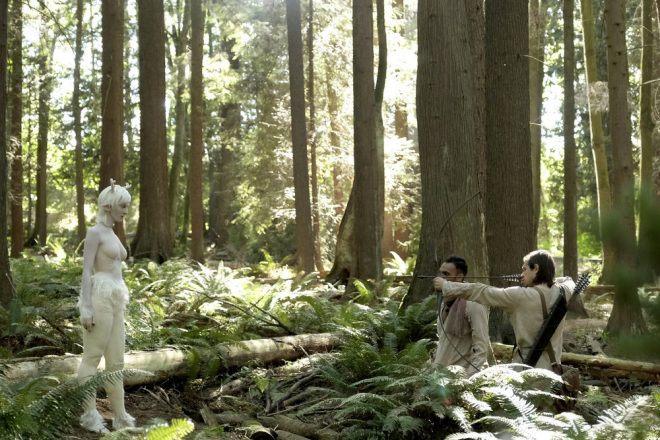 Quentin (Jason Ralph) recuperates from his injuries but is still mourning Alice.  Part of his left arm was replaced with a wooden part by the centaurs.  He learns how to use the bow and arrow as part of his recovery.  Meanwhile Penny (Arjun Gupta) is able to get his hands under control enough to make it to the centaur retreat.  One of the centaurs, Sawbones, takes one whiff and tells Penny his hands need to be cut off again.  When Penny recounts that the River Watcher cursed his hands, Sawbones was like "umm nope not messing with it man.  You messed up badly bruh."  Quentin does the honors of chopping Penny's hands after Penny's hands try to choke him to death.  They both decide to hunt for the White Lady (Emma Dumont) aka White Fawn after she appears once before Quentin.  When they enter the flying (or weed according to Penny) forest, they become so high they repeatedly go in circles until Alice's necklace sobers Quentin up.  Quentin breaks down upon exiting the forest.  Penny in his own way tries to comfort him. That evening Quentin finds the White Lady and hits her with an arrow in the arm. Caught, she reluctantly asks for his wishes.  Since both Penny and Quentin found her, they split up their wishes.  Penny gets his hands back, and after the lady is unable to bring Alice back, transports Quentin home.  The episode ends with him blending into the New York crowd.
Thoughts
I was anticipating Quentin's scene with the White Lady and it again met with my expectations.  While she was no stag, she was still gorgeous.  The makeup and prosthetics used was good.  Thumbs up to the makeup team!  It reminded me of how Narnia movies created their fawns.  Dumont did a great job channeling the sarcasm that was in that scene.  Sawbones accurately captured the attitude of the centaurs in the books.  I still feel cheated that I still have not seen a talking animal.  Nice Easter egg with the sloth aka Abigail in the council scene as the animal had a quiet presence in The Magicians King.  The sloth gave great advice if I recall correctly.  There were a few other easter eggs in this episode, like the mention of taxes, that book readers should be like "I know this!"
Another easter egg that I thought was good was Penny and Quentin going around in circles since something similar happened to different characters in The Magicians.  With Penny getting his hands back I'm hoping they will now be in pre-curse position.  Please Penny DO NOT confront the river watcher.
Arjun Gupta and Jason Ralph have great chemistry together.  I think Penny is the only one that could have gone on that journey to find the White Lady with Quentin because of how their relationship has developed so far.  This experience will hopefully start the healing process and they can start liking each other minimum.  I think this was better than having Quentin go by himself like he searched for the stag in the books.
The White Lady offering Quentin a way to forget Alice and when she mentioned his shade circling back to his pain it reminded me of when The Beast (Charles Mesure) offered Julia to remove her shade so she didn't have feelings regarding what happened to her and the group she was with.  The fact that both refused revealed how similar they are to how they cope with things.  However, I'm hoping that as Quentin continues to grieve, he remembers that Julia could use his help against a God.
Kady is finally back, yay! I just wish that Marina was alive a little longer for Kady to forgive Marina enough to work together defeating Reynard.  However, with that brief glimpse of Marina alive, she must be in hell if she wants to come back so bad.  Kady should take some comfort in that. I'm liking her partnership with Julia so far.  Margo and Julia read each other when they argued didn't they?  In a way, they were both right as far as what happened.  I think if Julia gave them a timeline, like 24 hrs would that have been doable? The juice Alice had was fading rapidly so I don't even know if that would've helped or not.  At this point it's too late. This could mean the start of at least respect between Margo and Julia.  Mauve and Bishil killed that scene!  I'm hoping for more scenes between these two!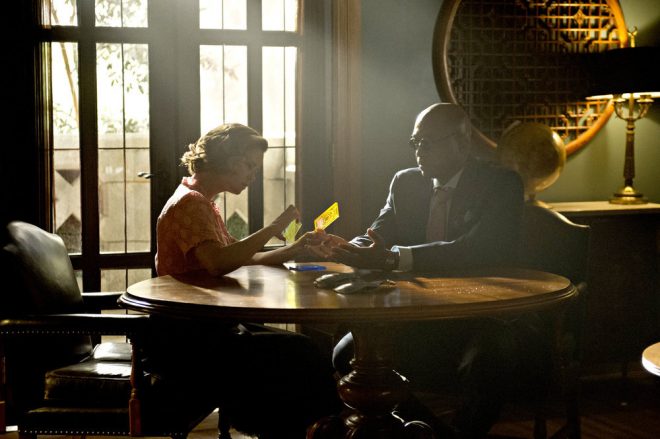 I give credit to Margo.  She saw her friend Eliot struggling and she looked for a solution.  She helps herself too since she doesn't want to rule Fillory alone.  But I think this situation will help both characters grow and mature.  Forcing the issue of finding a solution to saving magic is a challenge I feel that Margo and Eliot could succeed.  I do think that Eliot finding relief in having sex with the student from Spain will give him some energy to deal with the other problems.  Having Dean Fogg around to help should be interesting because his reaction to Ember taking a dump was hilarious! Speaking of Dean Fogg, what is going on with him now?  When he was talking with Professor Lipson for help I noticed that it was the same actress, Keegan Connor Tracy, that is on the show Once Upon a Time as the Blue Fairy.  Considering the Blue Fairy's track record, I don't want Fogg anywhere near her, don't care if she's a different character.
Despite the seriousness of Quentin grieving and the situation with magic, I appreciated the humor in this episode.  From the entire weed forest scene, Margo at the very beginning noticing the centaur had a big penis, to even Penny getting his hands cut off.  This show does a great job mixing in the humor and the significance of situations.
Looking forward to next week! What are your thoughts on this episode? Sound off below in the comments!